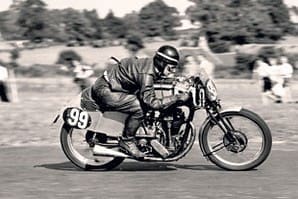 In TCM's September 2012 issue, we used a photograph from this same event, of winner Jim Whalley refuelling his Douglas, though this selection of pictures proved too irresistible to discard a revisit.
To recap – the 1923 Grand Prix (then a single race to crown the champion of Europe) was held on the 141⁄5 mile long Circuit de Touraine, Tours, in central France. The 500cc race was run over 20 laps – that's about 290 miles – and for the first 13 of those it was Gillard, on the ohc twin-cylinder Peugeot, who led the way.
But the machine which had won two significant races already that season cried enough and Douglas-mounted Whalley, a man who had a reputation for bad luck, cruised through to win, with Hubert Hassell less than a minute behind, then third Billy Hollowell and fourth Francisquet – all three were on Nortons, the only three machines from Bracebridge Street in the race.
Whalley's race average was 68.092mph (the fastest victor's speed ever recorded for a road race, recorded by official timekeepers) and his winning time 4hr 30min 30sec; the Douglas he used was the same one he'd made fastest lap on during the Senior TT, won by his team-mate Tom Sheard.
The course was basically a high-speed 'triangle' with riders starting (and finishing) near the crossroads at La Pailleterie, on a fast, straight stretch between the corner at La Noue-Guerine and La Membrolle. It was a change of venue from the 1922 event, which had been held at Le Mans. The same circuit (Touraine) also held the French car GP, in the next month, which was won by Henry Seagrave in a Sunbeam.
Although the venue had changed from 1922, the winner of the Lightweight class hadn't; Geoff Davison repeated his victory, replicating his previous year's efforts, again on board the two-stroke Levis. Second place was claimed by Paddy Johnston, on a Cotton-Blackburne, who was almost 10 minutes adrift of the winner, though he was the only other rider to complete the 170 mile, 12 lap race.
The 350cc class went the way of Frank Longman, AJS, who finished ahead of three twins – Meunier's V-twin Alcyon and the flat-twins of Freddie Dixon and Vic Anstice. But it was closer run thing than Longman would surely have liked – after 227 miles he was just over a minute ahead of the hard-trying Frenchman.
Longman had only done one lap in practice and three laps around the course in a car, while he'd never raced in France before – indeed, his only ever visits to France had been in the service of his country during the First World War. This was, one would hope, a rather happier affair.
View more images from the 1923 Grand Prix in the current (January 2014) issue of The Classic MotorCycle. Purchase images from: www.mortonsarchive.com