The newest early autumn classic motorcycle rally in northern Spain has much to recommend it.
Words: MARTIN KIRKPhotographs: HELEN KIRK
Just as the British summer weather starts fading away in late September, classic motorcyclists – in 2019 at least – have the option just a ferry ride away for up to another three continuous weeks of sunny riding, through the magnificent scenery of northern Spain.
Starting in the last week of September, the area hosts three consecutive classic motorcycle rallies, ranging from big (with 500-plus bikes) to smaller and more intimate, with plenty on offer to suit all riders.
First is the MC Piston Rally held during the last week of September, and which in 2020 will be in its 33rd year. Based in Santander and the nearby Picos Europa Mountains, the MC Piston is a very large and long established rally well attended by classic enthusiasts from throughout Europe.
Two weeks later, during the second week of October, the Colombres Rally (see last month's magazine) is the last of the three, which in 2020 will be in its eighth year, and held in the small town of Colombres close to the northern end of the Picos Europa and hosted by the MC Indianos Club.
Sandwiched between these longer established rallies during the first week of October, and with a different atmosphere again, is the Rally of the North of Spain, which is also hosted by the impressively organised MC Indianos Club.
The Rally of the North of Spain
The Rally of the North of Spain offers classic motorcycle enthusiasts the opportunity to explore some less well known, spectacular scenic areas located geographically west of the major city of Oviedo, in the region known as Western Asturias.
Riding routes leave the traditional northern Spain rally area of the Picos de Europa to get into something totally new and different. Riding days on the North of Spain rally average around 125 miles per day, exploring beautiful areas, and going through Natural Parks of extreme beauty and ecological value.
These parks have been declared a Biosphere Reserve by UNESCO, such as the Fuentes del Narcea Natural Park, Degaña and Ibias, the Integral Reserve of Muniellos or the Partial Reserve of the Cuetu d'Arbas, where bears and the capercaillie wander freely.
The main base for the rally is the spectacular Parador Nacional de Corias, a four-star hotel located in the beautiful Asturian town of Cangas del Narcea. This hotel was recently chosen as the best non-urban hotel in Spain, and at just 485 Euro per person for five nights' dinner, bed and breakfast, is something of bargain.
For those on a tight budget however, the Moto Indianos Club have organised a cheaper accommodation option for 2020 in the two-star Hotel Pena Grande, where a B&B option is now available at 175 Euro per person for five nights.
The Corias hotel building is an impressive former monastery building declared a national historical-artistic monument, with a museum in the basement which houses archaeological remains of its first construction, dating from the early 11th century.
The IV North of Spain Rally is due to start at Colombres on Monday, September 28, 2020, and ends back in Colombres on Sunday, October 4, where participants have the option to join the Colombres Rally, which runs for seven days the following week. Obviously, because of Covid-19 all is up in the air at the moment.
In total, the North of Spain Rally covers around 750 miles (1200km), through some of the most spectacular roads in northern Spain. All desirable features – smooth traffic-free roads with every conceivable type of corner including spectacular hairpins, stunning scenery, high mountains and beautiful valleys – are all featured on the North rally.
Compared with the other two classic motorcycle rallies which run in autumn in Northern Spain, the Rally of North Spain offers the opportunity to ride and enjoy new routes, and at the same time take in some of the local culture, taste some of the renowned and varied cuisine and stay in a first category National Parador Hotel.
Bikes
Many riders taking part in the North of Spain Rally move on the following week to ride the Colombres Rally, and so there is inevitably some crossover of bikes, although a few riders double up and bring a different bike for each event.
The Norton of Spain rules state that machines must be pre-1988 and British/German 600-1000cc twins from the 1960s and 70s certainly seem popular, with occasional smaller bikes such as a Honda CB350 K4 and BSA A50 Royal Star, and some multi-cylinders such as Triumph Tridents. Compared with Colombres, the roads at the Rally of North Spain generally seem more open with some long climbs, where the extra power of a 650cc-plus twin comes in handy.
Previously, I'd used a Triumph 3TA model 21 quite successfully for the Colombres Rally, but on the North of Spain, the extra power of my BSA A65 didn't go unused.
The North of Spain roads are a good practical test of whether a bike's running properly, and after some weak mixture and running hot/seizing issues with my A65, I thought, after very thorough testing (aka thrashing!) up every big hill close to home in Aberdeenshire, that all such issues had been completely eliminated.
However, the longer, steeper and hotter roads of Northern Spain showed otherwise, with two seizures during four days of riding, mainly on six or seven miles plus constant climbs at slow speed where airflow was limited.
The solution, I believe, will be to fit an oil cooler to reduce the engine operating temperature, along with an electric cooling fan which can be switched in when the going gets hot and slow, because judging by the plug colour, the mixture has been set correctly and is as rich as it is possible to go to promote cooler running. The next North of Spain Rally will tell if this theory is correct!
One thing which impresses at the North of Spain Rally, is that classic bikes are brought to ride, often with the same enthusiasm as they would have been back in the day.
On more than one occasion, I found myself riding along in a 'classic bike road train' with like-minded riders – 650cc BSA, 750cc BMW, 650cc Triumph and 850cc Norton all being hustled along at a brisk pace, cranking through the corners on smooth, grippy tarmac.
There is little more satisfying in classic motorcycling than the sound of these bikes being made to work up and down the scenic valleys of northern Spain.
Considering that the total mileage covered by the 25 or so bikes on the rally was likely to be in excess of 15,000 for the week, there were remarkably few mechanical issues.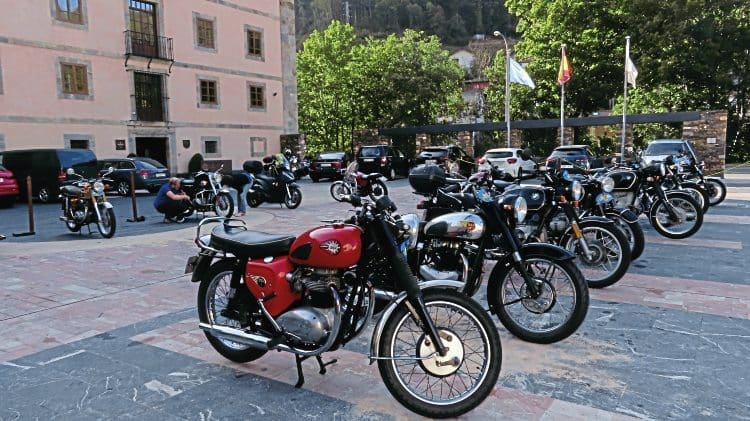 One A10 BSA spent some time out with a slipping clutch and a BMW R75 had to be retired with a porous cylinder head, but, otherwise, any minor faults which surfaced were quickly fixed and the bikes carried on their way.
Riders
Riders taking part in the North of Spain Rally are a friendly, diverse bunch, all with a passion for riding and absorbing everything the typically 125-150 mile days planned by the MC Indianos Club have to offer.
There is often as much pride in riding style as there has been in machine preparation, and whether you're looking for a steady run or something a bit quicker, there are always other like-minded riders to tag along with.
Following some of the other bikes, it's immediately obvious from some of the effortless 'wafting along' riding styles that many of the participants have ridden roads like these before.
It turns out, after speaking to fellow riders at coffee or lunch stops, that there are some ex racers in among the pack, and staying with these guys needs good concentration to keep everything in shape.
After following a well ridden BMW R69, threading its way very neatly and never running wide through the seemingly endless twists and turns, a post-run chat with the rider, who looked to be in his late 60s, revealed he had just celebrated his 80th birthday – age is no barrier!
The morning coffee stops and legendary lunch stops, where local West Asturian buffet cuisine is served from a 'pop up' kitchen by the Moto Indianos Club, are great for meeting fellow riders and generally chatting about the bikes.
As has become customary for Moto Indianos Club events, the daily routes are well described in detailed notes complete with photographs of the signposts to follow at all junctions and roundabouts.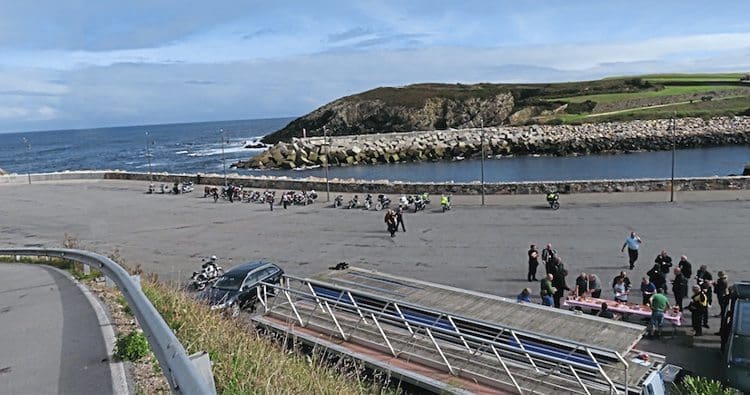 On the North of Spain Rally, there is also a front rider on a modern bike who places magnetic direction signs on the road signs at junctions and roundabouts, so it's possible to ride the routes without constant reference to maps or sat nav – and almost impossible to go wrong!
Getting there
If The North of Spain Rally appeals, getting there from the UK couldn't be easier using Brittany Ferries from Plymouth or Portsmouth to Santander, and thereby avoiding a long ride through France.
The rally registers in Colombres, about an hour's ride from Santander, and the first day is the leisurely ride onwards to the North of Spain Rally base at Cangas del Narcea, which directly from Santander is around a four hour ride.
After registering for the rally with MC Club Indianos (www.motoclubindianos.com), all participants are given a special discount code for 20% off the cost of Brittany Ferries.
Taking all factors into account – the roads, the scenery, excellent accommodation and cuisine, outstanding value for money and the friendliness of the MC Indianos Club and the rally participants, The Rally of North Spain should be on every enthusiastic classic motorcyclist's rally 'to do' list.
View more images of this event and read more News and Features in the June 2020 issue of The Classic Motorcycle – on sale now!