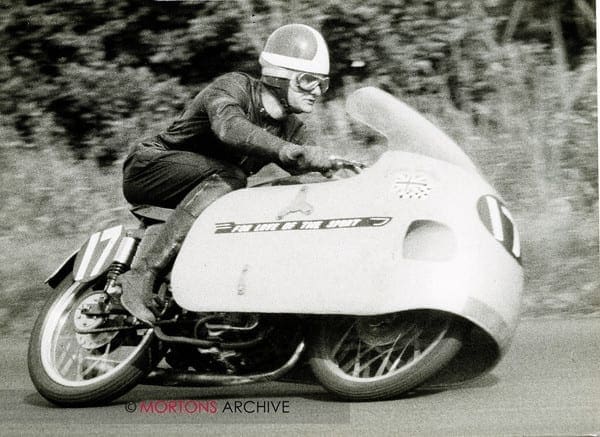 We asked Racer readers to send us their recollections of the young Mike Hailwood. Sydney Webster and Jock Leyden sent us theirs.
My father was well known in racing circles from 1946 until his death in 1963, and through him, I have many memories of riders like Les Graham, Bill Lomas, Cecil Sandford, Percy Tait, John Surtees, John Hartle and many others.
My father was Bill Webster, MV Agusta's British agent for many years and the man who provided Stan Hailwood with the bike on which Mike made his race debut at Oulton Park.
Mike and Stan arrived at our motorcycle shop in Crewe the day before the meeting. Mike was wearing a duffle coat and scarf and seemed very shy and nervous.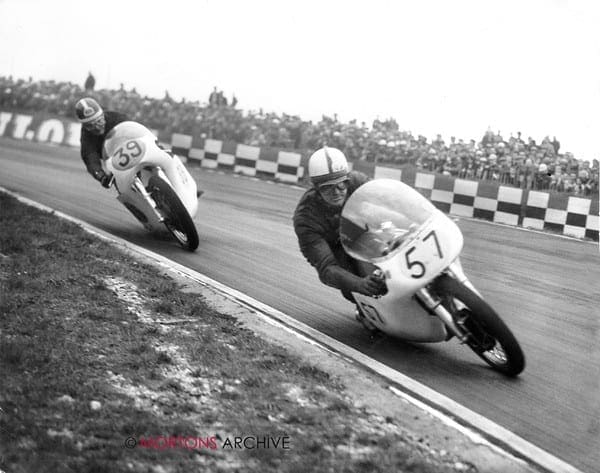 They were staying in Chester for the weekend and everybody was very impressed when they arrived at Oulton on race day in a Rolls Royce! Dad took Mike round in practice showing him the lines and said that he was very impressed considering he had never seen the race but pulled through to 11that the finish.
After the race, Stan and my Dad spent quite a while discussing Mike's potential as a racer. Dad, fortunately, convinced Stan that Mike had lots of potential and Mike carried on to fame and fortune.
Had my Dad given the thumbs down, Mike's career may have ended there and then. Stan was only interested in success and needed to be convinced that Mike could be a winner.
Mike and I became good friends from the first meeting and although I did not see much of him for the rest of that season I followed his progress with interest.
The next time I saw him at length was at Silverstone in early 1958 when he had returned from a winter's racing in South Africa. This meeting was memorable because of a terrible argument he had with his father after he fell off in the 125 race.
His ankle was hurting like hell and he refused to ride in the 250 race. My Dad said he was riding like a lunatic in the 125 race hen he fell off at Copse Corner so Stan was annoyed and insisted Mike rode in the 250.
Mike refused and went to stay with Bill Lacey for a few days while Stan cooled down. It was discovered that Mike's ankle was broken and it would have been impossible for him to ride.
I also remember being on the TT start line with Mike in 1958 as he waited his turn to start the 500 race. He had already ridden in three races and won replicas in each of them, but was petrified at the thought of riding the 500.
I did everything I could to calm him down, I told him that as it was his first year in the Island he was under no pressure to do well so to go steady and use the race for experience.
Funnily enough, his riding number was 57, the same as Geoff Duke's when he won his first Senior TT in 1950. Telling Mike this did nothing at all for his nervous condition but he went out and won a silver replica, making four for the week.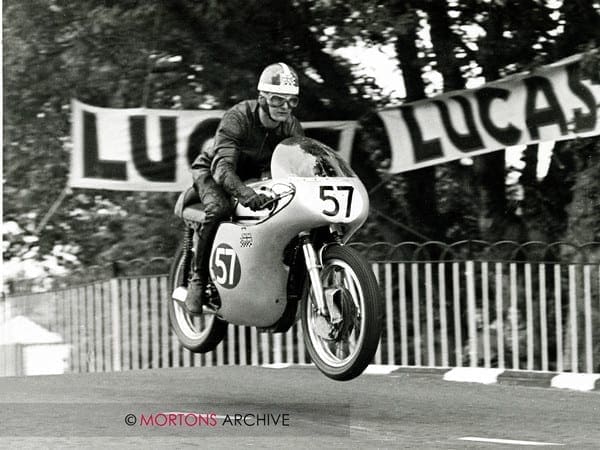 In August 199 we were in Belfast for the Ulster Grand Prix where Mike scored his first Grand Prix victory on a 125 Ducati. We went over on the Monday night boat from Liverpool.
We had the use of the Ducati Concessionaires Bedford van up to race day on Saturday and had a great time Belfast visiting coffee bars and cinemas with Mike's mechanics Big Jim Adams and John Dadley. On Friday night we were upstairs in the cinema with giant bags of popcorn. Mike recognised some riders downstairs in the stalls and started throwing popcorn at them. Complete uproar ensued.
Mike was a wonderful rider, but more importantly a wonderful person who had very few enemies. His shyness, modesty and loyalty to his friends were entirely genuine, and I consider it one of the highlights of my life to have had him as a friend.
I feel sure his legion of friends feel exactly the same. He may be gone but he will never be forgotten.
Words: Sydney G Webster, Stoke on Trent.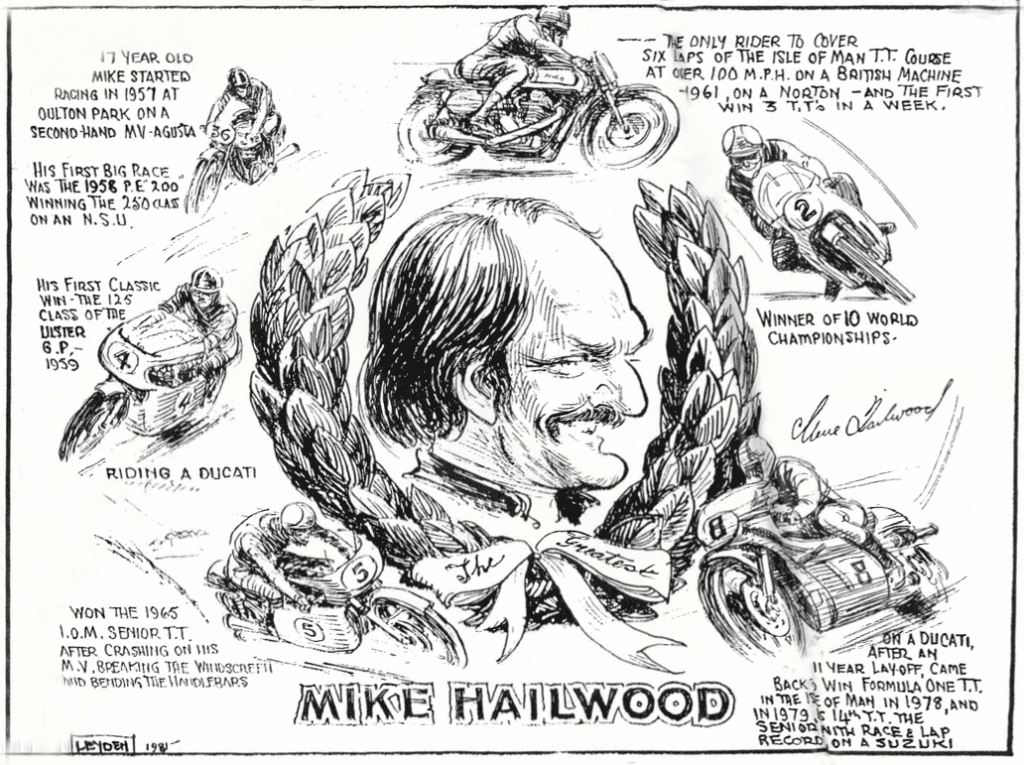 Mike Hailwood's first big race success was on the Walter Gray Circuit at Port Elizabeth on New Year's Day in 1958. I've always felt that South Africa had a proprietary interest in him thereafter.
When he returned to South Africa to live in Natal for some time and set up a business with Frank Perris, I was keen to meet the conquering hero and draw a portrait sketch of him to add to the series of sporting personalities on which I was then working.
Over the last 56 years as a newspaper cartoonist, I have met most of the top names in all types of sport. Most of them made interviews relatively easy. Some have been temperamental, a few difficult, but only one was an absolute pain in the neck, and he was a cricketer.
Despite his fame, I found Mike very friendly and co-operative, answering all my questions readily and not evasively. In fact, he was one of the easiest to interview, unlike some professional sportsmen who give the impression that everything they do is for cash, including opening their mouths.
I always got the impression that Mike would rather watch me drawing in the pit area (the machines, the riders, the birds) than talk about himself. While I'd have a crowd bumping me and looking over my shoulder, Mike would stand about ten feet away watching with a shy smile on his face.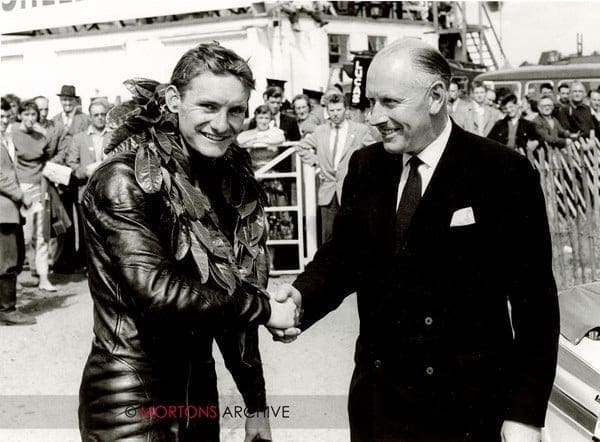 Yes, that's how I'll always remember him. Mike with the shy smile and a twinkle in his eye.
The only time he got really eloquent was when he told me of his miraculous escape on the Karoo superhighway.
He was returning from Cape Town on the way back to Johannesburg in his super quick Lamborghini sports car with Peter Gethin, another well-known racing car driver.
Flat out in the middle of the night, they hit a cow that had wandered onto the highway. It demolished the roof. How they escaped, Mike could only describe it as a miracle!
But it was 'Mike the Bike' in action I really wanted to see. In the company of my old friend Don hall, one of South Africa's greatest motorcycle racing stars, I wandered around the various vantage points on the Roy Hesketh circuit to watch Mike in action.
Don was a man of few words but couldn't find enough superlatives to describe the riding of young Hailwood. Everything he did bore the stamp of class and like all true champions, he made it look smooth, effortless and safe.
In my book, Mike Hailwood G.C., O.B.E., was truly the greatest, and it gives me an indescribable feeling of pride every time I look into my display cabinet and see the model MV he presented to me, with the words on the plinth, "To Jock Leyden from Mike Hailwood`".
Words: Jock Leyden, Durban, South Africa.
Original aticle from Classic Racer magazine, issue 60, Summer 1996
---
Advert

Enjoy more The Classic MotorCycle reading in the monthly magazine. Click here to subscribe.
---