Fancy riding an Italian classic in some spectacular scenery? Then this might just be the trip for you.
The small town of Tavullia is 10 miles inland from Pesaro on the Adriatic coast. In 1911, the widowed Teresa Benelli bought a workshop in Pesaro, to ensure a future for her six sons – Giuseppe, Giovanni, Filippo, Francesco, Domenico and Antonio 'Tonino', though the family actually came from Tavullia to the larger town.
Nowadays, the community of just over 7000 people is best known as MotoGP legend Valentino Rossi's home town and that is where his house and training track is… as well as his restaurant, with the fan club offices next door.
A large poster adorns the bridge in the centre of the town and every lamppost is wrapped with yellow ribbons with Rossi's number 46 on them, leaving you in no doubt you're on 'The Doctor's' turf.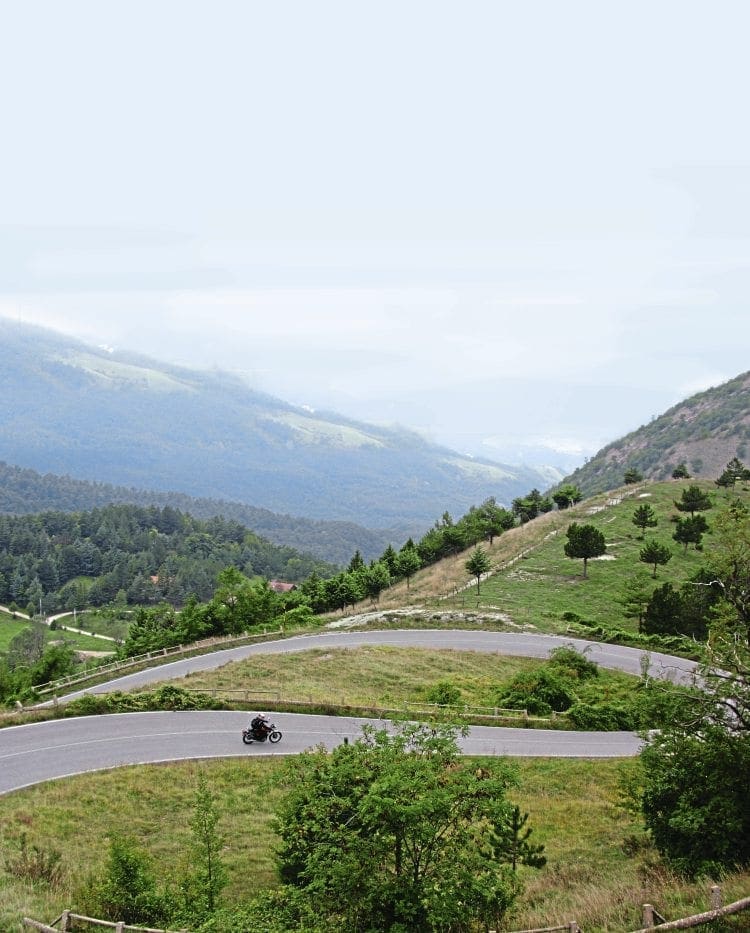 Around 25 years ago in Milan, north of Pesaro, Mototouring was founded by the multi-lingual Eligio Arturi. In the two and a half decades since, the firm has successfully run tours in Europe, Africa, Central and South America and carved out an enviable reputation.
Until recently, Mototouring focused on modern motorcycles – the rental of machines and riding gear, providing shipping and storage – and that's just some of the services on offer.
Eligio, though, has always had a passion for classics and has teamed up with Moto Club Pesaro T Benelli, the Registro Storico Benelli and the Officine Benelli – or in other words the official Benelli Museum, housing 150 fully restored motorcycles – in a new enterprise.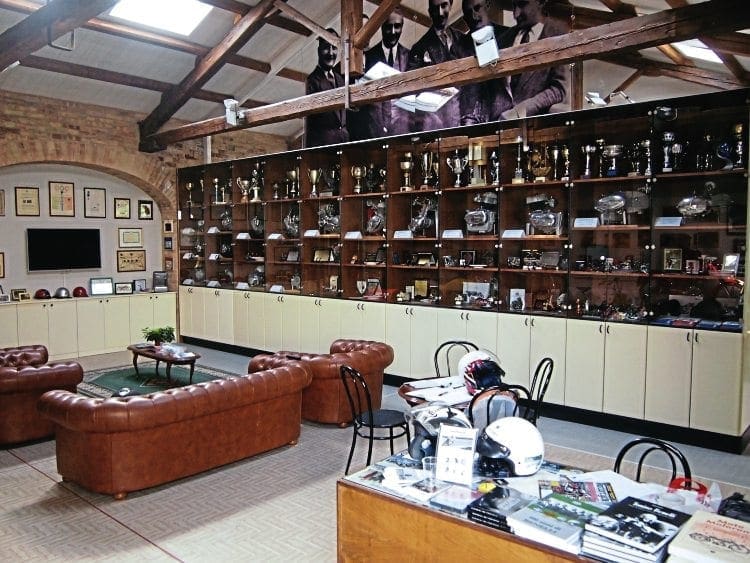 Run by Paulo Marchinelli, the Moto Club Pesaro was formed by enthusiasts whose primary interest was the preservation of Benelli motorcycles and some of the other now extinct brands from Pesaro and the surrounding region.
The group bought one of the buildings from the original Benelli factory and set about restoring it to form a museum and clubhouse.
The building is actually post-Second World War, as the originals were destroyed by Allied bombs.
With a lot of the work now done (but still more to do) the building houses a comfortable office stacked with journals to enable machine identification; it is now one of the accepted bodies to date motorcycles in Italy.
In addition there is an area of the club (Valentino is a club member) for members to watch MotoGP on a large screen, surrounded by engines and trophies in glass cabinets.
In the centre is the large museum area where the members have created a superb display showing the history of Benelli, while another equally large area houses motorcycles awaiting restoration and available for use.
In the museum section can be found examples of the early models from the 1920s such as the 1925 Moto Leggara 125cc Tipo Sport, the 175cc Corsa and other small capacity models, moving through to the late 1930s when you start to see 250cc and 500cc models appearing.
It should be noted the first Benellis were not produced until 1921; in the beginning the Pesaro workshop was only a service garage.
Despite this late start, Tonino Benelli started to race successfully and after his brother Giuseppe designed the 175cc four-stroke engined machine, complete with an overhead camshaft, Tonino became Italian champion in 1927, 1928, 1930 and 1931.
Racing was to play a big part in Benelli's reputation, with larger bikes coming in the 1930s and in 1940 Benelli launched a 250cc four-cylinder racer with double overhead camshaft and supercharger that would never see the track due to the war.
During the conflict the company Benelli produced only military motorcycles.
After the war, with Dario Ambrosini in the saddle, they won the 1950 250cc world championship.
But Ambrosini's death in 1951 saw a heart-broken Benelli withdraw from GP racing for several years.
But one brother, Giuseppe Benelli, then left and set up Motobi, with the classic two- and four-stroke egg-shaped engine, of small and medium displacement.
Benelli still managed to win the first Motogiro d'Italia in 1953 with the racer Tartarini.
At the start of the 1960s the Motobi and Benelli brands merged to form one company and once again achieved racing success with Tarquinio Provini and Renzo Pasolini, taking a second 250cc world title in 1969 with Australian Kel Carruthers.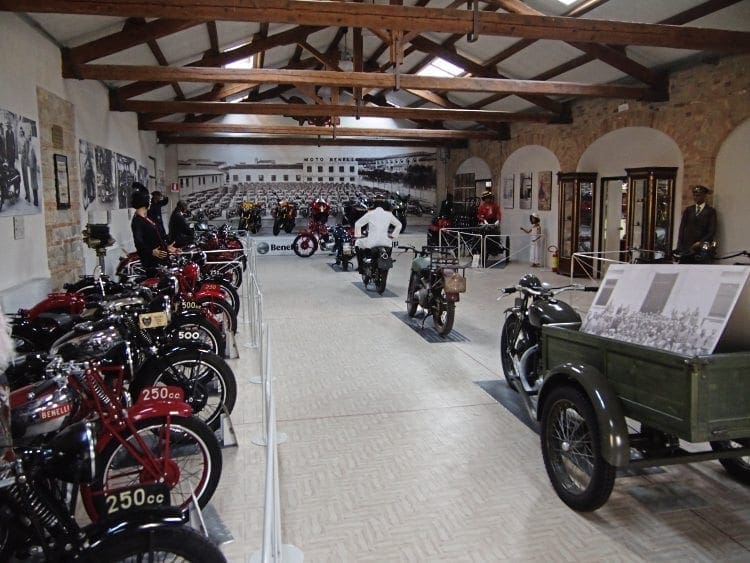 Benelli then went through a series of different owners and in December 2005 became part of the Qianjiang Corporation located in Wenling, China.
Modern four cylinder machines bearing the historic brand name also sit in the museum and are in use by many members of the club as their everyday mounts.
The club is not only interested in providing a static museum, but is even keener on taking it outside to a wider audience by taking part in numerous classic events.
As part of this ideal, members see the continued use of the machines as paramount to helping convert other enthusiasts in order to preserve not only their chosen marque, but classic motorcycles in general.
The desire to use the machines and a chance meeting with Eligio led to an idea to run a tour using members' bikes and those from the museum, taking in some of the best roads in the area.
As well as riding, the idea was to trace some of Italy's motorcycle history and turn it into a classic festival and journey of discovery.
When you throw in Italian food, history, architecture and some decent weather, it becomes an irresistible temptation… so I joined a group of knowledgeable American collectors and enthusiasts for the inaugural Benelli Vintage Tour. Here's my diary of events…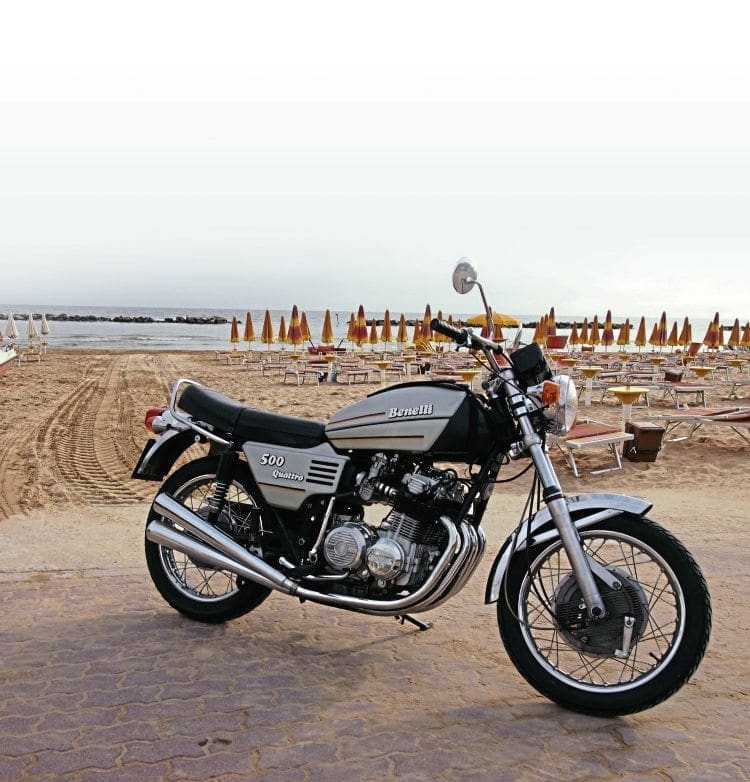 Thursday
A short train ride from the airport at Bologna saw us arrive at Pesaro and our hotel base on the seafront for the week.
Friday
We paraded at the club house/museum to be allocated our machines for the week, although it was stressed that we could swap around in order to get a flavour and the diversity of the Benelli brand.
While the museum traces the firm's 100-year history with machines from all decades, the bikes we were allocated were the more practical 1970s models, from when the firm was taken over and modernised.
In 1972, the company was bought by the Argentinean entrepreneur Alejandro De Tomaso, who also acquired Moto Guzzi .
He relaunched and enlarged the product range, presenting multi-cylinder motorcycles and a prestigious 750cc Sei, which was the first six-cylinder motorcycle produced available for purchase by the general public.
Despite my attempts to get out on one of the original overhead camshaft bikes from the 1920s or 30s, it was not to be, and I had to 'settle' for a 250cc single from the Motobi era when the 650cc Tornado that I was originally allocated wouldn't start.
My riding companions seemed more than happy to get sixes and fours with electric starters, as well as some of the two-strokes from the 1970s.
Now, while daily itineraries had been mapped out, it became clear – in true Italian style – that such timings were just a guide and each day would depend on weather and the availability of some of the owners of the private collections we were due to see.
To make our life easier, we wouldn't need to worry about navigation, as in addition to a back-up van, club members would ride with us.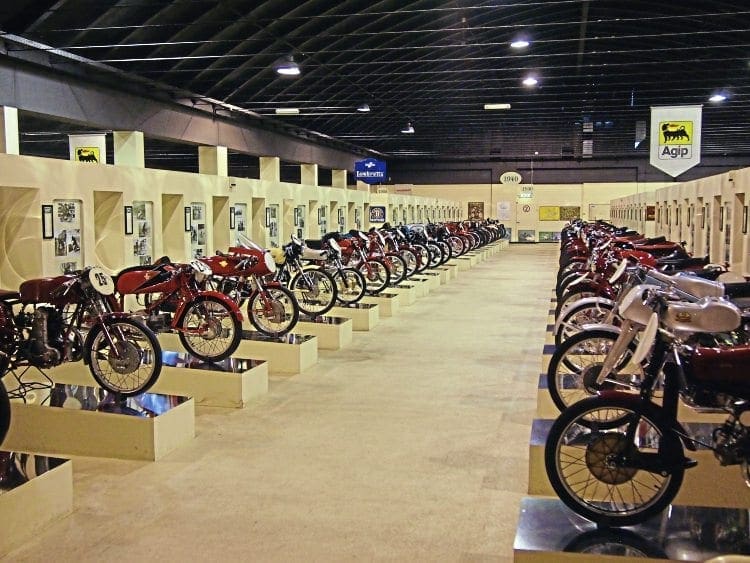 However, when the local traffic cops turned up, we realised we were getting a proper escort out of town on blue lights and two-tones, such is the pull the club has locally.
Once out of Pesaro, club riders kept everything flowing by holding traffic at roundabouts and junctions and nobody seemed to worry it was just an orange-jacketed rider and not a police officer – only in Italy!
Saturday
This was a short day in riding terms, as most of us spent quite lot of time examining the exhibits in the museum which the organisers had anticipated, so it was a route that allowed us to get used to the machines and each other's riding styles.
Still, as well as some fabulous roads we managed to visit a historic town complete with stunning church, plus a fascinating exhibit of mummified human remains in a different church.
It was clear that club members on the escort machines were not afraid to use their classics to the full in terms of performance and handling.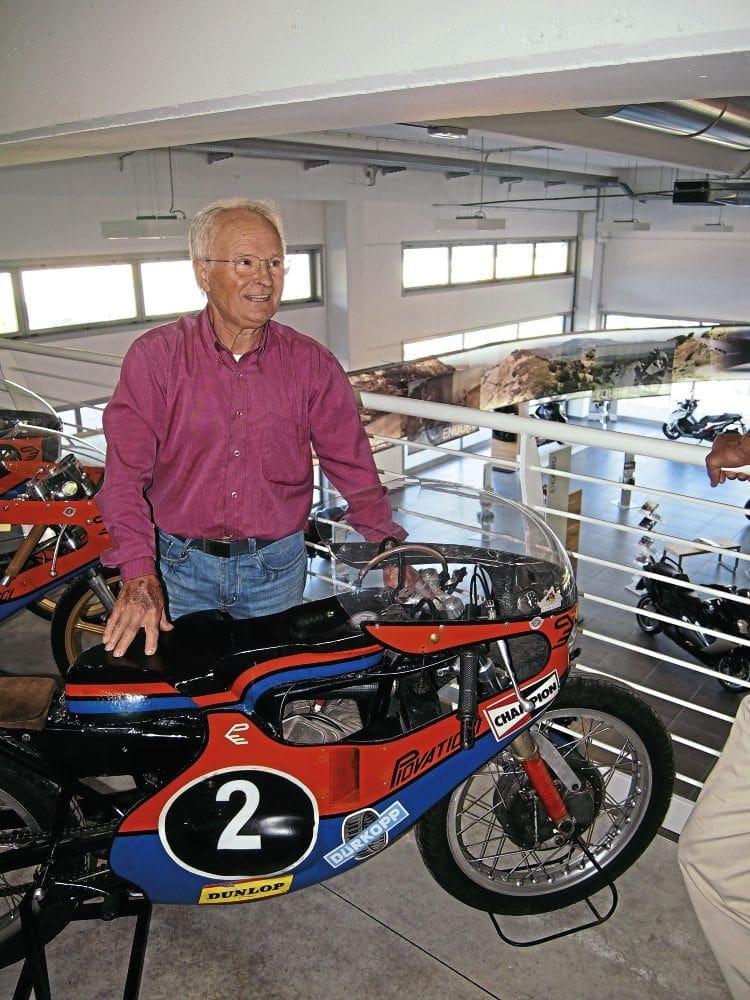 'Super Mario' showed that a 900 Sei would not break its crankshaft (a popular belief if they are revved too much) if the performance was used and, despite dragging its undercarriage, would hold its line through any bend… the rider smiling all the time as he did so!
Sunday
Today, I was out on the 650cc Tornado, it having been repaired.
We headed to Loreto for lunch and a look around the large cathedral, before heading back down the coast road. Meanwhile, others were also swapping machines and all seemed to have different gear change patterns as well as right and left-foot systems… just to keep everyone on their toes.
Monday
A ride north towards Rimini and an appointment for a guided tour around the Bimota factory.
Founded in 1973 and having endured a chequered history, but now with all its problems seemingly behind it, Bimota continues to produce some pretty special machines; despite the brevity of the tour, one of our group was impressed enough to place an order.
Lunch was then taken in the Republic of San Mario before another breathtaking ride through the hills back to the hotel.
Tuesday
Tuesday was a convoluted ride through the hills and a few historic towns, before we ended up at Tavullia for a look from the hillside at Rossi's practise track… and then headed into town for lunch at his restaurant.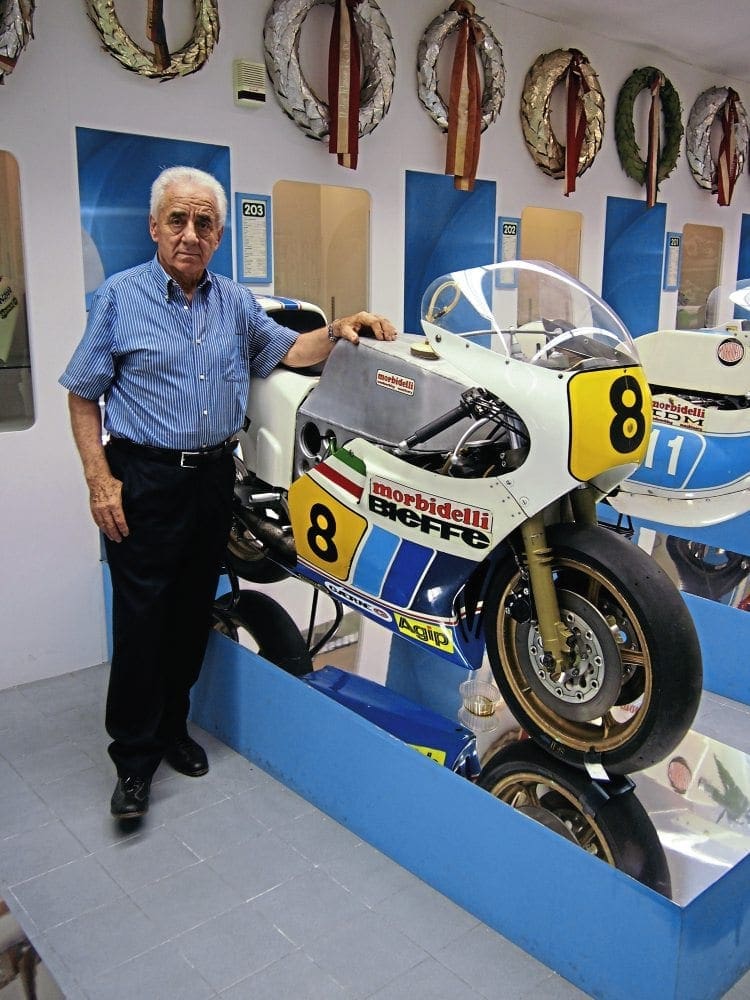 Staying on the theme of MotoGP, we then headed to Coriano for a look around the Marco Simoncelli museum.
With stunning weather and roads putting everyone in the mood for racing, we headed back to Pesaro and a look round the Morbidelli Museum.
No matter how many times I visit this museum I never get bored as it is one of the best in the world, boasting 350 road and racing motorcycles.
Machines from all over the world, not just Italy, are displayed in a series of well-lit halls.
Bikes range from those immaculately restored right down to those with original paintwork, just as they were discovered.
Road and race bikes are interspersed and each is on a mirrored plinth.
Exotica sits in among the mundane, and by following the 'prescribed route' based on time decades, you can trace the history of motorcycling the world over from the turn of the last century right through to the 1990s.
In 1998 Morbidelli made a 847cc V8, shaft drive road-going motorcycle. Sold direct at a premium price and delivered in its own packing case, at that time it was the world's most expensive motorcycle… although few sold and one of the last sits in the foyer.
Wednesday
This was to be one of the longer days riding up into the hills.
Unfortunately the weather turned and most mountains were cloaked in clouds with little in the way of views, and we got somewhat wet on our ride back.
Thursday
Given the poorer weather, a coach was quickly arranged to take us to the Fasassi underground grotto system which was stunning and one of the best examples of the wonder of nature.
It was a good job we were in a bus, as when we arrived at the TM factory back in Pesaro we would have been drowned rats dripping around a very hi-tech factory.
TM was launched in 1976 by two childhood friends Claudio Flenghi and Francesco Battistelli ('Mr Engine' and 'Mr Frame') and the firm has gone onto build bikes that are designed, engineered and hand-built in-house.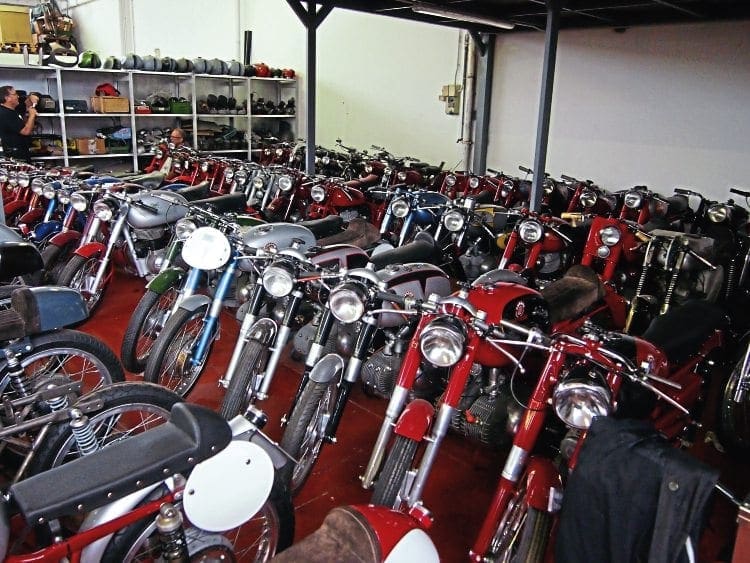 Having looked around some very modern machines, it was back to classics and a short hop down the road to see former 50cc world champion Eugenio Lazzarini and his collection of racing machines.
Lazzarini's career, which spanned 15 seasons, started in 1969 and the diminutive Italian won the 1978 championship on an MBA (Morbidelli) and then took the 50cc championship for the next two years on a Kriedler.
Among his bikes are several he built himself, and he provided an interesting talk on his life and times.
Friday
Another damp day, but that did not stop us riding out to view a private collection of more than 200 machines, including Kel Caruthers' 1969 250cc title-winning Benelli four, which was started up for our benefit.
Other notable machines included an Eddie Lawson championship-winning Yamaha. On the roadster front there are many examples of various small Italian factories that did not last long, but still contributed to Italian motorcycle history.
A stop at the magnificent Rossini opera house concluded the day before we dropped off the motorcycles at the museum before cleaning up for the farewell meal at the clubhouse.
Saturday
For me it was back on the train and plane, but all the others had elected to stay on for the MotoGP race to finish off their time in Europe before flying home.