Despite the gloomy start, 1960 was to be a good year for British scrambling. Established star Jeff Smith took the 500cc British Championship trophy, adding to his 1955 and 1956 awards, while new boy Dave Bickers scooped both the British and European 250cc crowns.
Words: Richard Rosenthal Photography: Mortons Media Group Archive
Each branch of any particular motorsport is a family. There are rotten eggs, good guys, jesters and many sound relatives.
Highlights lift the spirits of many, while tragedy hits but unites all. And in 1960 the European motocross world had its share of sorrow.
As the season opened, the British and European scrambles world mourned one of its giants in Brian 'Strawberry' Stonebridge, at 6ft 4in a giant in stature as well as reputation.
Mid-season gloom descended after the death of 1958 500cc European Champion Rene Baeten, killed competing in a Belgian national event.
Cambridgeshire-born Stonebridge enjoyed his first scrambles win in 1948 racing his 350cc BSA Gold Star. By 1950, he was a regular winner who was admired for his inventive machine development.
Strawberry stepped into Basil Hall's shoes at Matchless, riding for the Plumstead factory 1950-54, then moved to BSA for the next two seasons. Often in the Small Heath competition shop, he not only worked on four-strokes but also two-stroke development in the company of Herman Meier.
As a two-stroke enthusiast, Brian revelled in developing fast 125cc Bantam powered scramblers and then an indecently fast 150cc version.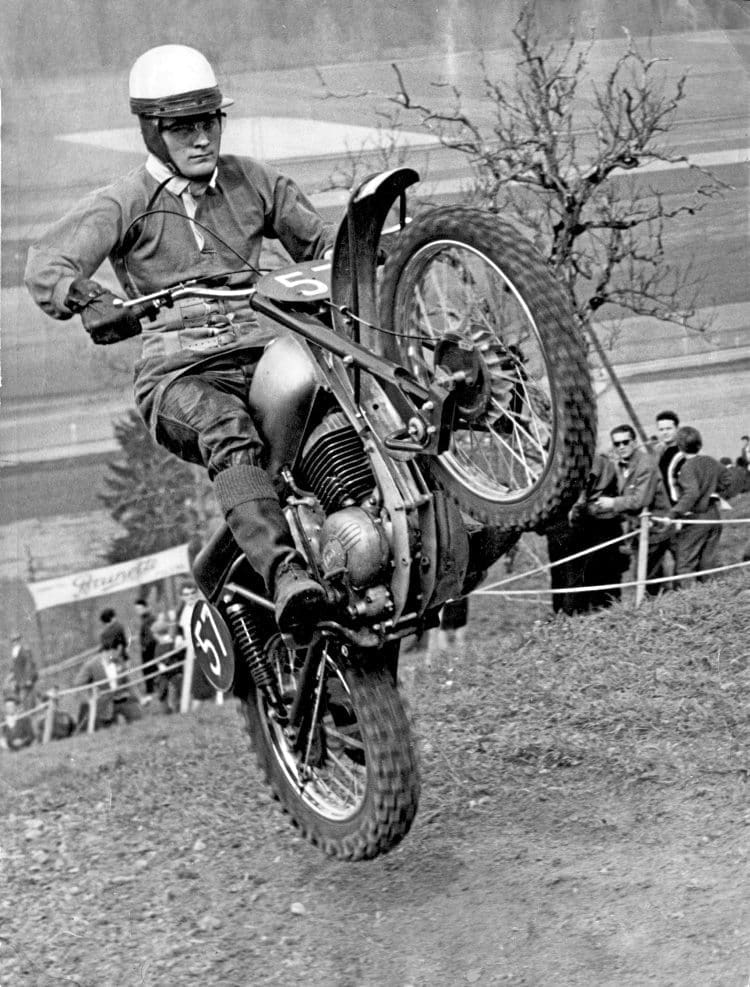 Somehow, he wrapped his lanky frame around these tiny machines to begin his Jack the Giant slaying ways. As BSA reduced its comp shop staff, Strawberry moved in 1957 to Greeves and into a chicken shed at Thundersley, Essex, which became the Greeves comp shop.
Suddenly, Greeves' Villiers-powered works scramblers had near doubled their power output and the trials models were simply much better. Development also helped improve the production models.
Brian, with 197cc and later 246cc scramblers, continued his giant-felling ways in the UK and across Europe.
Much to boss Bert Greeves' annoyance, he built and raced a NSU Max powered 250cc scrambler; in fact two were built at the factory and another two by privateers.
After finishing second in the 1959 European 250cc title to Rolf Tibblin's Husqvarna, the future looked rosy.
Then on October 21, 1959, Stonebridge was killed travelling back from a business meeting with Bert Greeves, their car involved in a head-on crash near Retford, Notts.
Aged 30, Brian left behind a wife and two young children. One of the nicest and most sincere tributes entitled 'BGS – a brilliant legend' was written and published the following week in Motor Cycle News by fellow Greeves ace Mike Jackson (today aka Old Mike Jackson or 'OMJ').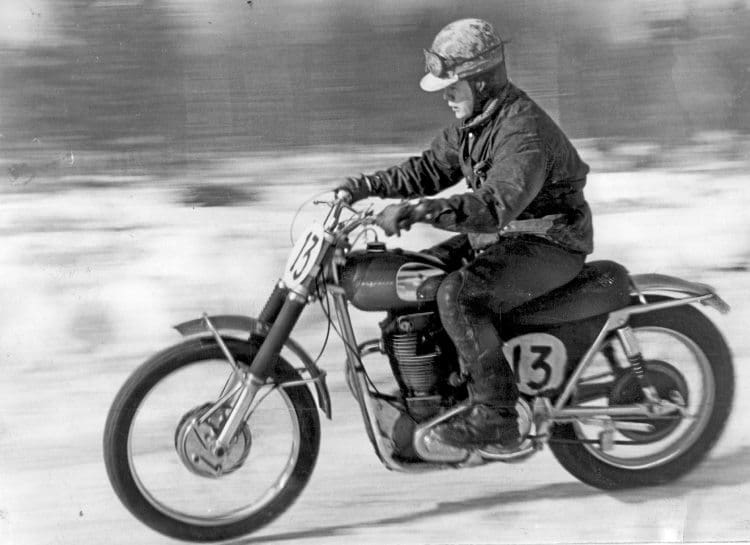 Stunned, the off-road motorcycling world dusted itself down and, although sadder, got on with the job of developing and racing or trialling competition machines.
At Greeves, Bert made his recovery and two young pretenders who had been nurtured by Strawberry stepped up to the plate. In addition to their British successes, Dave Bickers took the 1960 and 1961 250cc European motocross titles and Don Smith the 1964 and 1966 European trials titles.
On Sunday, March 20, 1960, the British off-road family had its opportunity to pay their respects to one of the sport's giants, and a huge crowd (claimed in sources to number 84,000) stood in silence at the specially arranged Brian Stonebridge Memorial Scramble as after a brief tribute and The Light Infantry Junior Bandsmen played The Last Post, there followed the customary minute's silence before the action started.
As the initial 30 riders lined up and then unleashed their machines for the first leg of the Memorial Race, the peace of the Shropshire countryside was shattered.
Derek Rickman (499cc Triumph Metisse) took the early lead from John Clayton with Jeff Smith (both 499cc BSA), Dave Curtis (498cc Matchless), Geoff Ward (498cc AJS) and Arthur Lampkin (499cc BSA) swapping places.
Later Rickman clouted the fence and broke a finger and finally Curtis headed Smith by 100 yards, with Lampkin third.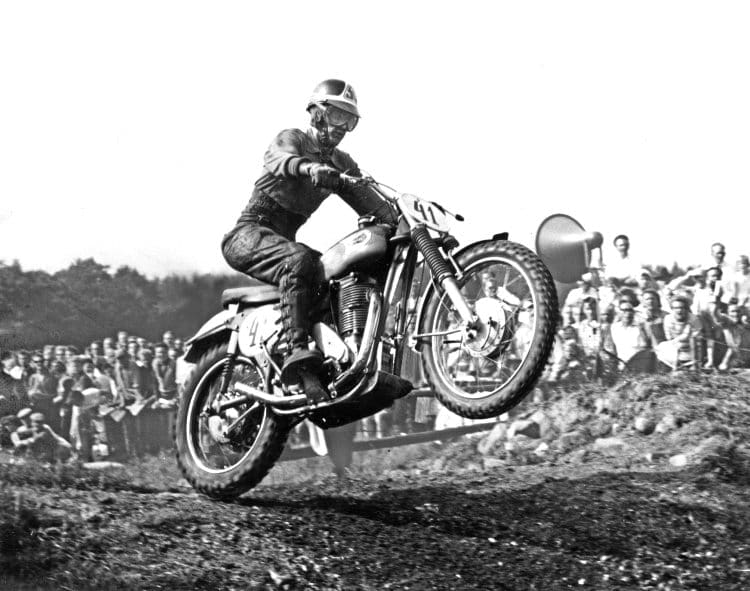 After heats and finals for the supporting races, almost all the field except Rickman lined up for the second of the memorial races.
As the elastic tape pinged free, Smith led Clayton pursued by Curtis, Lampkin, Ward, Phil Nex (499cc BSA), with the 250s of Bryan Sharp (Greeves) and Brian Martin (BSA) chasing hard.
At the flag it was Smith from Curtis and Lampkin. In the tally of times from two rounds, Curtis beat Smith by two seconds, with Lampkin third and Martin fourth.
In the supporting race finals, Alan Clough (246cc Dot) took the first event from Jim Sheehan (499cc BSA) while the second race was Mike Jackson's (246cc Greeves) from Peter Taft (499cc BSA).
Later Cute Bate, secretary for the organising Salop MC, wrote letters to the press entitled 'Thanks a Million' for all the support. In today's jargon, Mr and Mrs Bate and the Salop club turned a negative into a positive – and the coming summer looked suddenly sunnier.
Many Continental riders held Strawberry in high regard, travelling in some cases huge distances just to be there, the mood perfectly encapsulated by the jolly Belgian double 500cc European Champion Auguste Mingels, who came out of a five-year retirement '…to ride in honour of my friend.' Janet Stonebridge presented the trophies and was moved by everyone's generosity.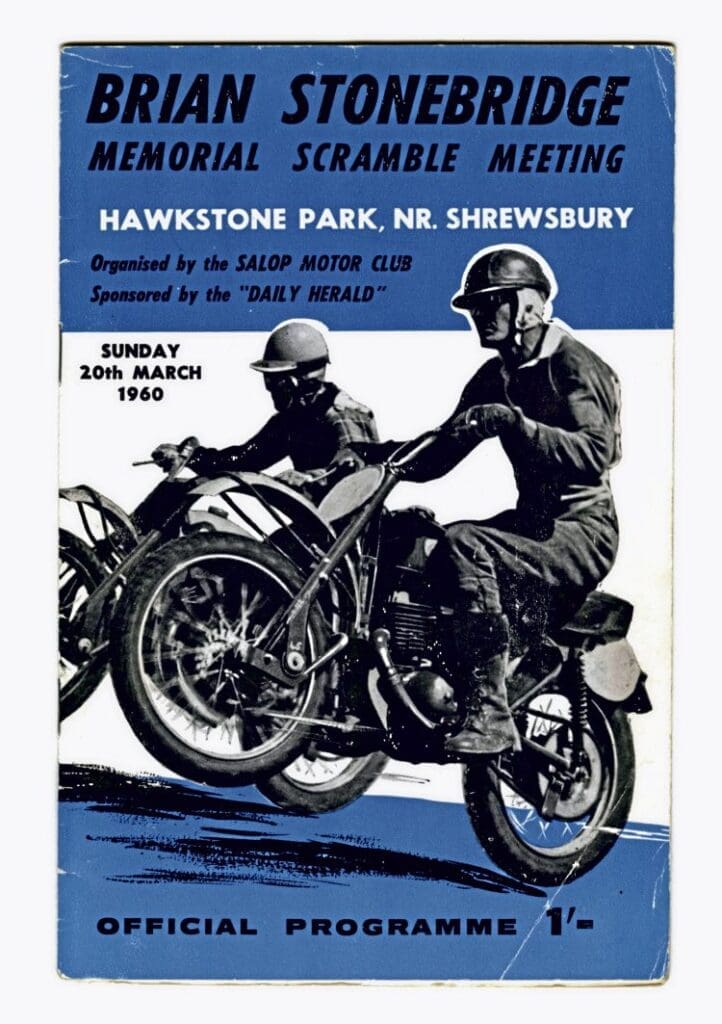 A couple of weeks later, the Coddenham Flyer Dave Bickers (246cc Greeves) started his European Championship challenge on the fast grassland circuit at Payerne (near Geneva) Switzerland with second and third place finishes in the two races, enough to secure him a win over Jaromir Cizek (250cc Jawa) and Arthur Lampkin (249cc BSA) and a maximum eight points.
Later in the month riders battled the thick Ardennes mud for the second round of the 250cc European Crown at the Val Fassotte circuit. Heavy rain, which abated before the racing, and strong winds reduced the crowd to just 4000, who watched 23 of the top-notch lightweight scramblers chase the points.
Slippery climbs, steep descents coated in glutinous mud and endless shunts including Dave Bickers tail-ending Jeff Smith took any fun out of the day.
It was just a battle for points. At the close, it was initially reported as Cizek from Bickers, Lampkin and Smith. In fact, Lampkin finished ahead of Bickers and the corrected result ensured Cizek inched into the title lead.
At the Sittendorf circuit near Vienna, Swede Rolf Tibblin (Husqvarna, 1959 250cc European Champion) proved he wasn't a one-trick pony taking the first round of the 500cc World Championship from fellow countryman Bill Nilsson (Husqvarna) and the Belgian Rene Baeten (Matchless).
And a week later Stig Rickardsson (Husqvarna) bettered Dave in the 250cc French GP, but as Cizek failed to score he went ahead in the title chase. A fortnight after Tibblin took 500cc class honours again.
As the season raced by, Bickers increased his stranglehold on the 250cc European crown with places and a win in Poland, while Tibblin's star slipped.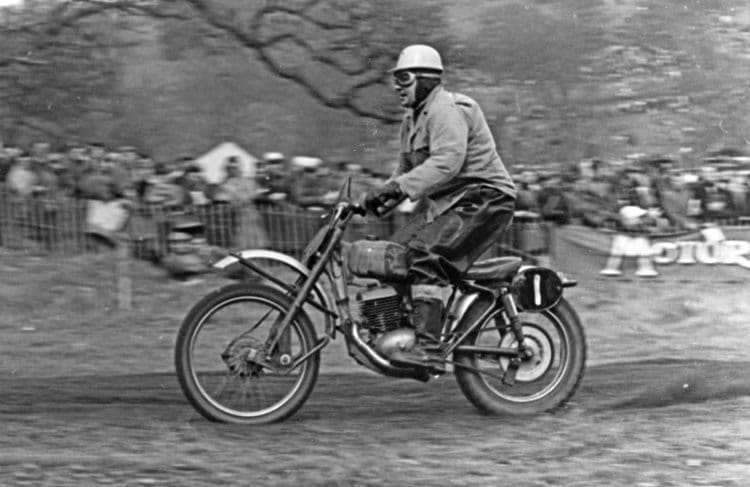 On to the mayhem that was the Italian 250cc GP. The races were held on the narrow Avigliana circuit clinging to a hillside near Turin.
An international press agency described the organisation 'as leaving a lot to be desired.' Smith and Lampkin were disqualified from starting with the organisers having timed just their first two laps, claiming them too slow.
They had never ridden the track before. After appeal, the judges intervened and the organisers relented.
Later Bickers was felled by Zemen (CZ) to soon retire with a damaged foot and his main rivals in the championship race, Jaromir Cizek and Miroslav Soucek, failed too.
At the final flag the Italian Emilio Osterero (Bianchi) took the honours and his first championship points of the season, while 'too slow' Smith finished a creditable fourth.
If Bickers et al felt fate treated them badly that day, spare a thought for John Draper, Jim Sheehan and John Burton.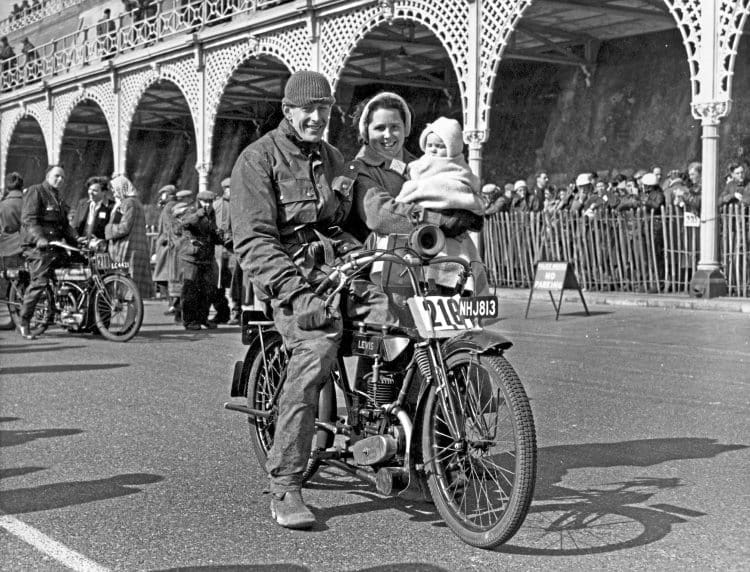 En route to Imola for the 500cc round, their pick-up truck overturned, injuring Sheehan and Draper while their machines and truck were totalled.
As the battered trio flew home to recuperate, the Swede Sten Lundin (Monark) took maximum points with privateer Don Rickman (Metisse) second.
A week later at the East German 250cc GP Bickers was for once was totally out-Sweded by the Husqvarna trio of Stig Rickardson, Torsten Hallman and Lennart Dahlen to finish fourth, but his title claim strengthened.
By now, the motocross world had settled to the absence of Brian Stonebridge's lankly frame lofting his Greeves past the field only to be plunged again into gloom with the death of another legend, Rene Baeten.
His fatal accident happened during an international meeting at Stekene, Flanders. The 33-year-old Belgian with a decade's top-flight experience, was twice runner up in the European 500cc championship for Sarolea and clinched the 1958 World 500cc crown by eight points riding a works FN. He lived near Antwerp with his wife and two young daughters.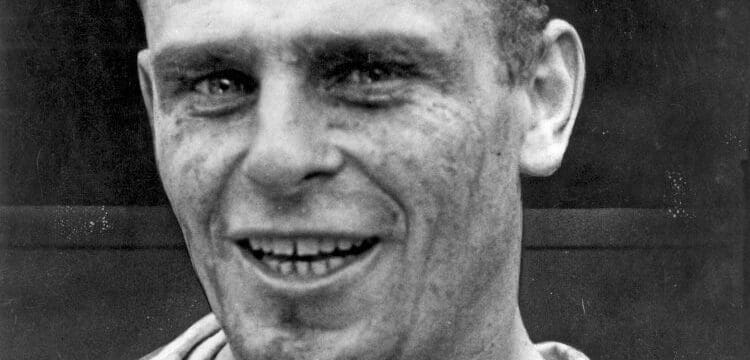 Arthur Lampkin scored his first outright 250cc GP win of the season in Finland, with Dahlen second and Bickers fifth, before the show moved onto Luxembourg and a win for BSA again, this time piloted by Jeff Smith with Bickers second and next his local track, Shrublands Park.
But not before the newspapers headed with 'Nilsson turns on the heat,' informing the 27-year-old Swede, a heating engineer from Hallstavik, set a sizzling pace at the Hawkstone Park round. Reality was Nilsson from Rickman, Johanson, Lampkin, Smith and Tibblin.
Shrublands Park near Ipswich, not far from Bickers' home of Coddenham usually gave the Suffolk boy the advantage, but a confident Jeff Smith, fresh from his ace performance the day before at the Experts Grand National, and a seized engine in the first leg snuffed out Dave's chances of any championship points.
Armed with another Greeves, Bickers led by a country mile in the second leg, with Smith second way ahead of Stig Eriksson. Despite no points, Dave still led the title chase by 10 points.
A huge crowd witnessed Nilsson win the first leg of the Dutch GP run on a sandy course near Nijmegen in late July, with Broer Dirks (BSA) and Rolf Tibblin in the places. Nilsson, Tibblin and Dirks powered all out for the lead, then Nilsson's Husqvarna slowed and issued clouds of blue smoke, but kept running. Tibblin took the lead, Dirks' magneto failed, leaving Tibblin a clear run to the flag with Nilsson's Husky crawling across the line second.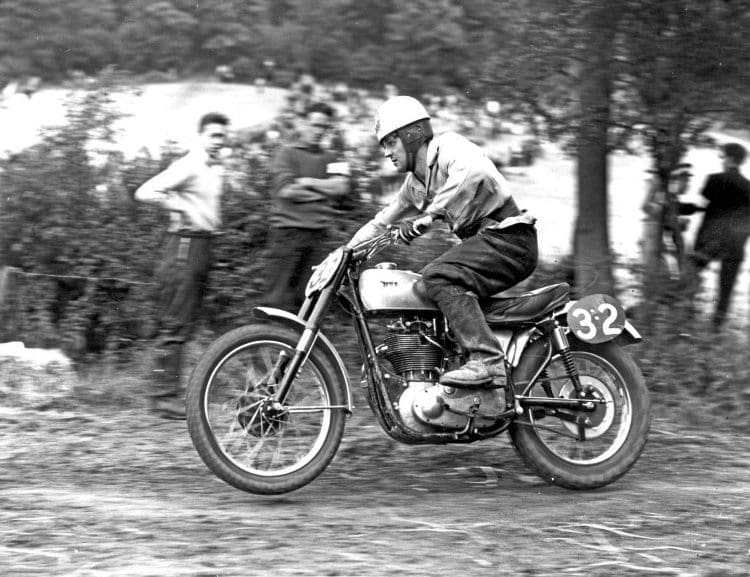 With a round to go, Nilsson crushed his rivals on the sandy circuit near Namur, Belgium, to regain the World 500cc Motocross World title.
An ex-BSA works supported rider, Bill secured his 1957 world crown on his self-developed bike named Crescent, powered by an enlarged AJS 7R engine.
However, for 1958 it was a works Husqvarna on which he led home fellow Swedes Sten Lundin (Monark), Gunnar Johansson (Lito) and Rolf Tibblin (Husqvarna) with privateer Don Rickman (Metisse) fifth. The final round at Ettelbruck, Luxembourg, didn't affect the overall outcome but Don Rickman's second behind Sten Lundin (Monark) moved him into the runner's-up spot.
Scoring his second European Championship win of the season at the remote Vannas, Sweden circuit, just 150 miles from the Arctic Circle and a very long drive from Suffolk, 22-year-Bickers clinched his first European 250cc crown.
After a 'false start' in the first leg prompted by Jeff Smith roaring back to the pits to collect a spare plug for team mate Arthur Lampkin, the British crew finished the first race with the BSAs trailing home Bickers' Greeves.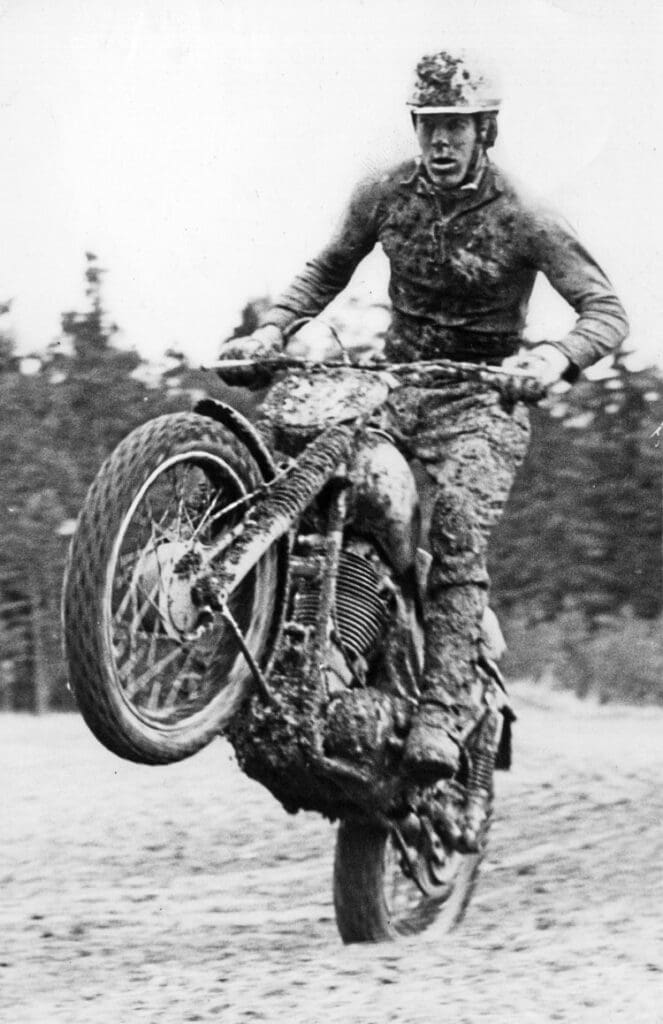 Stig Rickardsson (Husqvarna) hit back in the second leg to win in front of a home crowd of 9000, but Bickers was second to clinch the meeting and his title with a round to go.
If young upstart Bickers rout of the 250cc European Championship contenders on a Greeves was an unpleasant pill to swallow in some quarters of the continent, worse was to come in the Motocross Des Nations at Cassel.
Constant drizzle for two days reduced the going to 'soft' or rather glorious mud for the British boys but treacherous glutinous slime for the rest of Europe.
In the first heat it was Don Rickman (Metisse) from Dave Curtis (Matchless) with the Dutchmen Dirks (BSA) and Roger Vanderbecken (Triumph) the only others to finish in time to qualify. With axle-deep mud gluing most to the ground, many stars gave up in the second heat, totally exhausted, leaving the only qualifiers Ove Lundell (Monark, Sweden) and Jeff Smith (BSA).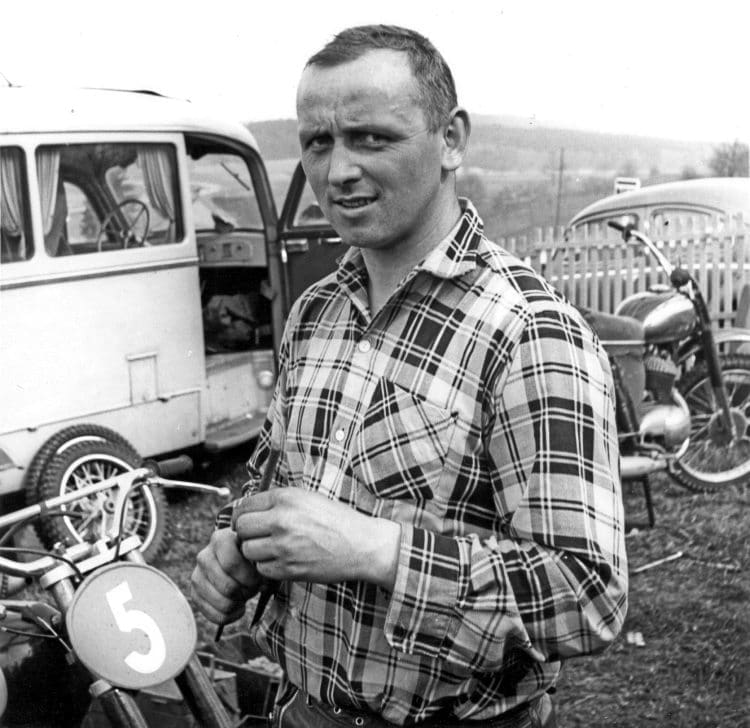 Never before in the history of the event has a field of 42 ace riders, carefully selected from the competing nations, been whittled down to just six finalists.
With three riders in the final, GB was the only team qualified to win and a hurriedly convened FIM meeting awarded the trophy to the British trio of Rickman, Curtis and Smith.
To salvage something else from the day to excite the crowd, each competing nation was invited to field up to three riders in a 'special scratch race.'
With John Burton in place of Rickman and with some continental aces already loading their machines for the long drive home, it was left to Ove at the chequered flag to separate the British aces with Smith leading home Lundell, Curtis and Burton (BSA) for the top places.
Best make haste for the ferry, boys. Considering Brian Stonebridge, at times a man of few words (usually 'choice' words) one can only imagine his comment as he looked down on the shenanigans at Cassel that memorable, muddy weekend.
1960 European 250cc Championship
1 Dave Bickers, GB, Greeves, 48 points
2 Jeff Smith, GB, BSA, 35
3 Miroslav Soucek, Czechoslovakia, Eso, 26
1960 World 500cc Championship
1 Bill Nilsson, Sweden, Husqvarna, 38 points
2 Sten Lundin, Sweden, Monark, 36
3 Rolf Tibblin, Sweden, Husqvarna, 26
1960 British 250cc Championship
1 Dave Bickers, Greeves, 32 points
2 Alan Clough, Dot, 12
3 Joe Johnson, Greeves, 9
1960 British 500cc Championship
1 Jeff Smith, BSA, 28 points
2 Don Rickman, Metisse, 20
2 John Burton, BSA, 20
1960 Motocross Des Nations
Great Britain
Best individual performance
Don Rickman, GB, Metisse
Read more News and Features at www.classicmotorcyle.co.uk and in the June 2020 issue of The Classic Motorcycle – on sale now!
---
Advert

Enjoy more The Classic MotorCycle reading in the monthly magazine. Click here to subscribe.
---