The 16th Anglo-Dutch Trial brought together a host of veteran machinery for four days of historic riding.
When members of the Netherlands Motorcycle Club visited the Isle of Man for the 1911 Tourist Trophy they came up with the idea of an international contest between them and the Brits.
The rules were simple: each country would field 18 riders – two teams of nine private owners and nine factory riders – and their motorcycles had to be genuine touring machines equipped for the road.
The first Anglo-Dutch took place in Holland in August 1912.
Fortunately for the Dutch, national teams didn't have to use bikes made in the home country and although they entered three Eysink and two Vulkaan singles, they went to Germany for NSU motorcycles and Phanomobile three-wheelers, America for an Indian V-twin and Belgium for an FN single and a four.
There were 21 Brit-made motorcycles entered, including a trusty Triumph, a privately entered Bradbury, and a couple of Premiers.
All machines carried a circular green numberplate, with E for England or H for Holland before the number.
Each team was divided into three lightweights, three middleweights and three heavyweights, with or without a sidecar. And they had to average 30kmh (20mph) for each leg of the trial.
With no famous test hills such as Applecross, Sun Rising or Birdlip to climb, the British trade team expected the trial to be as tough as a stroll through the tulip fields.
Top riders like Pa Applebee and Billy Pratt were used to being timed to fractions of a second, but the Dutch were more laid back even in the days before alternative 'coffee houses' and gave everyone 15-minute's latitude at all checkpoints.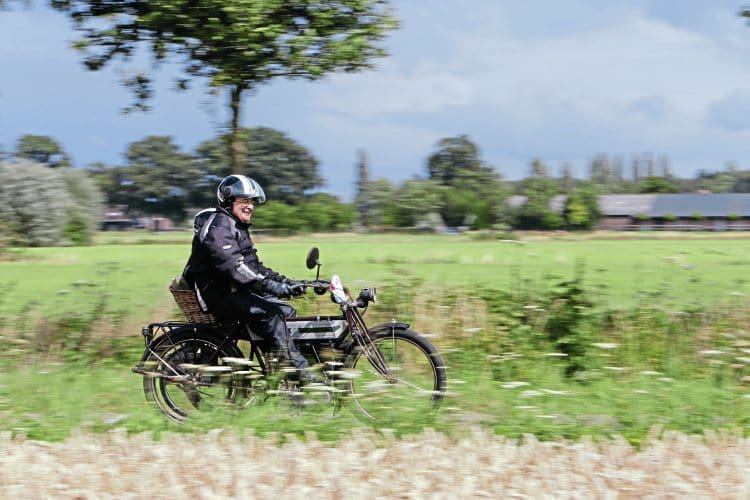 If the Brits were counting on an away win they were to be sorely disappointed. Private owner F C Wasley missed a checkpoint when the magneto of his 350cc Douglas packed up, and lost a whopping 43 marks. The Dutch won the contest with 28 marks dropped compared with 63 for the Brits.
The Brits triumphed in the return match in 1913, when the route included a trip to Brooklands, but an assassin's bullet in Sarajevo ended any chance of an Anglo-Dutch Trial for 1914.
Decades later a group of VMCC and Holland's Veteraan Motoren Club members brought the Anglo-Dutch back to life in 1989 and it's been repeated on alternate years ever since.
As we rolled off the ferry at the Hook of Holland for the 16th the score stood at six wins for the Dutch, and nine for the Brits. Are the Hollanders hungry enough to win in 2015?
Day One
I'm riding a 1913 Rex and sidecar that belongs to my Dutch friend Roel van Maarseveen. He's recently fitted a rebuilt ROC two-speed hub gear and band clutch, and warns me that it might need some adjustment. It's a handsome machine, but starting the 1000cc V-twin when it's cold takes a lot of effort.
Turning the cranking handle – yes, this is a hand-start motorcycle – is like trying to stir a bucket of cement with a wooden spoon, but I eventually get the flywheels spinning fast enough to drop the valve lifter and it fires up.
There's a rocking pedal on the left side – push and hold the front down to select first gear, and as soon as you reach a brisk walking place press the rear of the pedal down to lock the ROC hub in second.
With Bruce Hazelgrove acting as ballast in the sidecar we set off from the hotel at Almen, a quiet village mid-way between Apeldoorn and the German border.
We're last away, and within a couple of miles it becomes obvious that the clutch is slipping. We pull over, get out the spanners, and adjust the clutch band – there are two on the hub, the second one is the brake.
Another short ride and we stop again to adjust the gear selection mechanism. That's sorted it – the Rex is now flying along but we've lost a lot of time so we miss the morning route and join the other 47 riders at the lunch stop – a classic Ford car museum in Beekbergen.
The afternoon trip takes us back over the River IJssel. Today's 120km (75 miles) route is a social run, so it doesn't matter that riders lose time waiting for the ferry.
We catch up with Sunbeam rider Johnny Johnson and Ronald Branse, whose 1914 Bradbury V-twin and sidecar cruises effortlessly at 65kmh (40mph).
Mike Wills also joins us – he's been riding his 1904 Bradbury for most of his adult life. Back at the hotel there's plenty of time to check the Rex over before having a glass of Grolsch. Or three.
Day Two
The weather forecast promises another dry day, but by mid-morning the sky is black and lightning streaks across the sky. We're going to get wet – don't you just hate it when the forecasters get it wrong?
Our 125km (78 miles) route takes us north-east towards Mallum and on to Haaksbergen. We have dried out by the time we get to the historic railway station where the Dutch organisers have arranged for us to have lunch.
And we do it in style – sitting in a carriage as the steam locomotive takes us on a return trip to Boekelo.
If you think that starting a clutchless single-speeder is hard, take a lesson from Bill Phelps. He can fire up his 1908 Triumph after pushing it for only four brisk steps before he drops the valve lifter and swings into the saddle.
And he's got a Mills and Fulford sidecar hitched to the Triumph… with wife Jean sitting in it comfortably. "Gears are just a passing fad," says the Welshman.
Dennis Beale is also riding a Rex V-twin, but his a belt-drive single-speed Tourist model. "My bike is also difficult to start when it's cold," admits Dennis at another coffee stop.
"But it's a lot easier to spin it over if I run some petrol through the priming taps in the cylinder head to dilute the oil." My Rex hasn't got priming taps. But I'll have bigger biceps by the end of the week.
The road that leads us to Diepenheim rises 2.5m in 300. Is this the famous Koeien Vlaai hillclimb that the Dutch told us about? Roel's Rex romps up the gentle incline and we head back to the hotel where we catch up with Mike Wills.
He won't be riding his Bradbury tomorrow – the steering felt a bit vague when he was bouncing across a road that might have been designed to test a Citroen 2CV. "I thought I had a slow puncture," he explains.
"But the steering stem has broken. I'm borrowing a belt-drive Triumph for the rest of the Anglo-Dutch."
Day Three
This is what we're here for – the one-day time trial that will decide who wins the 16th Anglo-Dutch. Competitors come to the line with a cold engine and have to ride 100m within one minute of their start time or they get penalty points.
My arms are a blur as I stir my cement bucket, but the Rex fires and we're off again.
There are no route cards. Instead the Dutch use orange markers positioned 50m from junctions – a triangle for straight ahead, a square for a left turn and a circle for a right.
There's also a triangle positioned 50m after a junction, like a child's security blanket for riders who worry that they might have made a mistake. It's a great system, and we're making good time.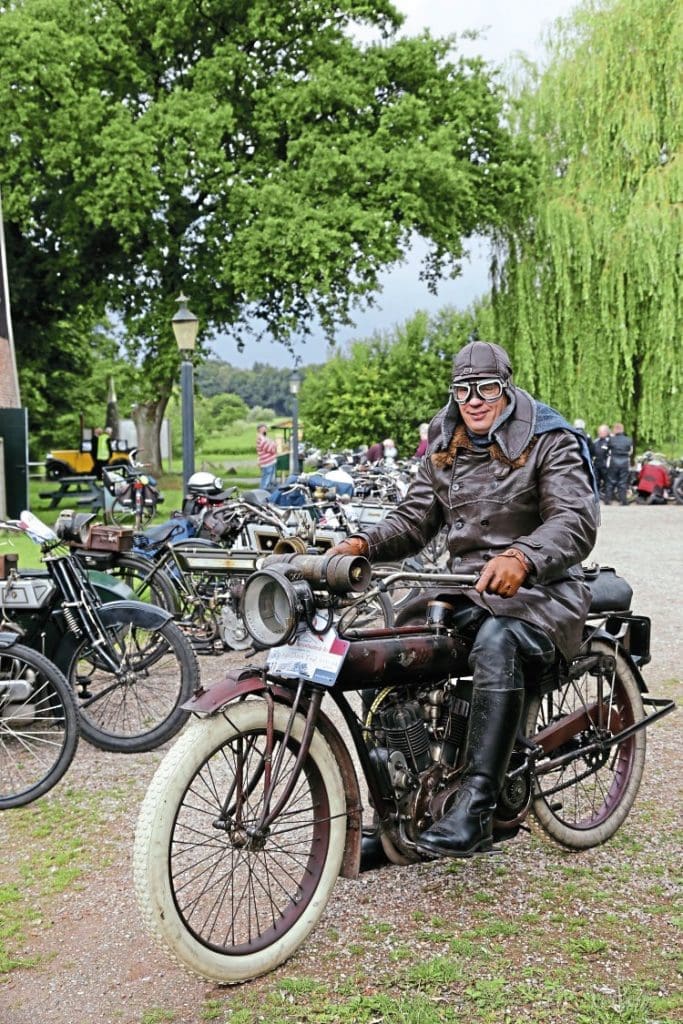 It's a pleasure to watch Carolien de Boer start her 1913 two-speed BSA at a control point. A light tickle of the carburettor, set the ignition and throttle, and one kick. The 500cc single fires up first time, every time.
Hennie van Maarseveen, another of the Dutch women, glides along majestically on her 1910 single-speed Triumph. She's on her way to an award for the best female rider, with only three points lost.
Brit Bobby Robinson isn't so lucky – he's having trouble with the gearbox on his 1914 three-speed BSA. He has to lock it in top gear and bump-start the 557cc single.
Don't you just hate it when the weather forecasters get it right? Bang on time the storm clouds dump a monsoon on our little patch of the Netherlands and we decide to stay at the coffee stop for a little longer until the rain eases.
We lose more time when a dairy farmer closes the road so that he can take his cows for milking.
There must be a hundred Holstein Friesians, and they are in no hurry. But someone up there must like old bike riders, because by the time we reach the lunch stop at The Sun in Wehl the sun really is shining.
It doesn't last – half-way through the afternoon route we turn into the monsoon again but 30km further and we've got blue skies when we reach the final checkpoint. Lex Biermans is looking very pleased with himself but it's not because he kept dry inside his sailing gear.
"I put a band of inner tube rubber over the drive pulley on my 350cc Sommaire," he says. "My flat belt didn't slip at all in the rain!"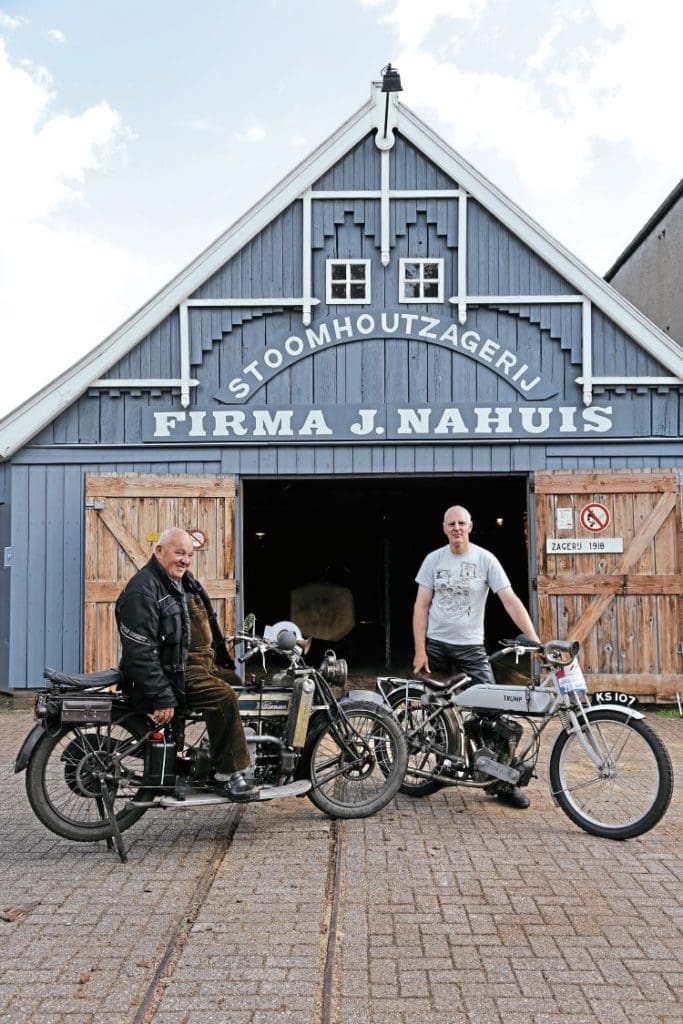 Day Four
The competition is over, but there's another 125km (78 miles) ahead of us. We're riding south-east to Ruurlo before stopping at a saw mill near Groenlo.
The steam engine that powers the saws was built in Monchengladbach, Germany in 1897 and got almost as many admiring glances as Peter Haanen's original-paint Rover – although when it comes to original finish, passenger Bruce prefers Ruud van Bijnen's 198cc Centaur Featherweight. "The exhaust is so quiet," he says. "It sounds like a kitten sneezing!"
The more that I ride the Rex the better it gets and the final 50km (31 miles) to the finish fly by. After the evening dinner organiser Fred Hesselink announces the results. He tries to let the Anglos down gently, but you can't hide the truth.
"The visitors have scored 97 penalty points," he says. "But the Dutch have done a little better – only 36 points lost!" We've been thrashed. Dennis Beale winks at me. "We'll beat them in 2017," he says with a grin. "There are lots of good hills in England!"
Read more News and Features at www.classicmotorcyle.co.uk and in the May 2020 issue of The Classic Motorcycle – on sale now!