The D1 version of the BSA Bantam is the purest one of all. And it's still great fun to ride.
Words: STEVE WILSONPhotographs: JONATHAN FLEETWOOD
When I was in Africa in 2009, I found that any motorbike, irrespective of make, was referred to as 'a Honda' in the same way that in 1950s Britain, any motorised carpet sweeper was 'a Hoover'.
It had been the same then for two-wheelers – any lightweight motorcycle would be called 'a Bantam', so ubiquitous were BSA's Mist Green 125s, everybody's first bike.
After engine production by men at the Group's Studley Road, Redditch factory, the predominantly female workforce on the assembly line at Small Heath sometimes produced 400 a week. The 100,000th D1 was made in 1953, and by the time the model's end came in March 1971, well over 400,000 Bantams had been built.
I came to Bantams a couple of years after that, so mine were all later 175s and because I'd started on a 125cc scooter, I'd never ridden a D1, though a couple of the lads in our village had run them.
To remedy this I went back to the Isle of Wight, where they do the time-warp pretty good, and to Ken Powell, whose collection of, erm, unusual lightweights (see the last couple of issues) also naturally included a 1953 D1 Bantam, with plunger suspension and Wipac Geni-mag direct lighting, more of which later.
"I got it 11 years ago," said cheerful Ken. "I had a friend who was a caretaker at a convent, and there it was in a shed, all dusty and rusty. An old boy there had put it away years before, and was happy to let it go. It needed quite a bit of work cosmetically.
"I wire-brushed the frame, hung it up at work, and used a – what we now know is lethal – cyanide-based two-pack on it, which is still shiny a decade later. When I joined the Bantam Owners Club, people told me it was the wrong shade."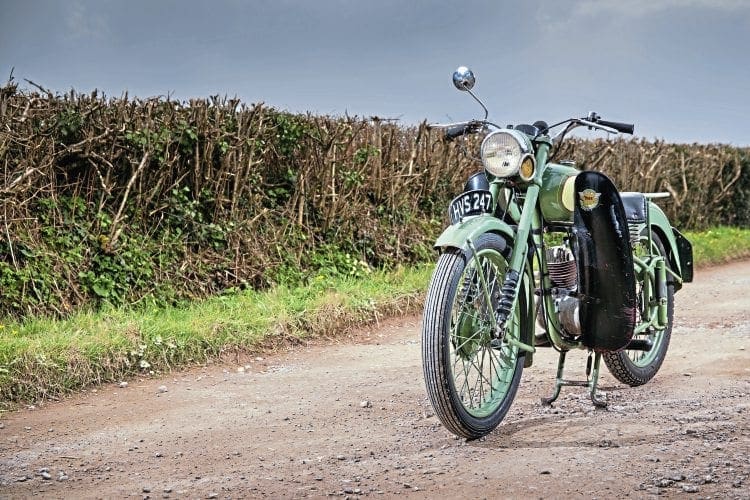 Personally I believe there's no such thing, given the proven variations in colour on mass-produced motorcycles, the A10 Golden Flash being a case in point. Ken's may have been a tad darker than some, but 10 years on it's a completely acceptable variation.
"The engine was running but not great, and I thought the problem was probably the head gasket. I got in touch with BSA specialists C & D Autos (Tel: 01564 795000), to order a new one, and they promptly told me the D1 had never fitted a head gasket in the first place!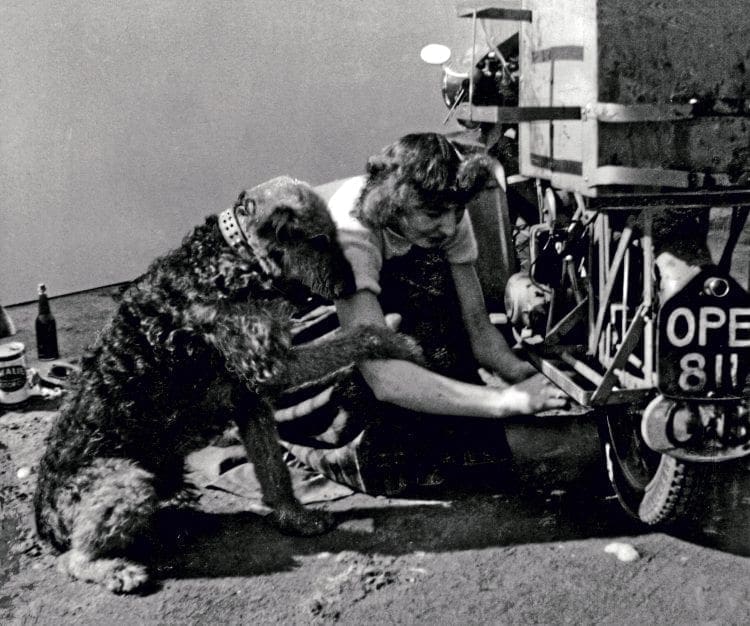 "After I'd removed it, and faced the surfaces, it ran really well. That was the biggest improvement, and the main thing I've done mechanically. The gearing on the three-speed system is unusual. Someone had fitted a trials-type big rear wheel sprocket, but then adjusted the internal gearing to raise it back to normal road-going ratios."
Read more and view more images in the October 2019 issue of TCM – on sale now!