The four-stroke Gilera B300 twin is a good but often overlooked machine that was made in significant numbers.
Words: James Adam Bolton Photographs: Sara Zinelli
Chatting to an Italian friend the other week, he was telling me he fancied buying another old bike, but perhaps a machine a bit different to the older singles he has usually ridden. Something Italian though – perhaps a twin…
Having just tested a nice Italian twin recently, I told him it was quite a revelation in terms of its construction and usability.
So he started rattling off the usual possibilities – because if you think Italian twin, what bikes would be the first you'd come up with? Moto Guzzi Le Mans 850? Morini 500 perhaps.
Or of course the iconic bevel drive Ducati twins. Yes, all twins of course, I said to him, but not the one I've ridden. And he really couldn't imagine what I was talking about, and to be honest, most of us wouldn't.
Even if you Google 'Gilera 300' today, you'll get plenty of info about a modern scooter from a few years ago, and not a classic motorcycle.
Yet, the Gilera B300 was an Italian designed twin cylinder, produced for over 16 years and in over 8000 examples, and was a sales success at home in Italy and in the USA in particular, and it made its debut before any Ducati, Guzzi or Morini twin even existed.
Thanks to my father-in-law, Alfonso, I got the chance to ride one over the Christmas holidays, and though I'd heard of the Gilera B300, I don't think I'd really come across them before. Having reminded me he had one in his collection, and had been using it reasonably regularly up until recently, he asked did I want to try it out?
The mild and sunny weather in Tuscany, even in late December, meant I had no excuse, and so with the battery charged up, and a little time to clean and fettle the carburettor, I took it out.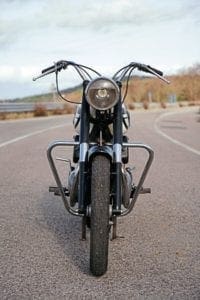 "Do you remember, I got this in an exchange with the son of a collector friend for my Kawasaki 750, along with the MV Raid and Aermacchi 350 back in 2002?" asks Alfonso, and yes, now I remember, and in fact, I wrote about the fantastic MV Raid that also made up part of the swap of the century, for TCM in 2005.
At the time, these were still just old Italian bikes, and his Kwakka 750 was immaculate, but roll on, 16 years, it seems obvious who will have ended up with the better investment at least over time.
Read more and view more images in the June 2019 issue of TCM – on sale now!
---
Advert

Enjoy more The Classic MotorCycle reading in the monthly magazine. Click here to subscribe.
---