The GP Rétro du Puy Notre-Dame, held over the weekend of July 20-21, saw a fine, eclectic collection gathered for what is an increasingly prestigious event.
Words and photographs: MICHAEL DAVIS
Among all the French historic motorcycling events, le Puy Notre-Dame is considered special.
Which perhaps explains why this year saw the greatest number of participants and spectators in its 23 year history.
More than 150 entrants made up the three motorcycle classes – tourisme, course and sidecars – over 30 coming from the UK and being the most significant overseas contingent.
For first time riders, the Puy Notre-Dame circuit can appear daunting, its clockwise 1.5 kilometres being tight and narrow throughout.
Heading out into the country, along the Rue du Stade, you encounter the first hairpin bend at the entrance of the Rue du Parc.
Rounding this, you enter the long, fast downhill straight leading to the Place Gâte d'Argent chicane. After negotiating this, you're back in town.
Another hairpin bend leads onto the Rue des Ducs d'Aquitaine. Next, a gentle bend brings you onto the Rue de la Mairie and a straight run to the finishing line.
Saturday saw each class run twice, starting in the blistering heat of late afternoon and finishing under lights after midnight.
Thus there were some bleary eyes when Sunday morning came. Most made the mixed inauguration run at 10. Even latecomers were ready for the first tourisme class 50 minutes later.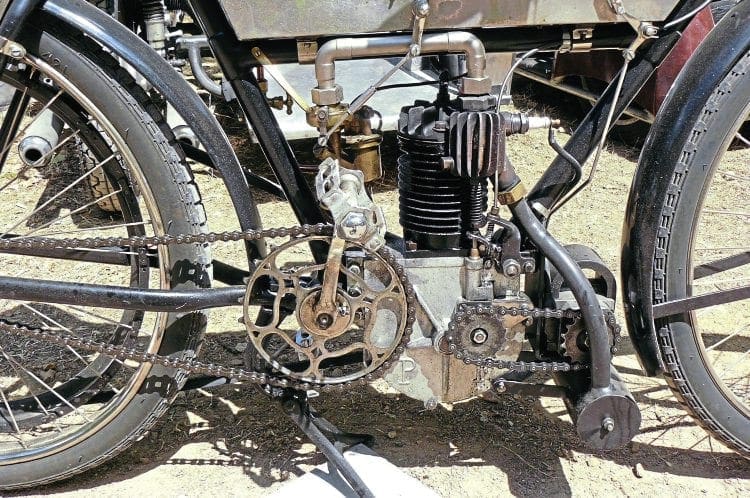 On Sunday each class was run three times, and with 20 minutes allocated to each session, no one could say they hadn't sufficient opportunity to enjoy all the GP Rétro has to offer.
Most machines were prewar and European.
British motorcycles led the 'count', with over 70, followed by France, with more than 60. Other countries' marques – Germany, Belgium, Switzerland, Italy, Russia and the USA – didn't exceed single figures.
The oldest participant – motorcycle, rather than rider, that is – was Pascal Faure's 1903 Type 1 Andru with its 250cc 2hp single cylinder water-cooled Mirus engine.
Pascal readily conceded it was a cycle with a motor rather than a motorcycle and joked that while it's a flat tanker, its tank is vertically, rather than horizontally, flat!
Andru produced few motorcycles before being absorbed into the Peugeot empire in 1903. Pascal continued: "It's a rare machine. I know of only one other and that's in the UK.
"I acquired my Andru seven years ago, not far from my home in the Paris region, as a collection of parts.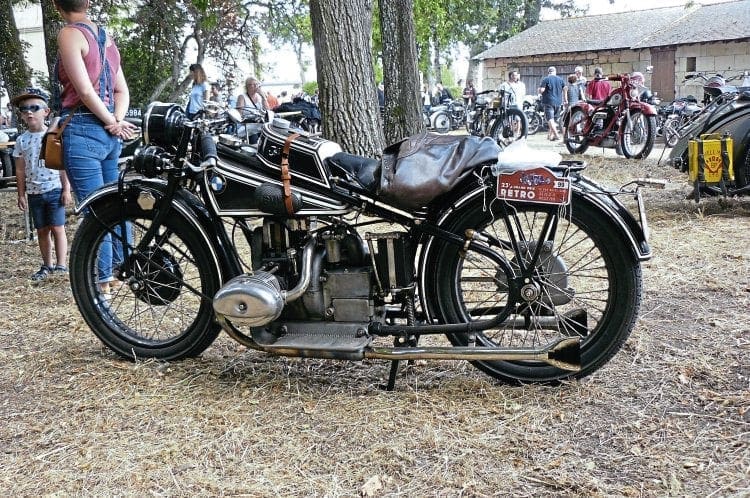 "It had been dismantled years before but, fortunately, about 80% of the parts were there. Those that weren't I made myself." Asked whether he rode it frequently, his response was: "
Although it's difficult to operate, I participate in many vintage motorcycling events.
For the engine to run well, you need to master the combination of lever adjustments. The brakes are very 'period', i.e. not very effective.
The manufacturer claimed it can achieve 50kph on the level. I haven't tested that claim!"
Read more and view more images in the October 2019 issue of TCM – on sale now!