FROM OUR ARCHIVES
If ecomonic constraints had not been such a dominant factor at Hall Green, this very special KSS could have been released under the Velocette name in the 1950s. This one-of-a-kind example was built in period, making it all the more remarkable.
Words: ANDY WESTLAKE Photography: TERRY JOSLIN
If you're a connoisseur of the superb range of bikes that rolled off the Hall Green production lines, then you might be a tad confused when you take a look at this machine. The engine is readily identifiable as that of a Mk. II KSS but, as the last bike of this type was manufactured at the end of 1947, you will quickly see that the frame, twin leading shoe front brake and silencer are from a much later example of the Birmingham company's sporty singles. So what is this strange beast, I hear you ask?
As a standard KSS, the bike which carries the number plate 'CFV 526' was manufactured in September 1947 and, later that month, was sold by Lancashire dealer Parrish and Sons to Jack Windle of Dickinson Road in Blackpool. Nothing is known of the motorcycle's early years, but it stayed with its original owner until 1952 when the KSS was traded in to the Premier Motor Company of Aston in Birmingham.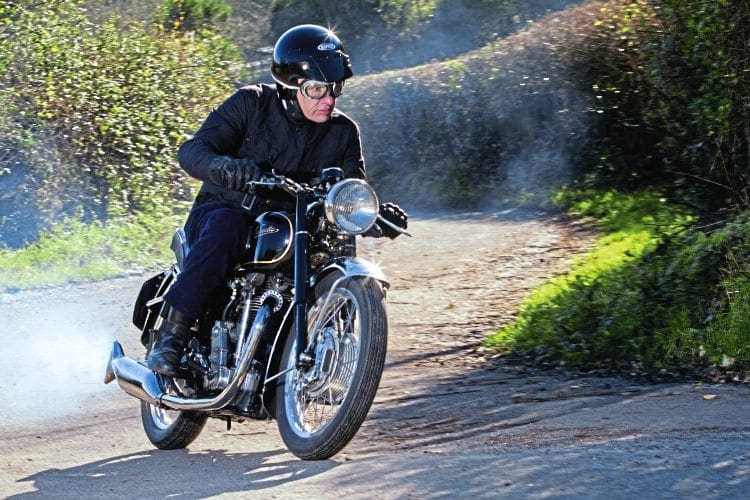 At the time, Premier was one of Velocette's major dealers and the future of CFV 526 had already been planned. Just under 1300 examples of the sports single had been produced postwar, but their running gear was still entrenched in the 1930s and, as the construction of their overhead camshaft engines was a long and labour intensive process, Hall Green had decided to pension the model off and concentrate production on the bread and butter MAC as well as the newly-announced LE twin.
Despite its shortcomings, the Aston dealer could see that the KSS engine was still a gem and when CFV 526 turned up in its workshop it was decided to construct an amalgam of old and new, and so the Premier KSS Special was born.
This was achieved by fitting the motor from the sweet-running 350cc single into a replica of one of Velocette's new sprung frames which, by 1953, featured movable dampers and telescopic forks as fitted to the latest range of MSS and MAC models.
Through the grapevine Premier was made aware that at Hall Green a similar project had been unofficially sanctioned (though it was never intended for production) and entrusted to head of spares, Sid Stevenson – a man who was renowned for his ability to reuse various parts returned to the factory.
Back in Aston, the Premier version was given to leading mechanic and Velocette test rider, Fred Swift. Fred – who would later become famous as a race mechanic for Triumph, Ducati and Suzuki works rider Paul Smart – was the perfect man for the job thanks to his contacts within the Velocette works.
Stevenson had already finished the factory version of the KSS special (assigned the designation 'HOH 59') and he revealed to Swift that the ideal wheelbase for the special was, in fact, 1½ inches longer than the standard production-framed models.
The new Premier special quickly took shape and, after it had been treated to a thick new layer of stove enamelling, it was reported that in less than a week Fred had turned the old ex-girder fork frame into one which had all the attributes of its modern siblings.
Following final assembly, it was soon time for road testing. Swift soon discovered that, thanks to its free-revving overhead camshaft engine, CFV 526 not only delivered a respectable top speed of around 90mph but both the handling and braking were more than a match for the period opposition.
Premier's objective to produce a bike that promoted all the best that was available in the 1940s and early 50s was fully vindicated, but sadly the concept of a lightweight Velocette ohc sportster never went any farther. Once completed the KSS special held pride of place in the Premier Motors showroom for many years and was only removed for the occasional parade around a race track or an outing to the Isle of Man.
One of these trips to the Island was in 1960 when both the Premier and factory version (HOH 59) were spotted parked alongside each other on the Douglas promenade; a sighting recorded at the time by ex-Velocette road racer Arthur Lavington. No doubt many hundreds of enthusiasts had passed by and barely given the pair of 350cc singles a second glance, but Lavington was quick to acknowledge that these were no run-of-the-mill production irons and that their creators, Fred Swift and Sid Stevenson, were two extremely talented engineers.
We now fast forward five decades to the Premier KSS today. The bike is owned and ridden by West Country enthusiast Colin Archer; a man with a lifetime's passion for virtually anything with two wheels.
Article continues below...
---
---
Colin takes up the story: "When I was a lad, my dad rode an Autobyk to his work for a wholesaler in nearby Bradford-on-Avon, but he regarded it as very much a 'tool' and had little or no interest in motorcycles or scooters. My interest was sparked off when some of my mates got a field bike and, keen to join in the fun, I got myself a Bantam with a Todd cylinder head which really flew.
"Tinkering with the Bantam taught me a lot about the mechanical side of motorcycles and on leaving school I got a job as an apprentice mechanic working for Holloways in Bath. From there I joined the newly opened Bath Kawasaki centre and later worked for Maggs' Motorcycles in Midsomer Norton.
"During those years I owned and rode lots of different bikes – mostly Japanese – but I'd become increasingly interested in British bikes and my first was an Ariel Red Hunter. This was soon followed by a MAC Velocette which had been stripped to the last nut and bolt and came in a multitude of boxes. Restoring the MAC was a bit of a challenge but it kick-started my love for the Hall Green singles and since then then I've restored several – including a Viper racer – but my ambition has always been to have one of the beautifully crafted camshaft KSS models.
"In 2009 I was alerted by Ivan Rhodes that the then owner was interested in selling his unusual and very rare KSS-engined special. As you can imagine it didn't take me long to make up my mind and, a long drive to Derbyshire later, it was mine. I understand that after it had been modified by Premier the bike had spent many years of its life in the showroom before going on to a private museum at Ilkeston in Derbyshire and then it had two more owners before being bought by the man who sold it to me.
"He had done most of the major restoration and cosmetically it looked very tidy, but the dynamo was missing so it came to me as a non-runner. As it hadn't been used in anger for a number of years I decided to strip the engine and, as there was quite a lot of slop in the barrel, this was treated to a re-bore and new oversized piston by Gary Bowden engineering in Bristol. Through my research I'd discovered that the KSS shared many components from the KTT including the four-speed close-ratio gear cluster, the K17/8 race cam and, like the track bike, it also had a reputation for smoking on the overrun.
"Armed with this information I decided to treat the cylinder head to a modification which involved fitting stronger BMW car springs along with buckets and stem seals to give a better seal in the valve seat. Velocettes have a reputation as being slightly difficult to start from cold so, to give it a fatter, more reliable spark, I fitted a 60 watt Miller Lucas modified dynamo along with an electronic regulator and put a new brass slide in the Amal 10TT9 carburettor.
"At some time in its life the original handlebars had been removed so I changed these for a pair of stainless steel replicas and replaced the control levers for new pattern replacements; both of these supplied through the very helpful owners' club. From reading Ivan Rhodes' excellent book on Velocettes I understand that the assembly of the ohc engine had always been a specialist job at the factory and needed meticulous attention to detail if it was to run to the quiet precision for which it was designed. As the rebuild progressed it was obvious skilled hands had originally worked on mine as it all went together remarkably easily, and with petrol in the tank it fired up first kick. The note through the modified Thruxton silencer was superb and, to make sure I had the mixture all set up correctly, I took it along to a friend who gave it the thumbs up when he checked it out on his Dyno."
Colin completed the restoration in 2011 and since then he's used it on several Velocette club runs where it understandably creates a lot of interest from those 'in the know' and others who just want to learn more about his very unusual machine. Glistening in the low winter sun, the Premier KSS certainly has all the appearance of a well thought out thoroughbred and it also performs like one, as I duly discovered.
My previous experience of starting Velocette singles comprises of a lot of huffing and puffing when trying to start an engine that refuses to fire but, as Colin had promised, this one only needs a decent bit of priming and a good swing on the kickstarter to bring it bursting into life. With first gear selected it only took a few revs to get the bike moving and, once underway, the other three ratios engaged with the smoothness and ease of a much more modern machine.
Despite its fairly modest engine capacity, the little Premier special was more than capable of keeping up with – and overtaking – contemporary traffic, and although I didn't go in search of its top speed, I'm reliably informed a well put-together KSS will, under favourable conditions, still top 90mph.
That being said, the KSS special is not all about top end speed because it was possible to come down to 30mph in top gear with no snatch from the ohc engine. From when their swinging arm frames were first introduced in the early 1950s, Velocettes earned an enviable reputation for their superb race-bred handling and, with its fairly low flat bars giving a near perfect riding position, this particular bike is one which can cover seriously large mileages with little or no protestation from either the engine or the rider.
Throughout my ride, the well set-up suspension absorbed all of the bumps and pot holes that the lanes of North Somerset could throw at us and it was comforting to know the twin leading shoe front brake was a real stopper, should it be needed.
Sadly our test of the Premier KSS was soon over and I had to return it to its proud owner. It's a super little bike and although it's easy to understand why Velocette didn't put it into production it could – with investment in new tools at the factory – have certainly taken the ohc single well into the next decade.
Enjoy more The Classic MotorCycle reading in the monthly magazine.
Click here
to subscribe.