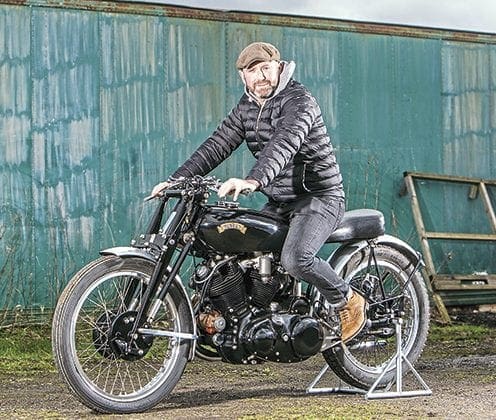 Many years ago, I was instructed to never mention the weather in columns such as this, as it smacked of having nothing else to say. Well, I've long followed that advice but I'm going to make an exception this issue, because, basically, weather has dominated so much of what we've done – or not done – this month.
Our base in Horncastle had a few days of isolation, with skeleton staff able to get in to work (people like me who walk, basically; many roads were impassable) which meant that everything this month has been a little bit of a struggle
And then, just when it all seemed to have cleared off, back it came on Pioneer Run weekend. I was staying in south London, the intention being to drive down to Brighton early Sunday; an Oxford-based friend called me at quarter to eight in the morning, to report he couldn't get his van off the drive, so no run for him. I made it down to Brighton, and greeted the 100-odd hardy souls who'd managed to battle down to the seafront. But goodness it was cold, with snow on the beach and a biting wind. We'll have a report on the run next month, best we can.
It's all become really frustrating. I'm so keen to get out and start riding and just when it starts to feel a little as if spring has sprung, then there's rumours of more incoming bad weather. Still, we've been looking at the calendar hopefully, planning events and crossing our fingers that things get better sooner rather than later.
The other problem is I spend far too long plotting and trailing through adverts, well aware I really need less motorcycles, not more, but ignoring common sense. I also have various 'collaborators' in my often hair-brained schemes/plots, and before we know it we're talking ourselves into buying (though not actually buying; it's basically a virtual reality (VR) game!) all sorts of things.
Article continues below…
Advert
Still, with a bit of luck the weather is on an upward trajectory and rather than VR, we can have actual reality and start to get a few miles of real riding in. And on the issue of luck – if you are possessed of such and take the time to complete our survey (see page eight) then you might be able to claim yourself a brand-new, rather nice crash helmet or pair of gloves in our free-to-enter draw. So when spring finally does get here, you'll be kitted up and ready to go.
---
Advert

Enjoy more The Classic MotorCycle reading in the monthly magazine. Click here to subscribe.
---