For this issue we've made an extra effort to encourage and appreciate the use of old motorcycles, hence the 'get out and ride' motif you'll see on some of the pages. The breadth of events oldmotorcycle ownership and interest opens up is hopefully demonstrated, be it trials, road racing, VMCC-type runs, European events, veteran and modern machine specific – there is, we hope, something for everyone. And Steve Parrish's Panther is ready to ride, too!
In the name of practising what I preach, I've been out riding a fair amount, on all manner of machines, including some truly memorable events (Montlhéry and Banbury) plus the usual club runs and general gallivanting. I enjoy it all and appreciate the different motorcycles I am lucky enough to have access to. Riding the Series A Rapide racer was exhilarating and a true fulfilment of a dream (I've had the famous picture of Ginger Wood at Donington pinned to my wall for years) and to do it at the historically significant Montlhéry made it extra special; while a Bullnose Model 90, like I rode at Banbury, is, arguably, the quintessential vintage enthusiasts' motorcycle. Again, I've always dreamed of riding such a Sunbeam.
Though these are all expensive machines, H&H's sale at the National Motorcycle Museum demonstrated that not all vintage (so pre-1931) motorcycles are astronomically pricey, thus meaning the Banbury 'dream' can be accomplished by more people. And while I can understand why a two-speed, two-stroke of 200-odd-cc isn't to everyone's taste, there were bigger capacity vintage machines at wallet-pleasing prices too. Between £5000 and £6000 would have bought one of several half-litre flat tankers, while a 1928 Scott Super Squirrel at just over £6500 had me twitching…
There are so many different facets of classic riding that can be enjoyed. Sure, thrashing around on a big Vincent is great fun, but, honestly, so is taking to the back roads of Blighty on a 175cc Bantam. Really, one can spend as much or as little as is available, and still be part of the scene and movement. A mid-to-late 1950s British 350cc single or twin, for example, will open up a world of events, and enjoyment. And while road racing or trials might not be your thing, it's somewhere to ride to and have a look at, if nothing else.
So get out and go for a ride. You know it makes sense.
James Robinson Editor
Article continues below…
Advert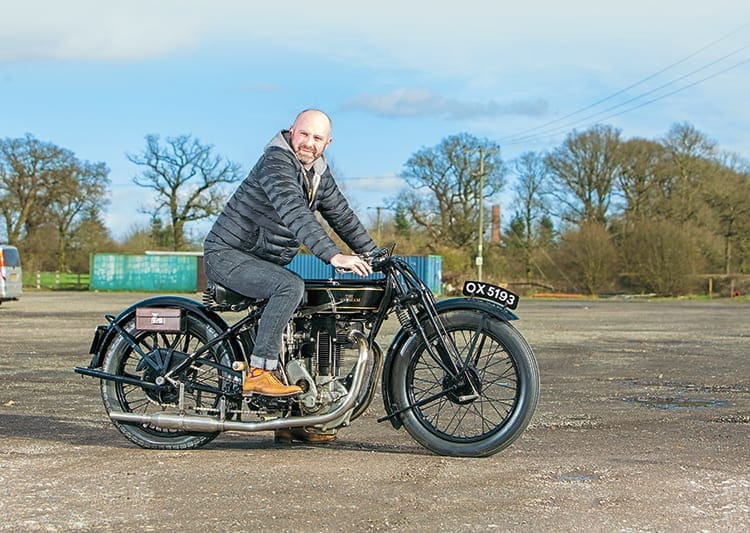 ---
Advert

Enjoy more The Classic MotorCycle reading in the monthly magazine. Click here to subscribe.
---