The other evening, I was having a discussion with a friend and we were talking about what the difference is between being someone 'with a few bikes' and someone who is a collector. At what point does one leave one group and move into the other? Of course, it doesn't actually matter at all, but the concept is interesting. To me, the term 'collector' conjures up images of display cabinets of silver, or china, or rooms full of paintings. But is a motorcycle collector any different?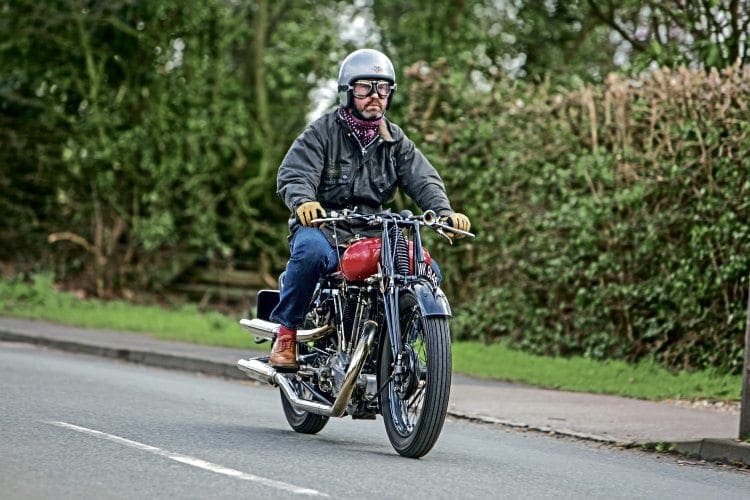 Well, my point was that many are, I think. Because it's surprising the number of people with large collections who still ride; which means they are not so much a collector, as someone who just simply has a lot of choices of what to ride. To me, a collector of motorcycles would be someone who buys the machines, drains them of all their fluids, and stands them up on a shelf. And, I reckon, our hobby is mercifully short on people with that mindset.
A few examples come straight to mind. The German guy who bought the Flying 8 I rode last year (May 2016 issue) emailed to say he'd been riding it about, plus there's a guy with upwards of 70 Nortons, but realising he's struggling to keep on top of them all and the machines in fine fettle, he's now employed a mechanic too. While there are several people I know locally who have big 'collections' and are often out on one of them, on club runs and so forth. Even the owner of the BSA V-twin featured in this issue has emailed me a picture of him on it, heading out for a ride.
My friend was worried he was veering into the 'collector' side of the hobby, though I pointed out all his machines are ready to go, so I reckon that just makes him someone with a few old bikes, rather than a proper collector. Though not that there's anything wrong with being a collector anyway, as lots of them ride too!
Just a final note to add to the obituary for Ken Hallworth, who contributed a monthly feature to The Classic MotorCycle for many years. Always informative, warm, engaging and possessed of a dry wit, Ken was also generous with his time and knowledge, with The British Motorcycle Directory, written in collaboration with Roy Bacon and published 2004, remaining an essential and invaluable reference source. A real enthusiast who will be missed, but whose contribution will be remembered, condolences are expressed to Irene and the family.
JAMES ROBINSON, Editor
Article continues below…
Advert
---
Advert

Enjoy more The Classic MotorCycle reading in the monthly magazine. Click here to subscribe.
---