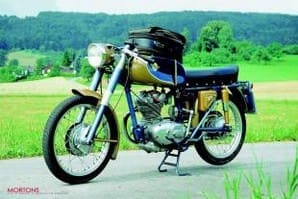 Ducati's simple but reliable auxiliary unit, the Cucciolo (pup) may have been no threat to 'real' motorcycle companies like Gilera, Benelli or Moto Guzzi, but although sounding like one, the power unit from Bologna was by no means a dog. Weighing a mere 8kg, the little four-stroke motor was much in demand and could be had for only 55,000 Lira in 1949. It didn't mind low-octane petrol, there was virtually nothing to service on the little thing and nasty two-stroke duties like decoking were unnecessary. At the End of 1948 no less than 60,000 bicycles motorised by the barking Cucciolo pullrod engine were running around in Italy. To meet the increasing demand, production lines had to be extended. Soon, Ducati management made the decision to build complete machines rather than just engines.
Long-distance records
International recognition came when Ugo Tamarozzi, a true enthusiast, managed to demonstrate the sporting character of the little 60cc machine by setting amazing long-distance record marks at Monza in 1951. The following autumn, two new models were presented at the Milan Show: a simple but rugged 98cc motorcycle, now with a pushrod engine and a heavy but comfortable scooter with hydraulic transmission and electric starter. The latter, intended to lure some of the customers from the popular Vespas and Lambrettas, didn't sell and was dropped in 1954, but the 98cc series and its derivatives were produced until the mid-Sixties.
Ducati Meccanica SPA was formed in 1953, distinct from Ducati's electronic division. Giuseppe Montano was pleased to become managing director of a motorcycle company. Instantly, he did his best to modernise the plant and improve production lines. The most serious catalyst for sales were racing successes – and Montano knew there was an urgent need for new concepts and experienced people. Ducati wasn't considered a real competitor abroad although Montano sent a works team to the ISDT in Wales. The little 98cc machines proved their reliability as two of the three riders, Alberto Farné und Giovanni Malaguti, came back with a silver medal each. Still, the pushrod engine was no basis for racing and something completely different was needed if Ducati wanted to breach foreign export markets like the USA.
Montano looked for someone with experience to develop a new engine and a range of larger capacity machines. He found Fabio Taglioni, a young engineer working at Mondial. Taglioni, from Lugo di Romagna, previously worked at Ceccato and started his career at Ducati on 1 May 1954. He was made technical director, and only 10 months later, in March 1955, the first Gran Sport models were ready to race.
In 1954, in events like the Giro d'Italia, Ducati's 98cc pushrod-engined racers were struggling hard to keep up with the Laverdas from Breganze. The following year Ducati couldn't stop celebrating as the Gran Sport soon proved to be unbeatable. Christened the Marianna, opponents from Benelli, Rumi, MV Agusta and Mondial mainly saw its rear end.
Sales were soon booming and, in 1956, 10,000 Ducatis were sold. To meet the increasing demand the old 98cc pushrod motor was bored out to 125cc and installed in a new, twin-downtube frame. The major drawback of the new TV (Turisme Veloce) was power, still a mere 6.5hp. A real surprise waited on the Ducati stand at the 1956 Milan Show, though. Derived from the Gran Sport, the new 175 road model shown in three guises was a neat conversion of the racer available as T, TV and S model, with 14hp promised for the latter. To make sure that the race-derived engine was utterly reliable, in September 1957 two riders started a round-the-world trip to be used as a PR tour. Giorgio Monetti, Ducati's export-manager and works rider Leopoldo Tartarini, started on two 175T models. They passed through 42 countries clocking up 60,000km and got back to Bologna the same day as five Ducati racers swept the board at the Italian GP in Monza.
Road going 100
At the Mezzogiorno motorcycle show in Bari, Southern Italy, Ducati launched road going 100 and 125cc Sports models. Series production started soon, but the 100 Sport, available in two-tone metallic-blue/silver only lasted for a year. Rather than buying a motorcycle or scooter though, Northern Italians invested in a certain little car from Turin. The Fiat 500 snatched away many of Ducati's potential customers and steady increases in sales were a thing of the past.
The 125 stayed in production until 1965 though. Available in Sport and TS guises, (the TS version, although cheaper than the S was pretty hard to sell) Taglioni had developed a one piece cylinder head with fully enclosed valve gear for the new lightweight sportsters. The 80 degree valve angle remained the same as on the earlier Marianna and no alterations were made to piston, crank and the four-speed gearbox . Top speed of the 125 Sport was 110kph (70mph) and sparks were provided by a flywheel magneto from Ducati Eletronica. Unlike the 175s, the 125 used the Gran Sports 17in wheels, though the hubs were the same as its larger brother's. Diameter of the front drum brake was 160mm, while the smaller 136mm rear drum was still man enough to retard the machine easily.
Strangely, some customers disliked the sporty character of Ducati's new lightweights. "On the early bevel-driven singles, bearing and lubrication problems could occur if people were hobbling along at 30mph in top gear," Mick Walker, former UK Ducati importer and well-known author, remembers. "The engine was a race engine which needed to be revved". As a result, a tarted-up version of the old push rod model was produced, in similar two-tone colours as the 125 Sport. It sold as the Aurea, but lacked the sports model's friction damper mounted on the top yoke and its 6v magneto only gave 28W.
Outside Italy, Ducati's early ohc singles were hard to sell due to their price. Stan Hailwood, father of Mike, started selling Ducatis in 1959 and was the UK's first proper importer. Founder of Ducati Concessionaires in Manchester, he sold the 125 Sport as the 125 Monza. If you fell in love with the little Bolognese bike, the price tag was £218 with the option of buying a race kit. In that, instead of the usual Dell'Orto UB 20 carburettor, a 22 SSI item was provided and the kit also included a different camshaft, a high-compression piston, another exhaust and a set of different-size sprockets.
Only a very few of these models found their way into Germany. In May 1966 some of the last 125 Sports were still available at rather steep 1430DM.
Owning and riding one of these little rare gems might not be everybody's cup of tea, but the example shown here works as a regular commuter steed without playing up. The little single attracts 'wows' everywhere it appears. It's not only pretty as a picture, it represents the start of an era.