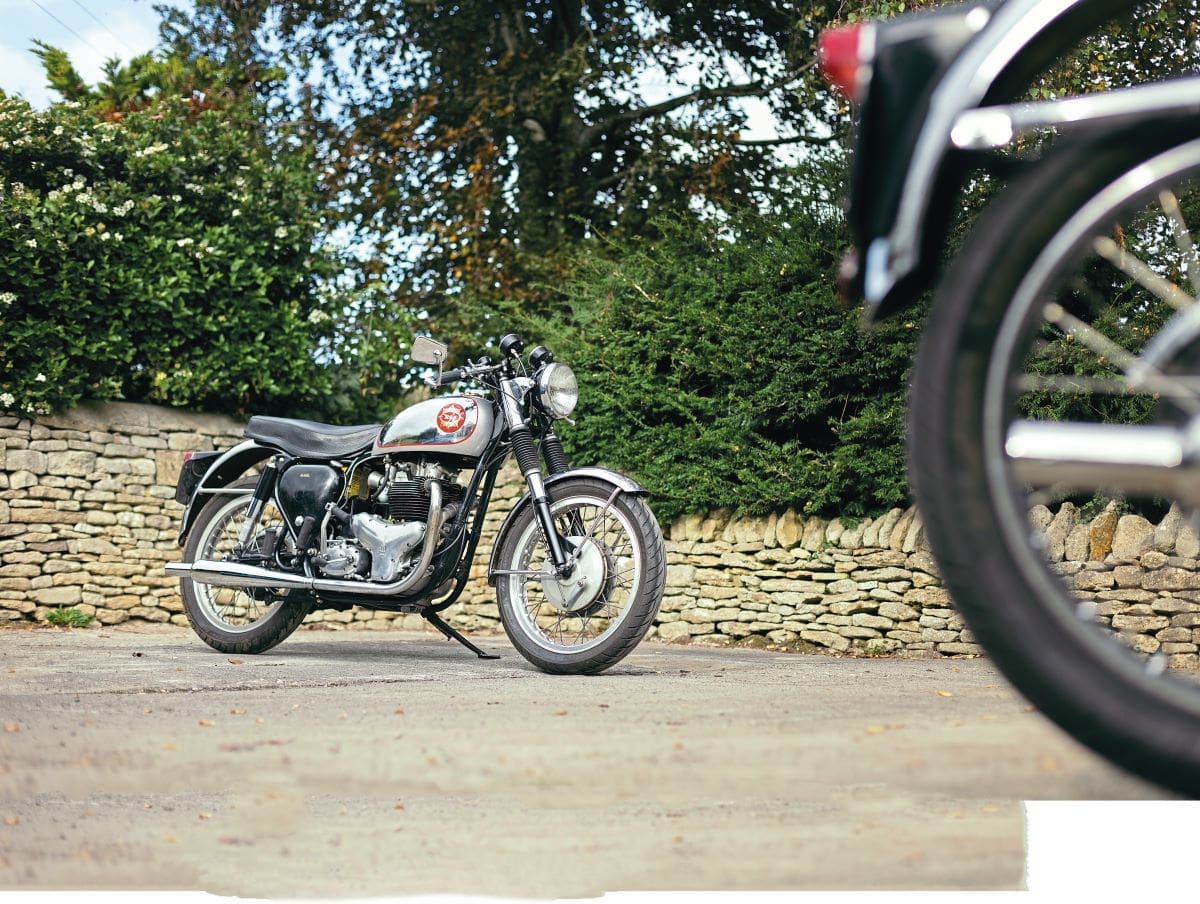 This BSA Rocket Gold Star isn't perhaps what it appears to be – but then its owner is perfectly happy to acknowledge that.
Words: ANDY WESTLAKE Photographs: GARY CHAPMAN
'A Rocket goes into orbit… New clubman's six-fifty twin from BSA' was the headline which greeted readers of The Motor Cycle on February 8, 1962, announcing the launch of the A10-powered Rocket Gold Star.
Usually mounted in a slightly modified – minus the kink to avoid the 500cc single's oil pump – twin downtube Gold Star frame, the 650cc RGS was – in my opinion – the most beautiful bike ever to leave the Small Heath production lines. But its star didn't shine for long… By 1962, the pre-unit twin cylinder engines had been superseded by BSA's new unit construction 650cc A65 and 500cc A50 twins, and production of the RGS would only last for around 18 months.
In that time, around 2000 machines would roll out of the factory gates, with an on-the-road price in 1963 of £329-9s. From the age of six – following my first ride on the petrol tank of my big brother Rod's James – I had made my mind up that on reaching 16, I too would become a motorcyclist, a dream that was kept alive every Saturday, as I accompanied my mother on her weekly shopping trip. While she went to the butcher'sto collect our Sunday lunch, I would go next door to25 Catherine Street, where, with my nose firmly pressed at the window of Difazio motorcycles, I'd view the latest offerings from Small Heath.
Founded in 1914 by Italian immigrant Pascal Difazio, the dealership had by the early 1920s become the first BSA agents in Somerset and it was here, in the spring of 1962, I was to view my first Rocket Gold Star. Sixty years on, I can still recall the thrilling sight of that stunning 650cc twin standing in the window, with the early morning light gleaming off the chrome petrol tank and mudguards. To my young eyes, with its down swept 'ace' handlebars and rearset footrests, it looked like a refugee from the racetrack, and it was at our local track, at Thruxton, in June of that year I witnessed six similar examples circulating in the annual 500-mile endurance event.
The winners that day were Phil Read and Brian Setchell on the 650SS Norton entered by Syd Lawton, covering 213 laps at an average speed of 71.17mph, seven laps ahead of our local hero Roy Ingram, partnered by Fred Swift. Ingram and Swift also won the 500cc cup on their incredibly quick 88SS Norton, while the best of the Rocket Gold Stars was the one ridden by the pairing of Derek Powell and David Williams, on the machine entered by the Gold Star specialists Taylor/Dow of Banbury.
Eddie Dow was a man who was a top-class all-round competition motorcyclist, with wins in both one and six-day trials, including first class awards in the Scottish Six Days and gold medals in the 'motorcycle Olympics' – the super-tough ISDT – and victory in the Clubman's TT, all on single-cylinder BSAs. He soon became known as 'Mr Gold Star.' But by 1960 the Goldie singles were being phased out and Small Heath were working on the new unit construction twins, though Dow was quick to recognise that there was still a market for the A10 engine, and what better frame to mount it in than the race-bred Gold Star?
He was held in high esteem by the upper management at BSA but his initial approach of building such a machine was only met with a lukewarm response. Not one to give up on his idea, Dow and his service manager John Gleed decided to go through the BSA parts list and assemble the list of the many individual components needed to assemble a clubman's Gold Star with a Road Rocket twin in place of the single cylinder unit.
He placed an order with BSA for the parts and in 1960 assembled the first Rocket Gold Star. If period reports are to be believed, five of these specials were produced at the Banbury workshops before BSA changed their minds about producing a limited run of the beautifully-finished 650cc twin.
The first pre-production model was tested by Motorcycle Sport magazine, which heaped plenty of praise on the sweet handling and 'ton up' 100mph+ performance, while the second machine was used as a marshal's bike in that year's TT. Sadly, a conrod broke during testing and had to be replaced before the racing started, then this bike was later loaned to Worcester County Constabulary to test. As previously mentioned, production started in early 1962 and it proved to be a most profitable exercise as the 2000 machines were soon snapped up by enthusiasts, five of those sold by Difazio's in Frome.
In addition to the 2000-odd which rolled out through the Small Heath factory gates in 1962/63, there have been plenty of replicas constructed. Indeed, it is often wryly remarked that… 'Of the 2000 originally made, 3000 still exist…' To the casual observer, this month's test bike – a Super Rocket A10R engine mounted in an original RGS frame – could well be a genuine machine, but its owner Marcus Mitchell is keen to point out that, like his previously tested B31 Catalina-inspired single, this machine is very much a well presented 'bitsa' with no pretensions of being the 'real thing'.
In his day job, Marcus is a high-class stonemason and as he told me, he was in his late teens before he first took to the roads on a powered two-wheeler.
"Although my dad had a Honda step through as a commuter, there was no history of motorcycles in our family and I was 18 before I first had my first powered two-wheeler. Up until that time, I had been cycling to work – which was hard going –but then took over my father's Cub, which was lying unused in the shed. It was great to have an engine instead of leg power and from then on, I was hooked. I quickly progressed to a 250cc Honda which I passed my test on and then went looking for a bigger bike. Although by now the home industry was on its knees. I loved the look and sound of the beefy British four-strokes and during the next 20 years or so I owned several A10s, a very reliable B40 and a B44 Victor special.
"But by 1998 I was setting up my own business so the bikes had to be sold and it was another 10 years – the business was then booming – before I could concentrate on motorcycles again. I initially bought an Ariel Red Hunter from my brother and although it was a decent enough bike, it didn't have the same appeal or charisma as my BSAs. I decided to move it on and went looking for another 650cc twin, eventually discovering this one – XHT 532 – advertised in Surrey on eBay.
"I'd always loved the styling of the Rocket Gold Stars with the ace 'bars, rearset footrests, chrome and silver petrol tank and Siamese exhaust pipes, so it was perfect for my needs and joined my stable of BSAs in 2011. The engine was as sweet as a nut, but the four-speed gearbox was a bit whiney and I decided it would be cheaper to replace it with a modern five-speed 'box, made by Nova. I also changed this bike's flat 'bars to a pair of ace bars to make it a bit sportier, but other than that, it's pretty much as I bought it.
"I'm a great believer that bikes are for riding and since buying the A10/RGS special I've covered quite a few miles, including a trip to France and two outings to northern Spain for the 2018 Moto Piston rally and the following year to Colombres, both involving routes through the Picos mountains. They were great events, though during the 2019 Colombres rally the bike developed a leaking head gasket which is the only trouble I've encountered in the years I've had it."
Having travelled many thousands of miles through Spain myself – including the superbly organised Colombres Rally – I can vouch that the Iberian country offers some wonderful motorcycling roads. However, for my test on the A10 special, I have to satisfy myself with some equally excellent, traffic-free roads around the Somerset/Wiltshire border. Sat on the bike, I'm immediately transported back to 1962, viewing a virtually identical bike in the Difazio showroom, and also that magical day on June 24, which saw me sat on the roof of Rod's A40 van at Thruxton watching the 500-mile endurance racers zooming by.
As Marcus has promised, with ignition on and a generous priming of the single Amal 389 Monobloc carburettor, it only took one lunge of the kick-start to bring the big twin bursting into action with a purposeful, and healthy, 'burble' through the Siamese exhaust system and Goldie silencer. In the November 22, 1962 edition of The Motor Cycle there was a test of a 'pukka' RGS, reading: "Scintillating high-performance road burner; good brakes, excellent rider comfort and docile traffic manners." It went on to say: "An 85mph top gear spread speaks volumes for the tractability of a sporting engine. And on top of this, the 646cc Rocket Gold Star has effortless, surging acceleration through the gears and a tireless 90mph cruising gait. The maximum of 105mph obtained on test could certainly have been bettered had the November weather been cooperative."
With first gear engaged and the bike under way, I can concur with everything that was written in the period road test. The race-bred Goldie frame meant that the bike effortlessly negotiated the long sweeping Wiltshire bends with ease and when needed, the full width 190mm front brake was as good as any you would find from a 60-year-old machine. The new Nova gearbox was a revelation in the way it selected all of its five gears, but such was the seamless power delivery from the 46bhp twin (50bhp in race spec) and the way it would respond to the throttle from as little as 25mph in top, it felt that four speeds would be more than enough. Riding it at 60mph, the combination of ace 'bars and rearset footrests gave a perfect riding position, and given an appropriate off-road (airfield) piece of tarmac I'm sure that the Super Rocket/RGS replica would be more than capable of matching the 105mph top speed obtained in 1962.
XHT 532 may not have the providence of being the genuine 'real thing,' but there is no doubt Marcus has got himself a superb machine, and it's little wonder you usually see him with a big smile on his face.
Finer Details
Engine Four-stroke air-cooled OHV parallel twin
Capacity 646cc
Stroke 84mm
Comp ratio 9.1:1
Power output 46bhp@6250rpm
Carburettor Amal 389 Monobloc
Lubrication Dry sump
Ignition Six-volt Lucas magdyno
Gearbox Five-speed Nova foot change
Frame Duplex
Suspension Front: Telescopic hydraulically damped
Rear: Swinging arm twin shock
Brakes Front: Single leading shoe eight-inch,
Rear: Single leading shoe seven-inch
Tyres Front: 3.25x19in, Rear: 4.00x19in
Weight 315lb
Tank capacity 16 litres
Top speed 105mph (est)
Price £299 (including purchase tax)