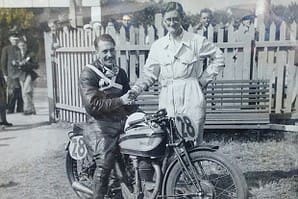 Kelly Swanston was born in Kirkcaldy, Fife in 1908 where his father was a well known architect. Kelly got the motorcycling 'bug' from riding a 1913 FN outfit on a farm in Methlick, Aberdeenshire. He and his brother, Jack, also a keen motorcyclist, were founding members of the Kirkcaldy and District Motorcycle Club, which is still a very successful club. He remained a stalwart of the Club for all of his days. He studied medicine at Edinburgh University winning the Gold Medal in Medicine and the Silver Medal in Surgery. He was blessed with the brightest of minds and retained his intellect, wit and charm throughout his life and was a fascinating raconteur of racing in the late 1920s and early 30s.
Kelly's first competitive event saw him riding a BSA Sloper, gaining five firsts from five starts. He was lucky enough to get one of the early Velocette overhead camshaft racers, KTT number 128, in late 1929, and recalled winning over 100 firsts racing on the sand, grass, trials and roads. He entered his KTT for the 1933 Junior Manx and was black flagged with a broken front mudguard while lying seventh. Kelly broke off the offending piece of mudguard and tied the remains to the forks with a handkerchief and having lost five minutes, he still managed to finish in a very respectable 17th place. KTT 128 is still in existence and undergoing restoration. Kelly tried his hand again with a New Imperial for the 1934 Junior Manx, finishing 18th.
Kelly and Norton motorcycles were a match made in heaven and he raced them in the Manx from 1931 to 1935. Over that period he worked his way rapidly up the leader board. Kelly – or 'JK' as he was known in racing circles – was forced to retire in the 1931 Senior, which was followed by 10th place in the 1932 Senior. In the 1933 Senior, on the final lap at the 32nd marker on the mountain, he waved Harold Daniell past and followed him home. Harold was turning professional and Kelly thought it would help his racing career. Such a generous action was a mark of the man. He followed that performance with a second place in the 1934 Senior. In 1935, JK achieved his ambition, winning the Senior Manx GP at an average of 79.62 mph just pipping Freddie Frith, also Norton mounted, to the finish.
The Norton Competition Department was good to JK. Each year it would update his engine with the latest modifications and never charged him more than £10. He asked the Factory if it would lend him a bike for the 1935 Junior Manx and rewarded its generosity with a third place. JK's restored 1931 Norton was present at his funeral in Helmsley.
Kelly wanted to carry on racing but was persuaded by his father that he should get back to medicine. He went off to be a ship's doctor where he met his future wife, Mollie, on a voyage to Palma. The couple settled with their family in Thirsk, North Yorkshire and he was the local GP for 40 years. Mollie and he then moved to Helmsley on retirement. Even when winding down his racing activities, he was still very competitive. In 1936 Kelly won the Heavyweight Championship in St Andrews, the 100 Mile Race in Southport and at Redcar, in the Yorkshire Sand Racing Championship, he won both the 500cc and the Unlimited events.
Article continues below…
Advert
James Kelly Swanston was devoted to his family and is survived by his son and twin daughters. A truly remarkable gentleman who will be sadly missed.
---
Advert

Enjoy more The Classic MotorCycle reading in the monthly magazine. Click here to subscribe.
---