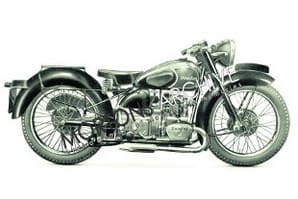 Despite its loyal and dedicated workforce – headed by prewar Douglas legend and TT winner Freddie Dixon – the firm rather stumbled from crisis to crisis, though gained much needed revenue and work by manufacturing under licence Vespa scooters, from 1951.
There were plans for the 1957 season, centring on the new and seemingly super-modern Dragonfly, but the firm was dealt a blow with the death of driving force Dixon at the end of the year; Douglas motorcycles, having been bought by the Westinghouse Brake and Signal Company, ceased to be made from March 1957.
Model description and production years follow.
1947 Douglas T35
Announced in September 1945, the T35 was a fairly revolutionary design, with suspension front (by Douglas 'Radiadraulic' forks) and rear and that advanced, flat-twin engine. Delays meant it was 1947 before it eventually reached production.
1948 MkIII Douglas Sports
Featuring a revamped cylinder head – courtesy of prewar race ace Freddie Dixon – the 1948 MkIII and MKIII Sports offered much improved performance. The MkIV was little changed – essentially just an altered rear subframe marked the changes.
1950 Douglas Competition
Featuring a rigid frame, increased ground clearance was earned through a 21-inch front wheel, gearing was altered and there was a higher saddle/handlebar combination. Engine width was a problem, as were the engines characteristics.
1950 Douglas Plus Series
There were 80 and 90 Plus 'sporting' models – engine internals were worked on to raise power output, while there was deeper finning too. Story goes they were assembled and bench tested – under 25bhp was an 80 (in maroon), over, a 90 Plus, (gold).
1951 Douglas MkV
Based clearly on the earlier 'Mark' models, the MKV had the Plus type exhaust pipes and was launched for the 1951 season. Finish was either black and silver or polychromatic blue. It was to continue until the end of 1954.
1955 Douglas Dragonfly
The final throw of the dice. Clearly aping the ultra-desirable German BMW, the stylish Dragonfly (using a modified version of the engine) was hampered by only possessing a 350cc engine. Forks were Reynolds-Earles, with a pivoted fork rear.
Visit the Mortons Archive for more information and online search options concerning Douglas motorcycles, or speak to our archivist Jane Skayman on 01507 529423 with your requirements. Email [email protected]
Other articles in the 'which model' series:
? Ariel Square Fours
? BSAs
? BSA Bantam
? Cammy Norton Singles
? Norton Commando
? Norton ES2
? Triumph Thunderbird
? Velocette LE