In the second part of a two-part feature, the role of Britain's service motorcyclists in the Second World War is further examined, focussing on the home front.
Words: STEVE WILSON
Images: Mortons Archive
Dispatch riders (DRs) were equally active in wartime Britain, a potentially hazardous environment where road deaths peaked in 1941 at 9916. Bombing and bomb damage, the blackout, the absence of road signs (and even shop signs bearing a town's name were painted out), road surfaces which included cobblestones and greasy wooden blocks, English weather, plus, from 1943, large numbers of Forces' vehicles piloted by Americans accustomed to driving on the right – all had to be contended with.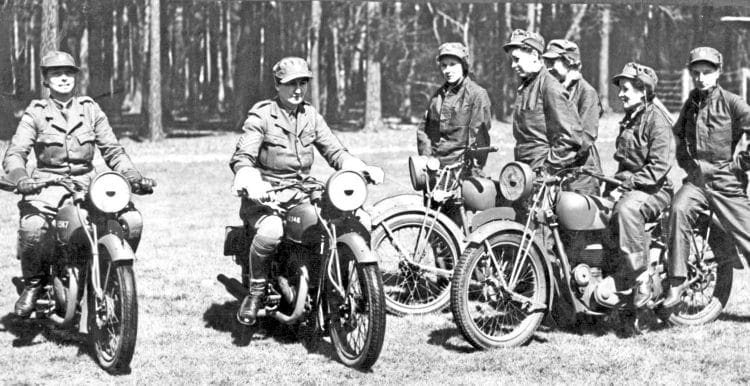 Many UK-based DRs were female, Auxiliary Territorial Service (ATS) or Women's Royal Naval Service (WRNS), to free up manpower for combat roles. Their number included the future 'Avengers' star, Honor Blackman.
The Senior Service in particular initially recruited from the upper end of the social strata. The redoubtable Mrs Virginia Hussey's future first husband Lord 'Bim' Northampton was a friend of Lady Cholmondeley, who happened to be the head of the WRNS. Aged 18 and lying about previous motorcycling experience, Virginia was soon competent enough to be issued, as a DR at the Admiralty in the Mall, with a conscripted prewar Triumph Tiger 100. Senior Service indeed.
She served in Naval Intelligence under Commander Ian Fleming, the future creator of James Bond, and frequently encountered Winston Churchill from the nearby Cabinet War Rooms. Fleming, described by Virginia as: "Very strange, I thought, with a rather sadistic face. But all right to work for," has been depicted in a TV biopic as having an affair with one of the WRNS riders, who was then shown as being killed by a bomb while running an errand for him. "Yes," Virginia told me, "Muriel Fitzherbert-Wright. Only she was actually killed when looking out of a window at the Admiralty during a raid. Silly ass."
The Admiralty WRNS riders wore a smart uniform of breeches, jacket, white shirt and tie, with, added Virginia: "a little hat on top of our head. Nothing sissy like a helmet". One regular duty was a 6pm run through the city down to the Port of London Authority. The Blitz was still in full swing, and one evening, below St Paul's, riding in the blackout down Queen Victoria Street Virginia suddenly disappeared down a fresh bomb crater: "Afterwards, they had a devil of a job to get both me and the bike out of the hole."
Article continues below…
Advert
*D.R.", or Dispatch Rider, in the phonetic alphabet of the Second World War.
Read more in the May issue of TCM – on sale now!
---
Advert

Enjoy more The Classic MotorCycle reading in the monthly magazine. Click here to subscribe.
---