A two-part look at the role of Britain's service motorcyclists, both men and women, in the harsh days of the Second World War.
Words: Steve Wilson
Photographs: Mortons Archive
If the First World War saw the dawn of mechanised warfare, the Second World War, with its blitzkriegs, massive tank battles on the Russian steppes, and vast seaborne invasions culminating in D-Day, brought its full fruition.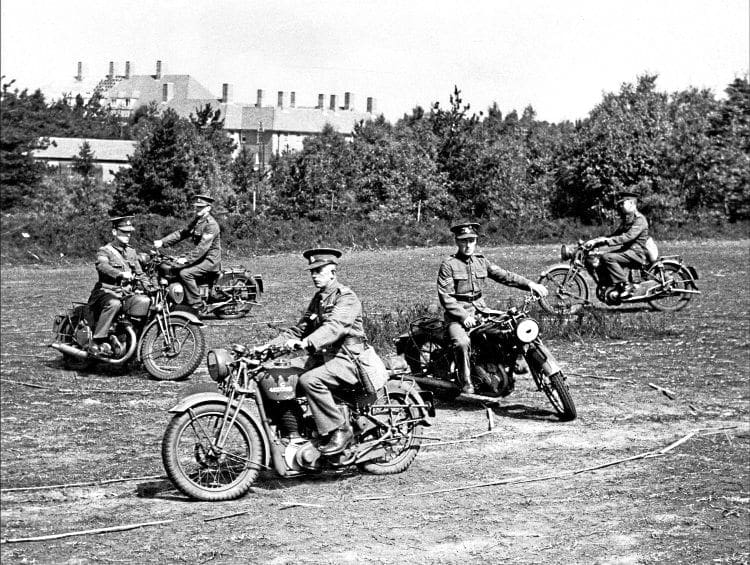 Motorcycles played their part. Their primary First World War function as machines for messengers had been mainly usurped by improved wireless communications. But the troops' portable radios were always unreliable, especially, as at Arnhem, in wooded terrain, and radio telephone (R/T) lines were vulnerable to shelling and bombing. So along with convoy duties for motorcycle outriders, there were often still dispatches to be delivered in war zones.
On the home front, as well as all of the above, there was the unobtrusive but massive traffic resulting from the ultra code-breaking operation. Bletchley Park took delivery of 3000 messages a day, chiefly from listening-stations such as RAF Chicksands Priory, near Bedford; and its vital, top-secret decrypted 'product' was too valuable to commit to the air-waves, and mainly had to be delivered to the decision-makers in London and elsewhere by motorcycle.
Under instruction
By the summer of 1940, the War Office had contacted motorcycle sport organisers, and Motor Cycling's editor Graham Walker had been running ads, to recruit experts from the ranks of road racers, trials riders, the motorcycle press and enthusiasts, to serve as instructors for the Motorcycle Wing of the Driving and Maintenance School. This was first located at Arundel, then moved north to Harrogate; Portinscale, near Keswick; and Yorkshire's Wentworth Hall, outside Sheffield.
With recruits like Jack Williams, 'Crasher' White, Freddie Frith, Allan Jefferies and Harry Louis, later editor of The Motor Cycle, they took advantage of Scott Trial terrain for off-road instruction. As well as tarmac convoy discipline, with distance between machines kept at no more than 20ft, they developed combat techniques like 'riding to ground' (i.e. laying the moving bike down rapidly to take cover if fired upon, with the rider 'getting down in the gutter'); and crossing wire fences by parking parallel to them, then lifting and toppling the machine to roll over the wire – not quite Steve McQueen, but no mean feat if you were on your own with a 350lb motorcycle.
Read more in the April issue of TCM – out now!