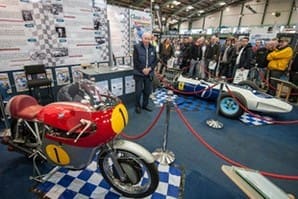 The 34th Carole Nash International Classic MotorCycle Show hosted the annual Bonhams sale of vintage and collectors' motorcycles in which a Brough Superior SS100 – once owned by George Brough himself – sold for a staggering £253,500.
Nick Mowbray, exhibition manager for the event, said: "We were delighted to see many above-estimate sales in the auction to round off a fantastic weekend of classic motorcycling.
"The sale of the star lot was supported by many other notable results and combined with the enthusiastic crowd that came through our gates, we are encouraged that the classic motorcycle market is alive and well."
Along with the strong showing in the auction, one of the world's largest gatherings of classic display machines didn't disappoint with a stunning 1969 Indian Velocette claiming the much-coveted Best in Show award ahead of whole host of top-quality contenders.
James Robinson, editor of The Classic MotorCycle magazine, said: "The standards are always high at Stafford, but there were several entries that ensured 2014 lived up to expectations.
"Neil Redley's Best in Show winner was a worthy one, and there were many other expert restorations and unusual finds that meant picking award winners was an unenviable task.
"There were many bikes that didn't get recognition when they easily could have, and it speaks volumes for the current strength of the classic scene."
One of the unusual machines referred to was a 1949 Moto Major, an Italian-made motorcycle entered by Alessandro Altinier, which is the only one of its kind and has never before been seen in the UK.
On a weekend which celebrated numerous 'golden' anniversaries, guest of honour John Surtees proved popular five decades on from his F1 world title win, with the thousands in attendance filling every available vantage point around the main stage to listen to his fascinating interviews with TT winner and TV commentator Steve Plater.
Surtees, now aged 80 and still the only man to have captured both motorcycle world championships and the F1 world crown, spoke about his fascinating career working for some of the most iconic names in motorsport history, as well as the work currently being undertaken by his charity, the Henry Surtees Foundation.
His appearance at Stafford kick-starts a year of events aimed at raising funds for the foundation, with the man himself explaining how the Carole Nash International Classic MotorCycle Show was a fitting place to start: "Seeing so many familiar faces here at Stafford and catching up with old friends, it feels like a homecoming of sorts.
Surtees' relationship with event organiser Classic Bike Shows is a well-established one, having now been guest of honour at Stafford three times – another record he holds – as well as opening the company's media centre in Lincolnshire just over a decade ago.
Across the showground, the newly-sponsored Putoline Classic Dirt Bike Experience was once again a hub of action, with off-road demos taking place regularly throughout the two days.
Classic Dirtbike magazine editor, Tim Britton, said: "Our thanks to Putoline for sponsoring the Owd Codgers trails demos this year; they were as entertaining as ever.
"We had plenty of shiny exhibits inside the hall too, with a focus on the fact it's now 50 years since Sammy Miller signed for Bultaco in a move that changed off-road sport for ever."
Alongside the Bultaco celebrations, 2014 also sees the 50th anniversary of Jeff Smith's first world championship win and several events throughout the year will mark the occasion, including the massive International Dirt Bike Show at Stoneleigh Park in October.
Traders and vendors enjoyed a successful weekend at Stafford too, as visitors came from far and wide to find the perfect part, piece or tool for their restoration or maintenance project.
"The international tagline in our show's name is certainly warranted," added exhibition manager Nick Mowbray.
"We welcome classic motorcycle enthusiasts, not just from all four corners of the UK, but also from Ireland, across mainland Europe and even further afield."
Attention now turns to the remainder of the classic calendar, with Classic Bike Shows' next stop at the Royal Highland Centre in Edinburgh for the Carole Nash Great Scottish Bike Show in August, followed by events in Netley Marsh in September and Stafford again in October.
For all the up-to-date news, visit www.classicbikeshows.com