Hope you're well in these 'interesting' times. What a pity we can't all be out enjoying this lovely spring weather on our bikes, but it's a sacrifice we have to make.
What we are grateful for is guys like you who continue to provide our monthly magazine fix despite the challenges you talk about in your editorial last month, so keep up the good work.
Which leads me on to the reason for bothering you. In your June issue, the photo and story on page 70 of the Stevens brothers and the four-man AJS Junior TT team of 1914 ("Men who mattered – the Stevens brothers") is wonderful, but I'm sure you won't mind me pointing out an inaccuracy in the text.
Eric and Cyril Williams (not related) are quite rightly credited with first and second places, but the feature implies Billy Heaton and Bert Haddock (the other two AJS teamsters) were fourth and sixth. Not so.
Fourth place actually went to Billy Jones from Chester on his semi-works AJS, with Bert Haddock in sixth. The unlucky Billy Heaton ran as high as second after four laps before falling on the climb up the Mountain on the fifth and final lap, remounting to struggle home in 28th place with a buckled front wheel.
The British Motorcycle Charitable Trust have acquired the only surviving AJS from that race, Billy Jones's fourth place finisher.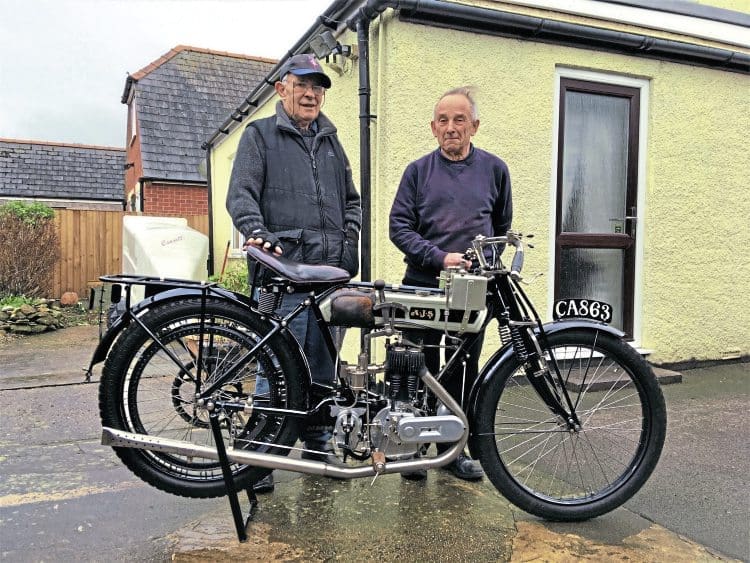 Billy received assistance from the works for his privately-entered bike, the most obvious outward sign being the oil tank strapped on top of the petrol tank to allow more fuel to be carried, a modification only available to the factory team. Jones retained the bike for many years after the TT, and it lay undiscovered in Chester until 1958, when it was found and restored by local man Eric Stevens.
Once returned to its former glory, CA863 spent some time on display at Beaulieu, eventually passing into the hands of Ray Carter from Dursley. Ray used it on club runs for several years until the lack of effective brakes and the machine's increasing value persuaded him to put it away.
The Trust acquired this unique and important bike from Ray earlier this year and, before coronavirus intervened, it was destined to go on public exhibition in a new gallery at the Manx Museum in Douglas, Isle of Man. Those plans are now on hold, but hopefully not for too long.
Additionally, whoever wrote the original report of the 1914 Junior TT for The Motor Cycle also got it wrong, creditingF E Barker (Zenith) with fourth (he was in fact fifth) and failing to mention Billy Jones among the finishers.
Andy Bufton, Secretary, The British Motorcycle Charitable Trust
Read more Letters, Opinion, News and Features at www.classicmotorcyle.co.uk and in the July 2020 issue of The Classic Motorcycle – on sale now!