When it first arrived in 1934, the Indian Sport Scout divided opinion. There were those who were so enamoured by the earlier 101 Scout model that nothing could compare, and there were those that readily embraced this sportier newcomer. In the years following its introduction the Sport Scout grew and matured, and became increasingly popular.
Words and photography: JAMES ADAM BOLTON
Despite many tweaks and modifications during its lifespan, the Scout (along with the Chief) was to become one of Indian's most popular models and would establish a positive reputation as one of the best American twins of its period.
The Scout always featured a flathead V-twin motor in ever-larger capacities that was reliable and robust. Designed by Irishman and Indian racer Charlie Franklin, when the first Scout came off the Indian production line in 1919 it was regarded as a marvel of contemporary engineering.
In the modern age the Scout's flathead motor might not seem like much of a revelation, but at the time it was a solution that worked brilliantly, as all the mechanical components were enclosed, reducing noise and dirt ingress.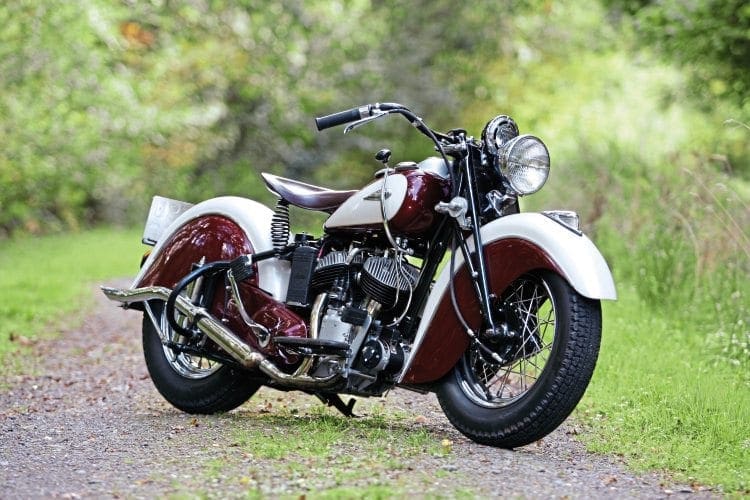 The 600cc (37cu) Scout motor – as it was when it first arrived on the scene – was smooth and powerful, and its over-engineered helical gear primary drive and strong, compact double-loop frame made for a rugged but light motorcycle capable of 60mph cruising speeds – plenty for the rough roads of the day. Indian became so proud of the Scout that it even used it in advertising slogans such as "You can't wear out an Indian Scout".
In 1928 the Scout was tweaked and the resulting 101 Scout, with a 750cc motor and chassis improvements, proved to be hugely popular and is reckoned by some to be the best Indian motorcycle ever made.
The 101 lasted just four years in production and as the Great Depression bit hard, Indian started to cut costs.
By 1932, Indian was fitting Scout motors to the bigger and heavier Chief frame, thus distilling what was previously a powerful and successful model. As a part of a move intended to appease its disappointed customers, Indian introduced the Sport Scout in 1934. This featured a lighter, two-piece frame and alloy cylinder heads.
Scouts were – and still are – used to thrill speed junkies. Burt Monroe chose a 1920 Scout to modify mercilessly (he took the engine out to 950cc) to make a one-way run at the Bonneville Salt Flats, clocking 190.07mph – the fastest-ever officially recorded speed on an Indian.
Racer Ed Kretz won the inaugural Daytona 200-mile race in 1937 aboard an Indian Sport Scout, and actor and motorcycle collector Steve McQueen owned various Indians, one of which (a 1940 Sport Scout) was sold at auction last October for a staggering £59,740.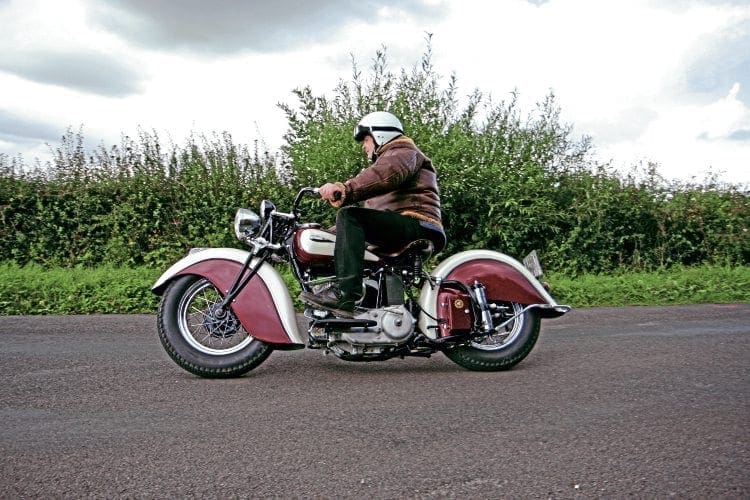 Wayne Johnson knows and loves his Indians, and he too wanted to experience ownership of a Scout, which in his case turned out to be this beautiful 1941 Indian Sport Scout.
The year 1941 was the penultimate year of production of the long-running Scout model, as just one year later and with war clouds gathering for the USA, production of the civilian Sport Scout ceased in February of 1942.
This Scout has a 750cc, 45 cubic inch side-valve motor.
Wayne explains how he came by the handsome American V-twin: "I bought the Scout a couple of years ago.
It was sat at a classic bike dealer's without much history behind it, already on a UK plate, with matching frame and engine numbers, but they hadn't managed to get it running.
I made an offer for what I thought it was worth and when I returned it was running, but still roughly, so we struck a deal. A couple of past MOT certificates suggest that it probably passed through Edinburgh at some point."
Wayne is referring to the fact that Indian connoisseur Alan Forbes' Edinburgh-based shop Motolux has, for many years, been the place to contact for Indian motorcycle restorations, spares and advice in the UK.
"The bike seems complete and mainly original as far as I can see, and I would say it has been professionally restored a few years ago – whoever did it made a pretty good job of it.
"Anyway, I bought it, got it home, and gave it a decent service, discovering that the reason it wasn't running properly is that it was only running on the choke. I use a straight 50 oil. There is no oil filter at all on these bikes, and the oil just feeds in and out of the oil tank, pumped by an oil pump that runs off the crank. It's a dry sump system, so it does wet sump occasionally." explains Wayne.
"The reserve fuel tank and filler sits below the oil tank, and they can mix sometimes! The main fuel tank is on the left, and I have to say, it's quite a thirsty bike to run."
Along with the filler caps for the fuel and oil, there's also the ignition switch that also switches the lights, and what Wayne reckons is the original ammeter, suffering from a little misting on the glass.
"The big chrome headlamp on the other hand is probably a new copy from US Indian parts guru Jerry Greer," says Wayne. "You can buy most new parts for these Indians, but the more original they are, the better."
Wayne's 1941 Sport Scout certainly looks wonderful, featuring as it does the large fenders introduced to all Indian models in 1940.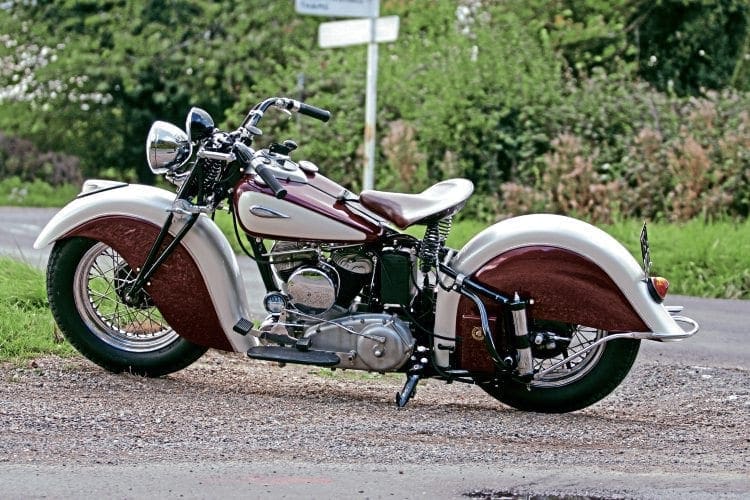 Though seen now as hugely desirable by collectors, not everyone was enamoured by the stylistic changes at the time. 'Mad' Max Bubeck – a racer whose 135.58mph speed record for an unfaired Indian achieved on his 'Chout' (Chief/Scout hybrid) still stands – offered the point of view that this period in history was "when Indian quit making motorcycles and started making Harleys."
There had always been intense rivalry between Indian and Harley-Davidson, and especially between their riders and racers, so when Indian introduced plunger suspension featuring one compression and one rebound spring on the Chief model in 1940, and on the Sport Scout in 1941, it made the rigid frame Harley-Davidsons at once seem old and primitive.
"Yes," agrees Wayne, "but in fact the 'soft' suspension added a fair amount of weight to the frame compared to the earlier rigid frame Indians, so it wasn't welcomed by all."
The two-tone paint scheme is impressive, especially as parts of the flowing lines of the mudguards and fuel tank are picked out in a crimson red.
This 'brilliant red', as it was named by Indian, was one of three standard colours offered for 1941, the other two being black and seafoam blue. A two-colour finish, as on Wayne's Scout, would have been an extra cost option.
The customer could also choose 16 or 18in wheel rims. Wayne's Scout has the 16in rims, shod with wide 5 x 16in Avon Speedmasters, and he says "they make it a bit less sharp on the handling".
The Indian's rough running was eventually solved when Wayne swapped the Linkert M342 carb that came with the bike for a NOS Linkert M642 found on eBay.
"For perfect originality it should have been an M641 for a 1941 Sport Scout, but I checked it over and it all seemed fine. Once fitted, the new Linkert resolved a lot of issues and the bike ran better than ever."
Introduced in 1940, the motor's heads and cylinders were also streamlined compared to how they were on earlier models, and a centre stand held in place by latch was also brought in, so both feature on Wayne's 1941 Scout.
"I did take the heads off when I bought the bike," he says, "as I wanted to check out the pistons, which looked in new condition. I also took the opportunity to check the timing, as I couldn't find the timing mark, so I timed it all up manually when the heads were off. I also added copper gaskets that you anneal first, as it can be a problem sometimes to get them to seal properly."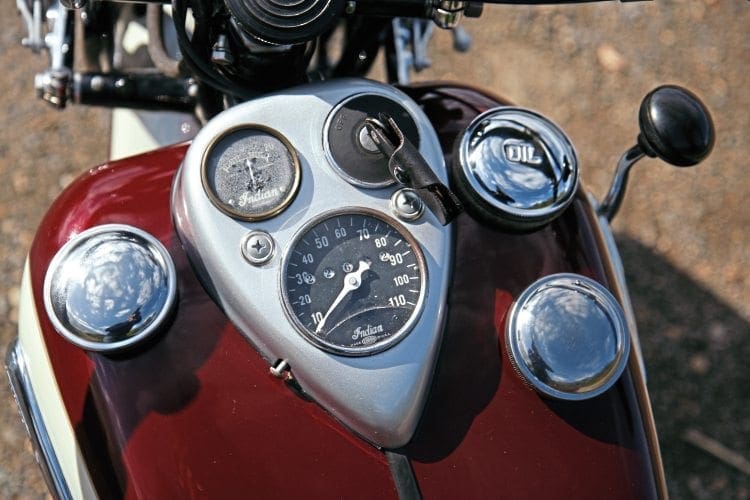 I take some passing shots of Wayne aboard the Scout, which seems to glide effortlessly by like some sort of self-contained regal motorcade, and then it's my turn.
Remember the stories about the big Indians being fitted with a left-hand throttle so that their police riders could shoot their pistols accurately with their right hand?
Well, there may be some truth in them, though it's also a fact that many early manufacturers – Indian included – chose to place the ignition advance and retard control on the right.
In the days of primitive carburation, ignition timing had more effect on a low compression motor than a throttle, and so it was on many motorcycles until improvements saw the throttle become the dominant control. By 1941 Indian offered a left or right-hand throttle, but this one is a 'leftie'.
Add to that a left foot-operated heel and toe 'suicide' clutch, hand change gear lever mounted on the right flank of the fuel tank and a right-hand throttle-type advance and retard mechanism (I would have even preferred a lever!) and complete confusion is guaranteed.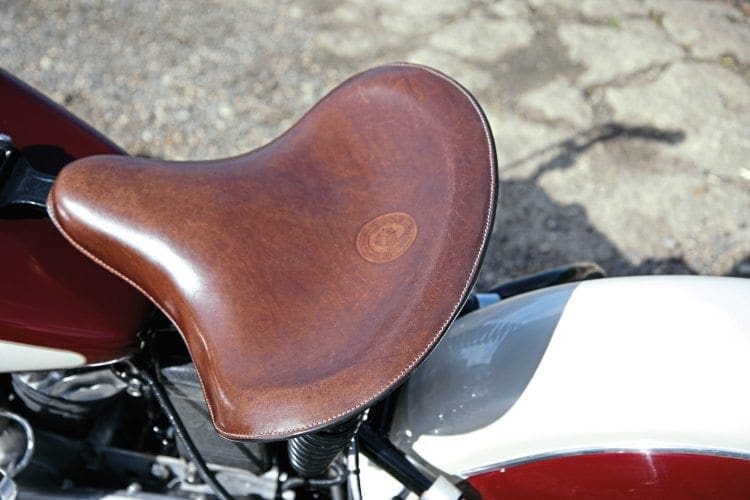 I have been lucky to ride all types of motorcycles of all eras and with all kinds of controls, but I can honestly say that this Indian took the most concentration to ride.
Sitting at tickover (I asked Wayne to kindly keep the Indian running for me) the big V-twin motor sounds rhythmic and strong. I press the clutch forward with my left boot and engage first gear with my right hand by pressing the knurled knob forwards, having learned that neutral was one pull back, and second and third gears another two clicks backwards.
The hardest part, for me at least, is feeling the point at which the clutch begins to bite, and I also struggle to control the smooth throttle with my 'odd' left hand. I advance the spark somewhere to midway, twist the throttle, and let the clutch back in – and I stall it. I kick it over, it starts easily, and I try taking off again.
It stalls. I have another go, and get no further. "Give it more gas," suggests Wayne, and he's dead right. Eventually I get it all right and the Indian takes off, with me on board, bouncing up and down on the generously sized sprung leather saddle.
Not for no reason did we choose a very quiet location with long, straight stretches of near-empty road for me to try the Sport Scout, because it really needs (or in truth, I really need) no distractions.
Once on the go, I find changing up and down comes naturally enough, as does use of the throttle. Once I get my feet planted on the footboards, the Sport Scout rides nicely.
The flathead motor is willing, and although I get up into top gear, the road here is neither long nor spacious enough to go much over 40mph. The combination of sprung seat and rear sprung suspension provides that 'floating' sensation, and on decent sections of road, the Indian is smooth.
Hit a bump though, and the sprung girder front end jars slightly, and the stiffness of the forks and plunger system is shown up.
But the famous Indian V-twin power plant is torquey and feels reliable and strong, and so with the combination of footboards, wide bars and sprung saddle, it's easy to appreciate why the Sport Scout was so popular with motorcyclists who wanted to get out there and ride long and far.
The six-inch front brake proves to be rather underpowered as I pull up to stop, while the rear feels much more effective.
Stopping and stalling is easy – stopping, selecting neutral and keeping the motor running is much harder. In the end I have about three decent runs up and down this mile strip and then I stop, because I know that the Sport Scout will need much more time and miles to master.
Wayne is sympathetic. "It was very much a challenge to learn how to ride with a left-hand throttle, I must admit, but now it's okay." He also tells me that he thinks that the adjuster between the gearbox and the motor was tightened too much during its restoration, so the gearbox is actually stiffer to actuate than it should be. I feel better that my shifting wasn't as slick as it could have been otherwise.
It was a fascinating experience and I found the Indian Sport Scout to be one of the most peculiar motorcycles I've tried. Whether they appeal to you or not, the chromed, all-American looks are, by now, instantly recognisable and fixed firmly in that 1940s and 50s era, so park up an Indian Sport Scout at a bike rally and the crowds will always flock.
Finer Details
1941 INDIAN SPORT SCOUT
ENGINE
Side-valve air-cooled V-twin, cylinder inclination 42°
CAPACITY:
750cc (45cu)
BORE x STROKE
73mm x 89mm
CARBURETTOR
NOS Linkert M642
SUSPENSION
Girder fork at front, plunger-type rear suspension
GEARBOX
Three-speed hand change
WHEELS
16in
TYRES:
5 x 16in Avon Speedmasters
WHEELBASE
56.5in
ELECTRICS
Auto-Lite generator and distributor
FINISH
Two-tone 'brilliant red'
Club contact:
The Indian Motocycle Club of Great Britain
www.indianmotocycle.co.uk or email: [email protected]
The Vintage Motorcycle Club,Allen House
Wetmore Road, Burton Upon Trent DE14 ITR
or email: [email protected]
Read more News and Features at www.classicmotorcyle.co.uk and in the latest issue of The Classic Motorcycle – on sale now!