There are few motorcycles which are in an elevated class, separated from the vast majority of their peers. This, though, is one of them.
Words: JAMES ROBINSONPhotography: GARY CHAPMAN
During the 1920s, the bosses of several firms cast their lines into the waters of the 1000cc ohv V-twin pond, but most quickly found that the lake was if not devoid of stock, then running low.
There really wasn't the numbers to sustain a host of 'high end' manufacturers; many quickly disappeared. Coventry-Eagle actually lasted longer than most.
In April 1996, 1929 Coventry-Eagle Flying 8 E160, registration number WK 9146, was the top-selling lot at Brooks' (now Bonhams) Stafford sale, achieving just shy of £29,000, which was twice its pre-sale estimate.
Eventually, it passed through at least one more owner before it was acquired by collector Daniel Ward, with much of the restoration undertaken by Tim Walker, who has – among other things – been responsible for the fantastic Duzmo which has starred at the last few Kop Hillclimbs.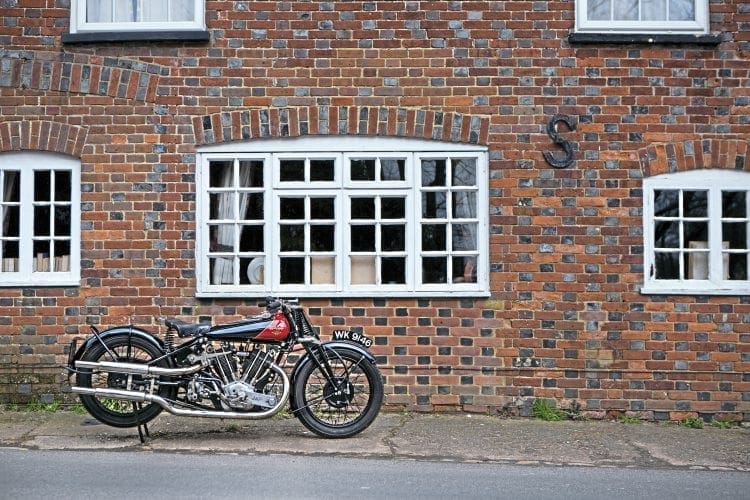 After Daniel Ward acquired another Flying 8, this machine was sold on in September 2008 to current owner Derek Fox, since when the Coventry-Eagle has undergone various modifications, including lower compression pistons being fitted; when it was restored in 2007 it seems high compression Gold Star items were used, not really a necessity on a machine which, in truth, is perhaps at the limit of its cycle parts v engine performance envelope. The last thing it needs really is even more beans.
But that said, Derek has been impressed with the big Eagle's handling, saying that it is perfectly capable of being laid into corners, and then powered out.
Derek goes on to explain how it requires an almost jockey-like riding style, with the rider's bottom hovering above the saddle, rather than planted on it, with weight on the footrests and the knees and arms used to absorb the bumps and bashes which come through from the road.
One doesn't grasp the handlebars too tight either; the more the methods are thought about and looked at, the more equine-influenced it all seems.
This is nothing new to anyone used to riding a powerful rigid-framed machine, but it does once again underline that these were a physical mount to ride; but of course the main market for a such a motorcycle would have a been a 19-year-old undergraduate up at Cambridge or Oxford, who would have spent the majority of his (it would have only been a chap…) time fuelled by brandy and bravado.
On a cold but thankfully clear March morning, the kind where in an era when the Eagle was new a nip of brandy would have been requisite, after a lot of ferrying about, finally, in a Buckinghamshire village, it was time to fire up the JAP KTOR-engined machine.
This might not be as easy as we'd perhaps hoped; the machine hadn't been started since June 2015 while Derek has since had one new knee and is waiting for another, so wasn't really in the right fettle for starting a 1000cc V-twin.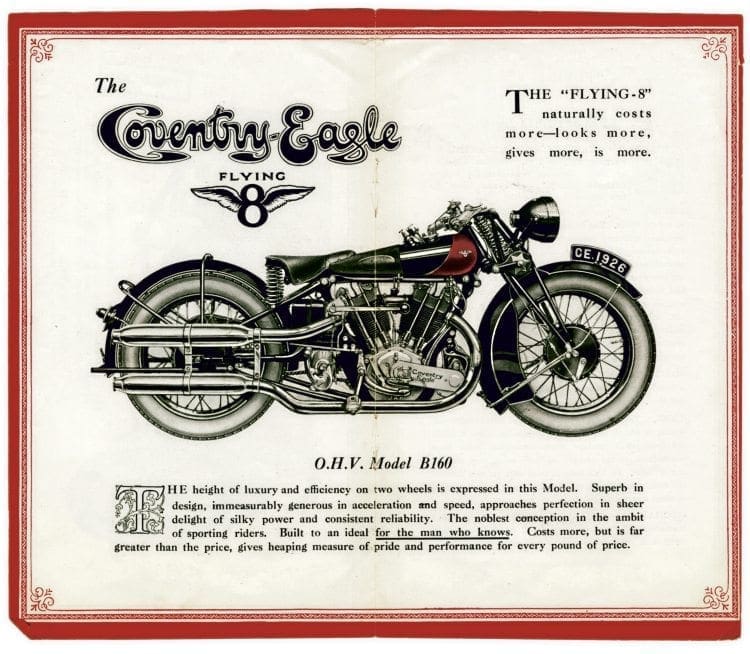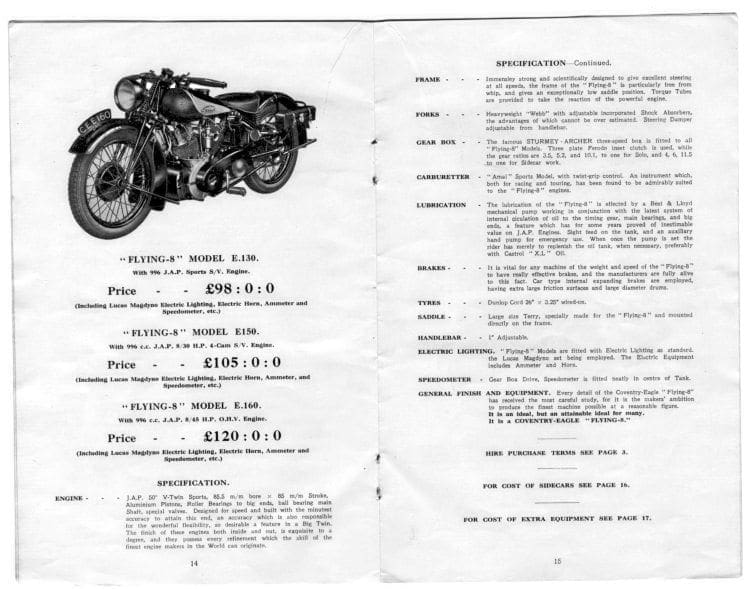 Even one with lower compression pistons. He was, though, confident it would go: "It starts easily."
We poured in fresh fuel (it had been drained before passing into Bonhams' care) and switched on the petrol tap; the tank is actually in two pannier halves which aren't connected.
Half expecting fuel to come gushing out of the dry tap, nothing untoward occurred.
Next, on with the oil; we actually had that with us too, but there was plenty in the tank and seemingly not too much in the sump.
And then I was across the Coventry-Eagle; Derek set the advance retard to a marked dot he'd painted on it, I gave a long-swinging kick… And the big V-twin burbled into life, immediately.
Fair to say, we grinned at each other. The air-lever isn't connected, so we kept the Eagle running on a steady throttle, watching oil pulse though the sight glass on top of the pump, meaning both cylinders were getting more than enough lubricant.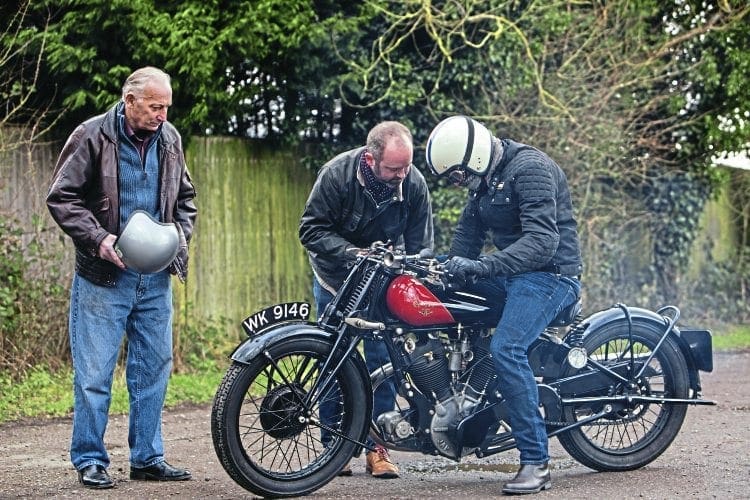 Derek reckons he has set the oil rate 'a bit high' but as with many of these things, it's better to have a touch too much, than any too little.
With the engine warming up and soon settling down – and in fairness, running beautifully – I kitted up and climbed on board. Derek said: "I can't remember which way first is…" but we settle on up – and it proved correct.
The clutch was smooth and progressive (and thankfully not sticking) and I trickled across the pub car park where we'd set up base, avoided a couple of huge potholes, and pulled out onto the road.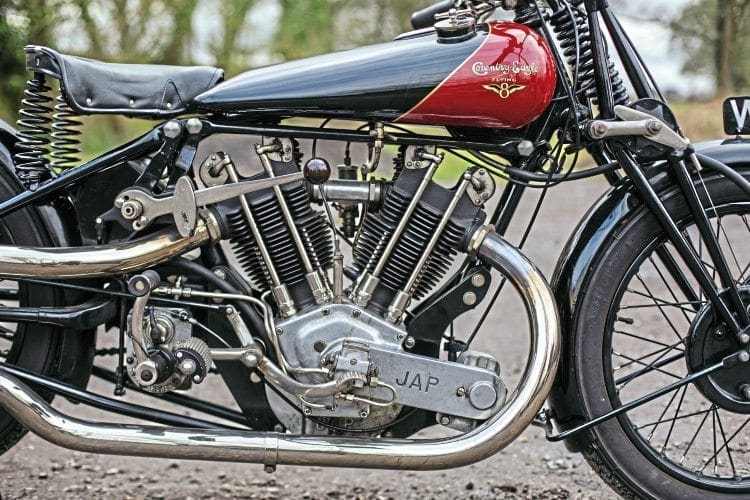 With no gate on the gear lever, it was a case of easing through neutral and into second, then a few more revs, and into top.
Though we were on a tight timescale and under various pressures owing to the weather and such, I couldn't resist going a little bit further than strictly necessary, out of the village where we were and onto the open road. Wow, what a machine, just lovely in every sense of the word.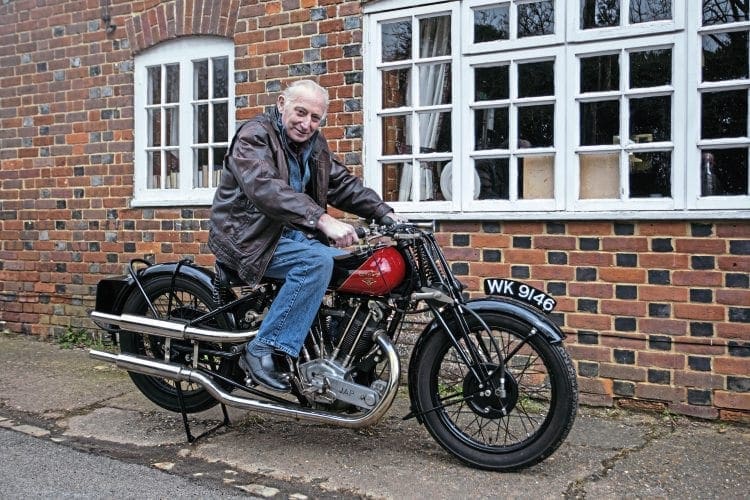 The power was smooth and soothing, with plenty on tap. The throttle response was impressively brisk, with no lag at all. The brakes were adequate too, while quite soon I was jinking up and down the Sturmey-Archer three-speed gearbox without a thought.
Derek had earlier explained: "I drop it down into second going into a corner, lay it in, then power it out, and it performs fantastically." Too right it does.
As Derek said though: "You really need a 100-mile ride on it to get the full extent of just what it's all about." Yes, please. Unfortunately, that wasn't an option but for my brief opportunity to soar on an Eagle, I was grateful.
"It was soon time to hand the V-twin over to my pal Bruce, who was there to write a feature for one of the 'modern' publications in the Mortons' portfolio, and watch as he (who's not used to old machines really, though has ridden several) quickly acquainted himself with the big black and red Midlands-made V-twin. It was almost as nice watching and listening as it rode past as it was riding it. Almost.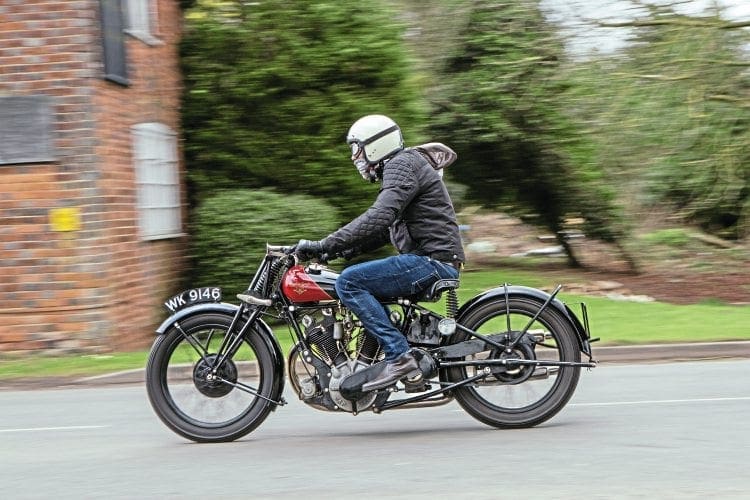 Coventry-Eagle was founded in 1898, born out of an earlier company called Royal Eagle, reforming as Coventry Eagle Cycle Co, owned by Edmund Mayo (who'd been involved in Royal Eagle) and Bernard Rotherham. The firm was originally based on Lincoln Street.
Moves into powered machinery began soon after the company was founded, while Edmund's son Arthur joined the concern and it wasn't many years before his son Percy (previously having worked at Royal Ordnance as a gun designer) was on board too. It is always reported that during the First World War, Percy Mayo and George Brough became acquainted.
The first Coventry-Eagle Flying 8 was announced in 1923, the marque's provenance underlined by the performance of (among others) leading privateer Bert Le Vack at Brooklands; other Brooklands names who seemed to have campaigned Coventry-Eagles at around the same period included the likes of Gordon Cobbold and Gordon Norchi, with Georg Hogl flying the flag in Germany and the fabulously named Biro Zero enjoyed success in Hungary.
The '8′ designation came from the RAC's engine rating of 8hp for the 976cc side-valve JAP power unit.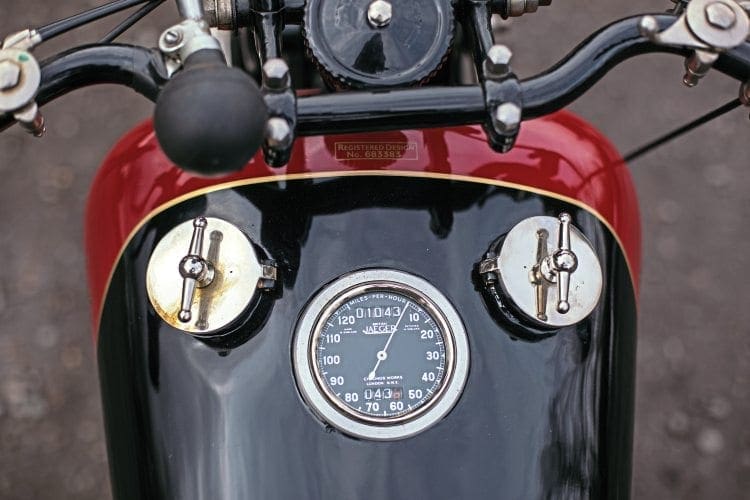 For 1926 the side-valve versions were joined by the 'Flying 8 Model B160', which used the same ohv KTOR JAP engine to be found in the SS100 Brough Superior, marketed – rather brilliantly, it must be admitted – by Percy's old mucker, George Brough. It slotted into an elite class – McEvoy, Zenith, perhaps Montgomery, but there were few attempting to profit from this niche-within-a-niche market.
On its debut the ohv Flying 8 model used a three-speed Jardine gearbox, eight inch Royal Enfield brakes and Webb forks. In 1927, there were four Flying 8s listed in total, three with side-valve JAP V-twin engines; the base Model C120, the C130 with electric lighting, the C150 with electric lighting and the four-cam 8/30hp JAP engine and then the top-of-the-range C160, with the overhead valve power unit.
The range topper cost £155 dead with the C120 £110, the C130 £120 and the C160 £132. That actually compared favourably with the offerings from Brough Superior, with the Nottingham maker's SS100 Alpine Grand Sports listed at £170.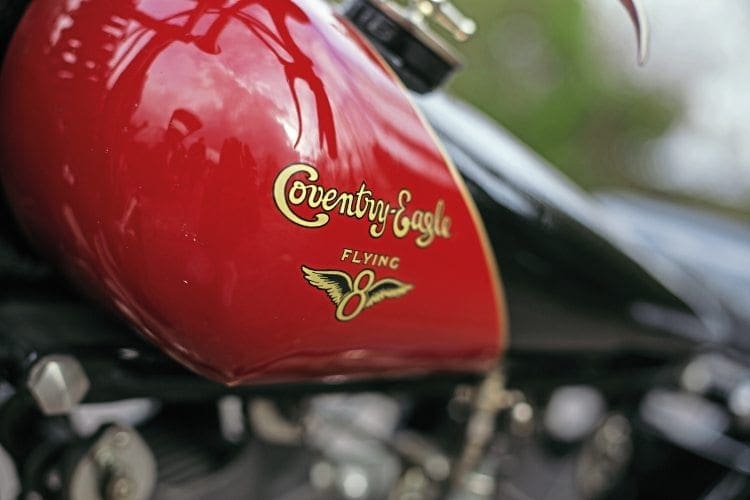 The 1928 D160 was down in price to £150, which was down further still in 1929, to £120 for the E160. Price was the same for the 1930 F160 which now had the name 'Super Police' attached to it, such was its apparent popularity with the Australian police.
By 1930, a Brough Superior SS100 AGS was being offered for £170 with a rigid frame, £180 for the spring frame model. If George Brough was keeping his prices high, then Coventry-Eagle was looking to the other end of the spectrum, now offering the 147cc two-stroke Villiers powered, two-speed F21. It cost £24-15-0.
For 1931, the Coventry-Eagle '160' model disappeared, and was followed soon after by the side-valve variant too.
Though Coventry-Eagle survived the austere times of the 1930s up to the Second World War, just like Brough Superior did, Coventry-Eagle did so by concentrating not on the luxury end of the market, but the absolute opposite.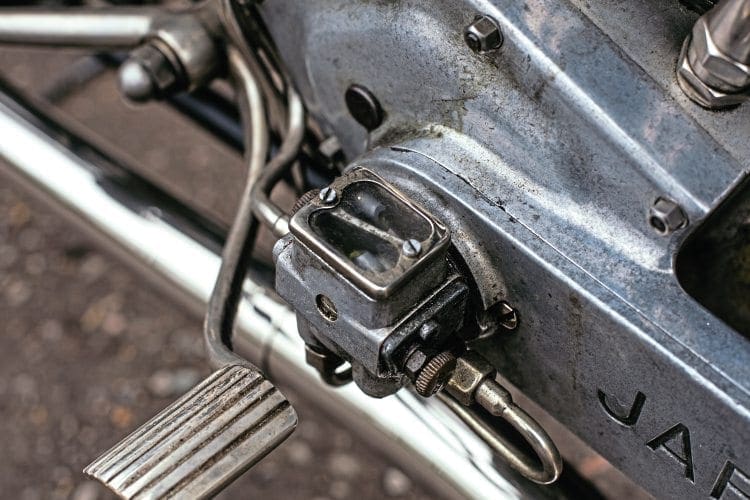 Whereas in 1926 advertising literature Coventry-Eagle had boasted how its B160 was designated in Motor Cycling as "…the Pullman Express… the highest attainable luxury, comfort and speed on two wheels" by late 1931 it was a somewhat different story.
Coventry-Eagle offerings were generally now more Blackpool tram (so cheap transport for the masses) than upper-class indulgence.
So how rare is this 1929 Coventry-Eagle Flying 8 E160? It's hard to say, with some suggestion there may be as few as six extant, which means that the 2009 bringing together of three of them at Banbury was quite some achievement.
A look at the VMCC's machine register records three, incidentally all of which are 1927, so C160s; there's VJ 844 (which was at Banbury in 2009 and which has twice recently been sold, at Stafford in April 2008, and again at Quail Lodge, California, in August 2011) and two others, in addition to the two which were at Banbury, which were the one featured here and a 1926 B160.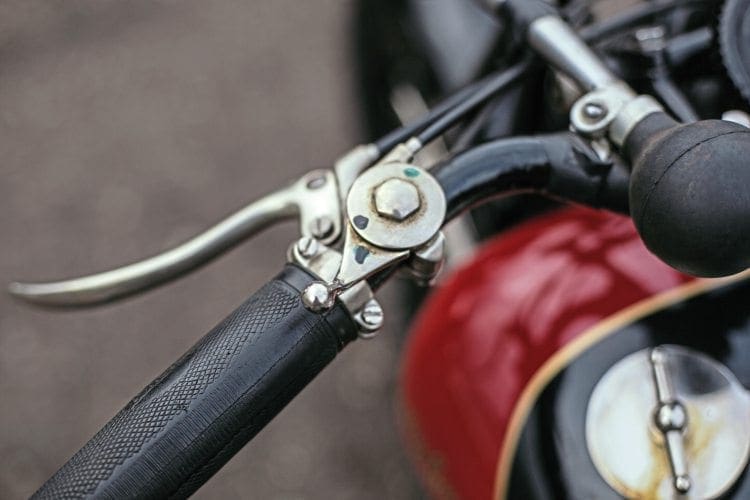 There was another sold by Bonhams late in 2015 plus a dealer was offering one relatively recently, which sported a different registration number to any of the others, so that's another for the roster.
There's a couple in museums (including the National Motorcycle Museum at Birmingham) while there may be another in private ownership too.
That takes us up to 10, and another source reckons that there may be as many as 20 (one seems to have perhaps mysteriously disappeared too) still existing but even that doesn't make them exactly thick on the ground…
This Flying 8 is being auctioned by Bonhams at Stafford in April. So what will the lucky winning bidder get? Simply put, one of the few truly stunning motorcycles that are still about.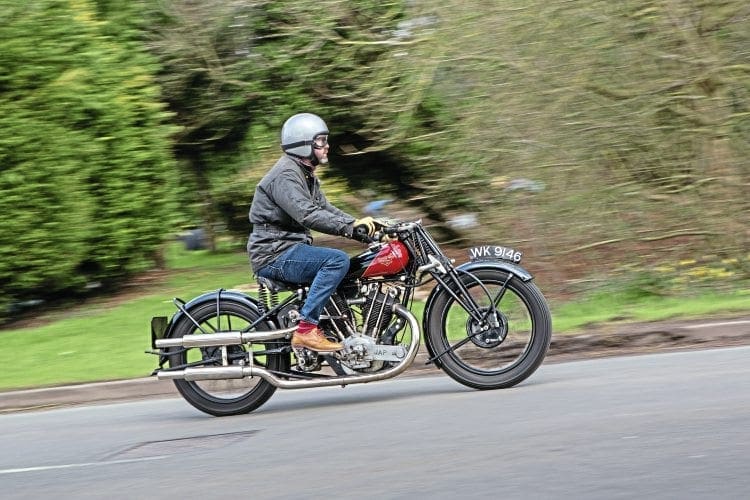 There are few motorcycles which will make jaws drop – the Flying 8 is one of them. And that's without even riding it, because in the saddle it's just as fabulous too.
As we chatted, Derek was hatching a few plans of what he might do in the feature; basically his knees (damage to which is largely the legacy of a lifetime of motorcycle competition) mean the Eagle has to go, to fly off for a new adventure. Whoever gets to share the journey will surely enjoy it.
The Coventry-Eagle will be sold at Stafford on Sunday, April 24, 2016. The estimate is £140-160,000. Details from www.bonhams.com/motorcycles or 0208 8963 2817.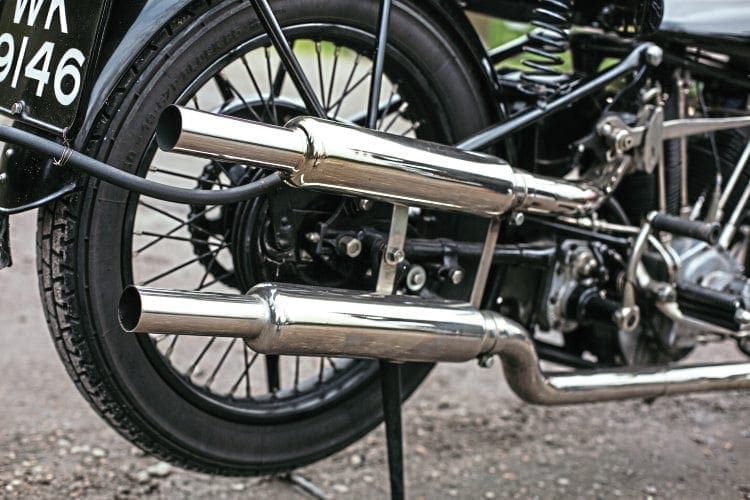 Finer Details
Coventry-Eagle Flying 8 E160
Year of manufacture
1929
Engine
JAP KTOR V-twin
Bore x stroke
85.5 x 85mm
Gearbox
Three-speed Sturmey-Archer
Forks
Heavyweight Webb girder
Frame
Coventry-Eagle open cradle
Brakes
Royal Enfield 8in
Wheelbase
58in
Saddle height
28½in
Petrol
3 gallons
Weight
350lbs
Price new
£120
MAKERS
Coventry-Eagle Cycle and Motor Co Ltd, Bishopgate Green Works, Foleshill Road, Coventry.
Club contact:
The Sunbeam Motorcycle Club, www.sunbeam-mcc.co.uk or 01797 270209.
VMCC, www.vmcc.net or 01283 540557.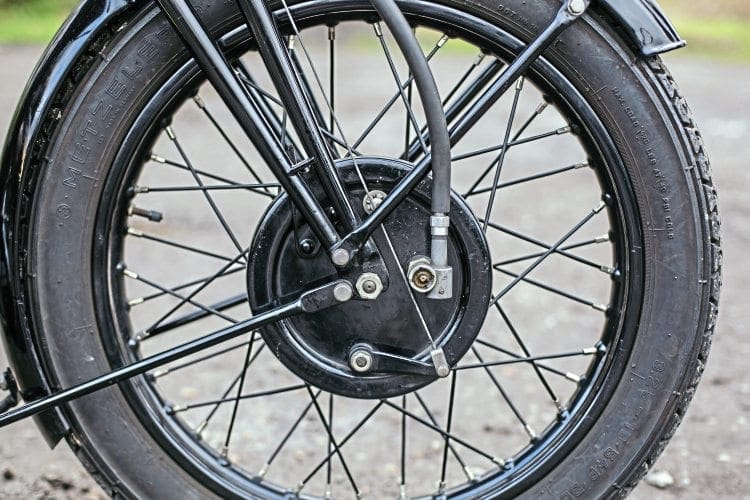 Read more News and Features at www.classicmotorcyle.co.uk and in the latest issue of The Classic Motorcycle – on sale now!