Designed to mobilise the postwar northern Italian workforce, Moto Guzzi's Galletto offered function in quite a strange form, but it's not without its charms.
Words: Phil Turner
Photographs: Gary Chapman
Few countries enjoyed a post-Second World War boom quite like Italy. A generous pot of aid courtesy of the Marshall Plan, the demand for raw materials and manufactured products needed by the US for the Korean War, and the formation of the European Common Market in 1957 fuelled a period of Italian economic growth that would last until the end of the 1960s.
Il miracolo economico (the economic miracle) as it would become known, transformed what had been a poor and largely rural nation into an industrial powerhouse.
New industry thrived, huge numbers of workers migrated from the rural south to the industrial cities of the north, and the demand for new housing, infrastructure and transportation came with them.
Enterprising motorcycle manufacturers seized upon the opportunity and developed low cost, low tech machines to help mobilise the eager but still cash-strapped workforce.
Moto Guzzi were no exception and had already enjoyed success in the immediate postwar period with the Guzzino – a purpose-built, 65cc two-stroke, with 26in wheels, sprung forks and swinging-arm rear suspension.
Although it was a definite step up from the motor-strapped-to-a-bicycle-frame competition, it was basic, and towards the end of the 1940s Carlo Guzzi decided it was time for something bigger and better.
At that time, Piaggio's Vespa and Innocenti's Lambretta motor scooters were growing in popularity and Carlo could see why – the protection from weather and messy lubricants provided by the bodywork, the ease of a step-through frame – particularly for female riders – and the ability to carry a spare wheel were big advantages, but he could also see the flaws in the design and so he decided on something that would give the best of both worlds – all the above but with the performance, comfort and road holding of a motorcycle. It also meant lower development costs and minimal changes to factory tooling.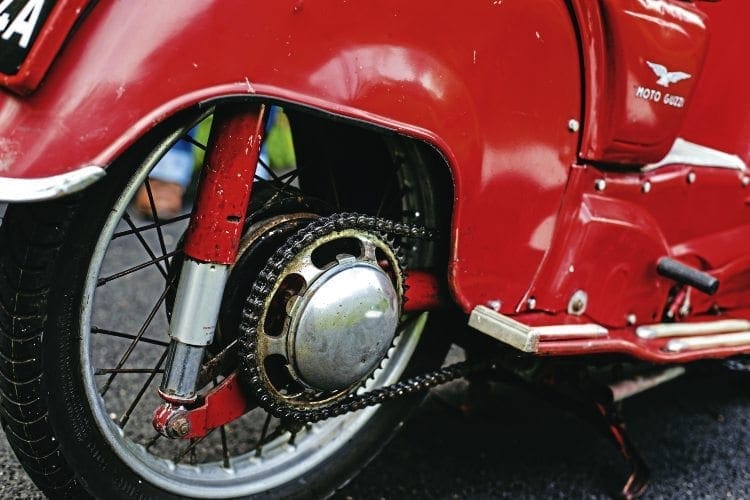 Presented at the 1950 Geneva Motor Show and put on sale shortly afterwards, the Galletto (Cockerel) was an immediate success and the not-quite-a-scooter and not-quite-a-motorcycle concept went down well with the buyers and Guzzi shifted an impressive 12,305 in the first year of production.
Few similar concepts that would follow it would enjoy the same level of acceptance.
The initial production model sported a 160cc, OHV, four-stroke 6bhp engine specifically designed for the Galletto and in typical Guzzi horizontal layout – this of course lent itself well to the requirement of a low step-over height.
Read more and view more images in the October 2019 issue of TCM – on sale now!
---
Advert

Enjoy more The Classic MotorCycle reading in the monthly magazine. Click here to subscribe.
---