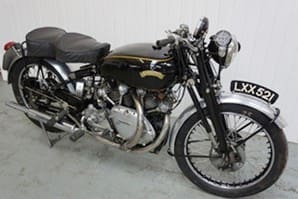 Not used since being bought by the vendor in 1978, the rare Vincent is accompanied by some technical correspondence between a previous owner and the factory covering engine modifications. While it cannot be confirmed, it's thought the bike could have competed in club sprints during the 1960s.
Fitted with highly coveted Lightning brakes, it's estimated at £55,000-65,000.
If the Black Shadow's too expensive, a 1961 Velocette Venom 500 with an estimate of between £10,000-11,500 might be a good substitute, and Velocette enthusiasts will also be able to bid on a 350 MAC which has a £3750-4500 estimate.
A pair of Triumph Tiger Cubs, one of which is a project with an estimate of £800-900, line-up alongside an awaiting-estimate 1964 Thunderbird and a 1961 Triton Café Racer, estimated at £5000-6000.
BSAs get a look-in too, with an A10 Golden Flash, estimated at £2500-3000, joined by a 1934 G14 V-twin that's had plenty of recent work to make it highly usable, and it has a £14,750-16,500 estimate. With a tempting £800-1200 estimate, a 1960 Norton Jubilee makes a straightforward restoration project.
A host of Japanese bikes add more flavour to the sale, with a great choice of Hondas, ranging from a barn-find 1966 CA110 Sport 50 (estimated: £400-600) and Norfolk-residing 1976 CB200 (estimated: £600-800) offered alongside a 1978 CB750K (estimated: £1200-1600) and an unused-for-two-years, no-reserve 1984 XL 200R.
A quartet of '70s Kawasaki triples adds some noise to the sale: a 1971 350 S and a 500 H1A are offered along with a 1974 500 H1B and a 1974 750 H2 and for big performance at a low price, the 1985 Z1100 (estimated: £1600-1900) is definitely worth a look.
And for those wanting to relive their 1970s teenage bus-stop burn-up years, a concours-condition 1976 Yamaha FS1E-DX fits the bill nicely, and is estimated at £4000-6000.
Italian pizzazz comes from a fully-rebuilt 1976 Lambretta GP150 (est: £2000-2500) and an MoTd 1979 Moto Guzzi V50, which is estimated at £1500-1800.
Doors open at 10am, with the sale of automobilia starting at 12 noon and the motorbikes thereafter.
For more information visit www.angliacarauctions.co.uk