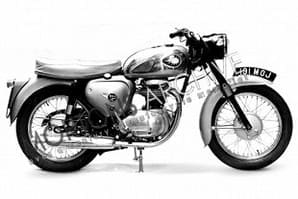 Though a fair bit lighter than what had gone before, the new duo looked somewhat more bulky than the earlier machines, which led to criticism from some quarters.
In their introductory state, the new engines shared a stroke (74mm) and even a compression ratio (7.5:1) with the bores (65.5mm and 75mm) giving respective capacities of 499 and 654cc.
The unit models ran for 10 years, with the final evolution, the longstroke A70L, built specially to homologate a 750cc version for dirt track racing in the US.
Riding
There are that many different versions of the unit BSA twins to choose from, it's possible to choose one to suit every mood or occasion – from the solid, dependable cooking 500cc Star model, which are as tough as old boots but not the most exciting of ride, to the rather more rorty, vibratory 'thrusters' like the Lightning and the twin-carb, glass fibre tanked Spitfire.
Model description and production years follow.
1962 BSA Star
The base – and launch – models. Cylinder head was one piece light alloy casting with separate inlet and exhaust ports. Despite a modest compression ratio, performance was better than adequate while not necessitating the use of expensive, high-octane fuels.
1966 Royal Star
Launched alongside the 650cc Thunderbolt to replace the base Star versions, the main differences between the newcomer and what went before was the loss of the headlamp nacelle, while the Royal Star was the only twin to not get a humped seat and the two-way damped forks from the Victor.
1966 Hornet
The rortiest of all the unit twins were the 650cc Hornet and its 500cc sibling, the Wasp. Built squarely for the US market, they boasted an impressive 10.5:1 compression ratio. Twin monobloc carburettors were specified, there was no silencing or speedo either.
1967 Spitfire MkIV
The initial Spitfire (launched 1965) boasted twin Amal GP carburettors, alloy wheel rims, 190mm front brake, and a compression ratio of 10.5:1. The Mk.III Spitfire swapped to Amal concentric carbs, while the Mk.IV gained the Triumph twin leading shoe front brake, too.
1969 Thunderbolt
The 'cooking' model in the range, which replaced the Star, the single carb Thunderbolt was probably the best all-rounder of the whole pantheon of unit BSA twins, with performance almost on par with the more finicky twin carb models, while also returning around 50mpg.
1972 Lightning
By now, an oil in frame (OIF) set up had been adopted, though not to the universal approval of all. There were also new forks, new hubs and other detail changes. Although the twins continued to be listed and offered for sale during 1972, they were no longer in quantity production.
Visit the Mortons Archive for more information and online search options concerning BSAs, or speak to our archivist Jane Skayman on 01507 529423 with your requirements. Email [email protected]
Other articles in the \'which model\' series:
? Ariel Square Fours
? BSAs
? BSA Bantam
? Cammy Norton Singles
? Norton Commando
? Norton ES2
? Triumph Thunderbird
? Velocette LE