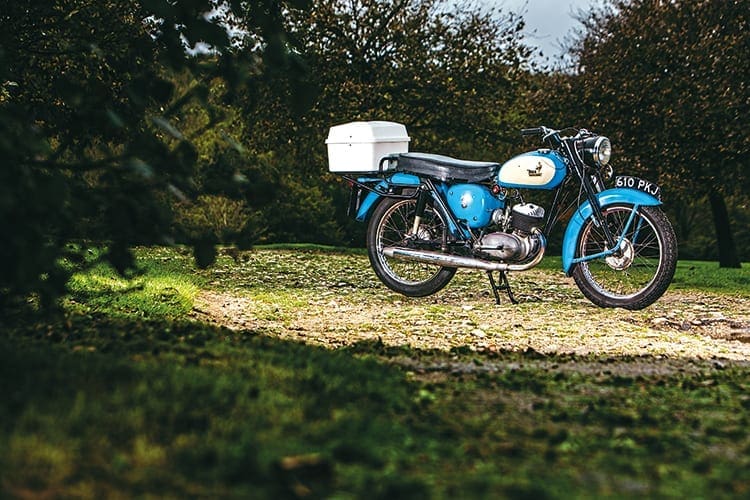 Magnificent D7
BSA's Bantam – in all its forms – has built up quite a following in recent years. Sampling a D7 Super variant shows just why.
Words: Phil Turner  Photographs: Gary Chapman
In the late 1950s Britain had "never had it so good." To a degree that was true – the scars left by the Second World War were healing; increased production saw export earnings and investment rise, and millions of Britons were now in work and earning more. Our standard of living was on the up and consumerism was starting to take hold – we wanted it, we felt we'd earned it and we could now afford it… 
Well, some of us could. What Harold Macmillan actually told fellow Conservatives during that 1957 rally speech in Bedford was that "most of our people have never had it so good" and alongside his optimistic economic assessment came a stark warning about inflation and a plea for "…restraint and common sense – restraint in the demands we make and common sense on how we spend our income."
Two years later Mr Macmillan would lead the Tories to a resounding election victory, but the celebrations would be short-lived – a wage freeze to slow that inflation, the government's failure to take Britain into the newly-formed EEC and the embarrassment of the Profumo affair – among other things – would burst the bubble and see Macmillan and his government off, but that's another story.
So, yes, it is true that some of us had never had it so good, and compared to the hardship and austerity of the previous decade, most of us were doing a lot better, but we weren't quite out of the woods yet, as British workers still had to make those wages stretch.
Bigger and bolder 
BSA's Bantam had been helping us do just that since 1948 – the economical 125cc two-stroke engine, maintenance-free rigid rear end and municipal
mist-green paint job of the D1 was perfect for the immediate postwar period. Things had changed in Britain since then though, and although still
hard-pressed enough to want economy, reliability and a low purchase price, by the late 1950s we wanted something a bit jazzier. 
Although it had evolved at the usual British motorcycle industry softly, gently, gradually pace the humble Bantam had already gone beyond its austerity spec somewhat – a capacity hike to 150cc, the addition of plunger rear suspension and some styling and equipment tweaks here and there – but by the mid-1950s it was clear that something a bit more drastic would need to be done to the baby Beesa for it to remain relevant.
So, in 1958 the covers came off a newer, faster and sleeker Bantam, the D5 Super, which boasted a 174cc engine and 60mph top speed, sporty 18in wheels, improved swinging arm rear suspension (a development of that which had debuted on the D3, but with a lengthened rear section to give the shock absorbers more upright mounts), and two-tone Bayard Crimson or Black and Ivory liveries.
It was good, but it wasn't quite enough for the increasingly aspirational tastes of the British buyer, and the changing social and physical landscape the Bantam was having to occupy – later that year Macmillan would cut the ribbon on the M6 Preston bypass, the first stage in our new motorway system, changing the way we would travel forever. To keep up the Bantam would have to be bigger, bolder and – contrary to the very fibre of its being – become less practical and more desirable. 
Giggle and grin 
So BSA went back to the drawing board and came back a year later with the D7 Super. They'd worked wonders and the Bantam looked bigger, faster and sportier than ever before. Although the engine remained largely unchanged and was saddled with the same three-speed gearbox, the new model had an entirely new swinging arm frame, uprated brakes and hydraulically damped forks, a nacelle-mounted headlamp, slimmed down mudguards and a sporty petrol tank and it was available in up-to-the-minute colours like Fuchsia Red and Sapphire Blue. 
It was a miniature version of its bigger, faster, sportier siblings from the BSA range and would bring thousands of new riders to the fold. 
But underneath it was still a Bantam and still more than capable of providing an economical and dependable means of getting from A to B for those who didn't have it quite as good as others. 
It's these reasons why the plucky little Bantam is as popular today as it has ever been. Many riders of a certain vintage have fond memories of learning to ride and/or riding to work and back on one – both more than adequate enough reasons to want to dig into the savings and own one again. Add to that their still comparatively low purchase price, the simplicity of their design and the availability of spares, an active, approachable and supportive owners' club, as well as the simple fact that riding the baby Beesa can and will make pretty much any motorcyclist giggle and grin, and it's hard to justify not owning a Bantam, really. 
Owning several is in fact equally justifiable, something that Ray Leggett's wife Elaine has not only come to terms with, but has, in fact, encouraged… 
Not that she had much choice, as Ray lives and breaths Bantams. He's club chairman of the Bantam OC, with all the responsibility and weekends away that demands, and when he's not doing that he is tinkering with his own collection, and when I say collection, I mean it – Ray has an example of most incarnations of the model that he has sourced and restored over the years. It is so impressive a collection in fact that – with much enthusiasm from Elaine – he's turned it into his very own Bantam museum, complete with memorabilia, period riding accessories and lots more. He even has a guestbook, which I'm delighted to say we were allowed to sign… 
Read more in the July issue of TCM – on sale now!