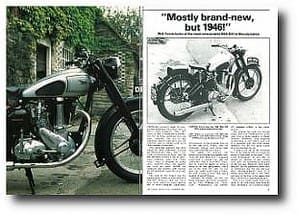 From the restorer's point of view, the big advantage of a bike such as BSA's daily-workhorse 350cc B31 single, is that it remained in produc­tion for so long – modified over the years, naturally, but not to any significant degree – that parts are still relatively easy to obtain; even for a 1946 example, as seen here.
This particular machine has been rebuilt by Lech Zakrewski ("Good old Warwickshire name, that!", says Lech) of Stratford-on-Avon, and the aim has been to turn it out in show­room condition, rather than "Earls Court" state; so although the timing cover, pushrod tower, and gearbox end cover are nicely buffed, the crankcase and gearbox shell castings are left spotlessly clean but in as-cast finish.
The start of the project was the acquisition a couple of years ago of a 1946 B31. However, that was just a basis from which to work, and as new or better-condition components were located, so the originals were set on one side until, finally, only the crankcase castings and wheel hubs were used in the bike as it now is.
The saddle, for instance, was found on an Oxford autojumble stall. "Got any other BSA bits?", enquired Lech—and it turned out that the stall-holder had a bent B31 frame, and he would be happy to bring it along to the next autojumble, which was at the Ariel OC rally. In fact there was rather more than a frame, for with it came a front fork and a number of useful fittings.
Anyway, the frame was not too badly damaged, and after straighten­ing by Chris Williams (of 'Auto-cycle', Wednesbury), the Panther OC technical officer, it was good­ as new.
The original fuel tank was beyond repair, but Lech found another of the right type at John Gleed's, of Hook Norton. However, that required re-chroming, a task which Lech left to a specialist firm who shall remain nameless—for the very good reason that they botched the job.
"I had to sell off all the unwanted bits of the original bike to recoup the money I had spent on the tank", says Lech. Fortunately, he was able to obtain yet another of the correct type, with the speedometer mounted in the top face. However, after strip­ping off the old paintwork there were no indications that this one had ever been chromium-plated, and so it would seem likely that it was 1945, and one of the first to be made after BSA's return to civilian manufacture.
One or two minor repairs had to be made to the tank (these were done by Dave McMahon, of Coventry) which was then sent to specialist painters Lewis & Templeton, a 1945-style silver-painted finish with black lining being adopted. Most other paintwork, including the frame was carried out locally by a friend of Lech's; plating, too, was done locally with the exception of some parts farmed out to Custom Fasteners, Redditch.
"I've tried to incorporate as many new parts as possible," says Lech, "and that includes a brand-new cylinder barrel and brand-new rear mudguard, both found on autojumble stalls. Other new parts, such as engine internals and gearbox pinions, the Magdyno and carburettor, were obtained from BSA dealers. It's just amazing how much stuff is still avail­able."
The outcome of all this is a 1946 B31 BSA that is virtually new from the ground up, having an engine that chuffs steadily with barely a rattle from the moving parts; maybe not a glamour model, but then the B31 was never intended for such a role. Handsome, though – you've certainly got to give it that.
Shall we be seeing it at rallies in 1984? Lech Zakrewski is rather non­commital about that. "To tell the truth", he says, "I get more fun from restoring bikes than from actu­ally riding them, and having finished the BSA I want to press on with an Ariel sidecar outfit, the pieces of which have been cluttering-up the workshop for months." Which is, I suppose, one way of enjoying the classic scene.
View original article