The Story of Phelon & Moore – Revised edition
Author: Barry M Jones
Published by: Barry M Jones,
Unit 2, Rustic Crafts Workshop, Bixley Lane, Beckley, Rye,
East Sussex TN31 6TH
(First published by Panther Publishing Ltd.)
E-mail: [email protected]
www.brenelltape.co.uk
Softback, 210 x 280mm (portrait) 326 pages with approx. 250 photographs and illustrations.
ISBN 978-0-9556595-6-0
£30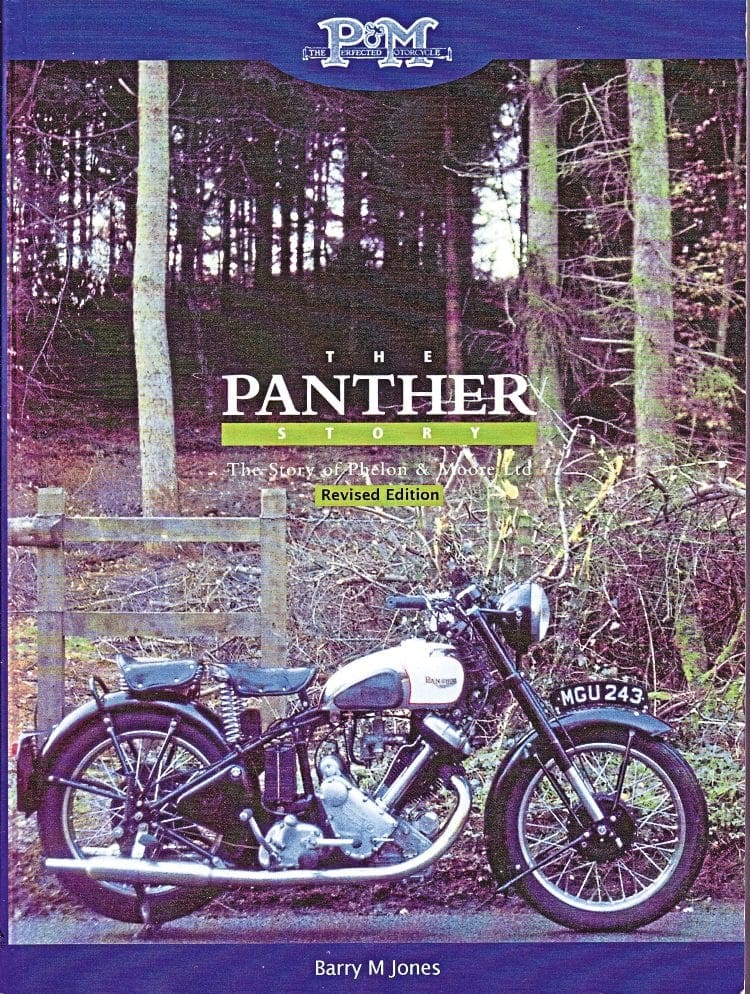 Founded in 1904, Phelon & Moore Ltd was one of the earliest and most successful of the pioneers of motorcycling.
The firm outlasted many more famous names and the factory only closed in 1966.
To begin with, Phelon & Moore (P&M) produced solid, well constructed and reliable machines which performed well at home and throughout 'the colonies' – to where many early examples were exported. They gained a reputation for being superb Six Days Trials machines and were always well represented in endurance events at home and abroad. In the 1920s and 1930s P&M introduced the name 'Panther' for its sporting models which were, and still are, surprisingly quick, comfortable and reliable machines.
With a large single cylinder engine producing lots of torque well down the rev range, and with their rugged build and reputation for reliability, it was not surprising Panthers became known as sidecar pullers. But it is often overlooked that 18-year-old P&M apprentice Tommy Bullus finished an impressive fourth in the 1925 Isle of Man Senior TT.
Perhaps not so well known was the firm's reputation as an innovator. From the first days, Panthers were always at the forefront of the technology of the period, beginning with the use of the engine as an integral part of the frame; championing of all chain drive; introduction of two- then four-speed gears; the early introduction of overhead valves; twin dipping headlights; interconnected brakes and implementation of the air-sprung Dowty telescopic front fork.
There were a wide variety of Panthers made, from lightweight machines – using Villiers engines and the famous 250cc ohv Red Panther (sold by the London dealer Pride & Clark for £28-7s-6d) – to the ahead-of-its-time Panthette transverse V-twin and the Princess scooter. All are lovingly described in this book as well as the complete history of the company and the people that made, rode and sold Panther motorcycles from the earliest days until the final Panther left the Cleckheaton works in West Yorks in 1966.
Author Barry M Jones was the librarian of the Panther Owners' Club. In writing this book Barry had interviewed countless former employees, managers and owners of Panther motorcycles and established and immense library of original documentation. This excellent, high-quality book represents the culmination of some 20 years' research – it is also a very good read and one I highly recommend.
Book reviewed by Jonathan Hill.
Read more news, features and opinion in February's issue of TCM