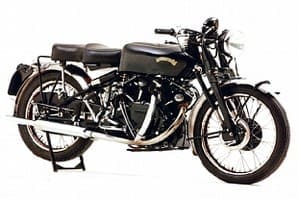 One of the stars of the Bonhams auction held on Sunday 28 April at Stafford is a Vincent Black Shadow that formed part of a factory bid to set a new 24-hour speed record in 1952.
Although mechanical failures prevented the bid at Montlhery in France from being as successful as hoped, the British team returned home with eight new records, including six hours at over 100mph.
The fully restored, matching-numbers machine has been owned by the current vendor for more than 40 years and is offered with a pre-sale estimate of £110,000 to £130,000.
Among other machines consigned to the Bonhams sale are a trio of Brough motorcycles – two 'Superiors' and the other a 'straight' Brough.
The 1931 Brough Superior SS80 started life as a sidecar outfit with Ipswich police before being converted to solo trim and raffled off by the Brough Superior Club is estimated at upwards of £50,000. A 1926 SS80/100 model estimated to realise between £160,000 and £200,000 is a rare factory variant, originally combining an SS100 frame with the SS80 JAP side valve engine. Only a handful of these unusual machines were made, with this one 're-engined' post-Second World War with an overhead-valve SS100-spec JAP unit. It was awarded the accolade of restoration of the year at the 2012 Brough Superior OC rally.
The Brough family is also represented by the 1921 Brough Model G. This rare motorcycle was manufactured by William Brough (father of George, of Superior fame…), whose company was in existence from 1902 to 1925. Offered for restoration, it is estimated at £20,000 to £30,000.
Ben Walker, head of the Bonhams motorcycle department, said: "We are very much looking forward to the first UK sale of the year at the International Classic MotorCycle Show. We are delighted to be able to offer such a wide and eclectic range of important motorcycles at what has traditionally been a very successful sale."
You can view the exhibits on Saturday and Sunday morning — with a catalogue — and the auction starts at 10.30 on Sunday.
Another eagerly anticipated exhibit is this freshly restored Beasley-framed Velocette-engined racer (shown right) will be worth pausing and having a look at.
Owned by Northern Irish enthusiast Will Corry, the racing special (the frame was made by racer and constructor Doug Beasley, who made a number of special Velo frames in the 1950s) found its way over the Irish Sea in the early 60s, and has stayed there until recently before coming over to the mainland for its restoration.
Reputedly it was fitted with a 'double knocker' engine at one point, now it is powered by a single overhead KTT motor. Other tasty components include the AJS 7R hubs and forks. It'll be in the private displays at Stafford.
There'll be all the usual show highlights too and the guest of honour will be Phil Read. The opinion-dividing Prince of Speed has been working hard on his new book and the interviews with him on stage promise to be revealing.
Other attractions include the field-filling autojumble, club stands, trade halls, GP paddock, Wall of Death and the trials display, with legend Mick Andrews to the fore. The trials demonstration will take place alongside the Dirt Bike Hall, itself packed with classic off-road tackle.
Gates are open 9am-6pm Saturday and 9am-5pm on Sunday. Tickets on the day cost £12 for adults, £11 OAPs and £4 for under 15s.
The show takes place at Stafford County Showground (ST18 0BD).
Stafford Show schedule – Saturday
09.00 Gates open
10.00 Bonhams sale open for viewing*
10.15 Mick Andrews Technical Tips & Trials school with Tim Britton, CDB editor, and Yrjo Vesterinen outside the Dirt Bike Experience Hall
10.30 Dales Classic – Trials Demonstration at the side of the Dirt Bike Experience Hall
11.00 World Champion Phil Read on stage in the Main Hall
12.00 Firing up the legends in the Classic Racer GP Paddock, with Phil Read signing autographs
13.00 On stage with the off road stars in the Dirt Bike Experience Hall
14.00 Dales Classic – Trials Demonstration at the side of the Dirt Bike Experience Hall
15.00 Firing up the legends in the Classic Racer GP paddock with Phil Read signing autographs
16.00 Phil Read on stage in the Main Hall
18.00 Gates close
* Bonhams catalogue needed
Sunday schedule
09.00 Show opens
09.00 Bonhams sale open for viewing*
10.00 Mick Andrews Technical Tips & Trials school with Tim Britton, CDB editor, outside the Dirt Bike Experience Hall
10.30 Bonhams motorcycle auction commences *
10.30 Dales Classic – Trials Demonstration at the side of the Dirt Bike Experience Hall
11.00 World Champion Phil Read on stage in the Main Hall
12.00 Firing up the legends in the Classic Racer GP Paddock, with Phil Read signing autographs
13.30 Mick Andrews Technical Tips & Trials school with Tim Britton, CDB editor, outside the Dirt Bike Experience Hall
14.00 Dales Classic – Trials Demonstration at the side of the Dirt Bike Experience Hall
15.00 Firing up the legends in the Classic Racer GP paddock with Phil Read signing autographs
16.00 Trophy presentation on stage in Main Hall with Phil Read
17.00 Gates close
* Bonhams catalogue needed
Useful links
? Directions
? Stafford Show Guide (pdf)
? See the videos on our Facebook page
? More information from www.Classicbikeshows.com
Future shows in 2013
? The Carole Nash Great Scottish Bike Show, May 11-12
? The Carole Nash Newark Bike Bonanza, June 22-23
? The 20th Carole Nash Eurojumble, September 6-7
? The 20th Carole Nash Classic Motorcycle Mechanics Show, Oct 19-20