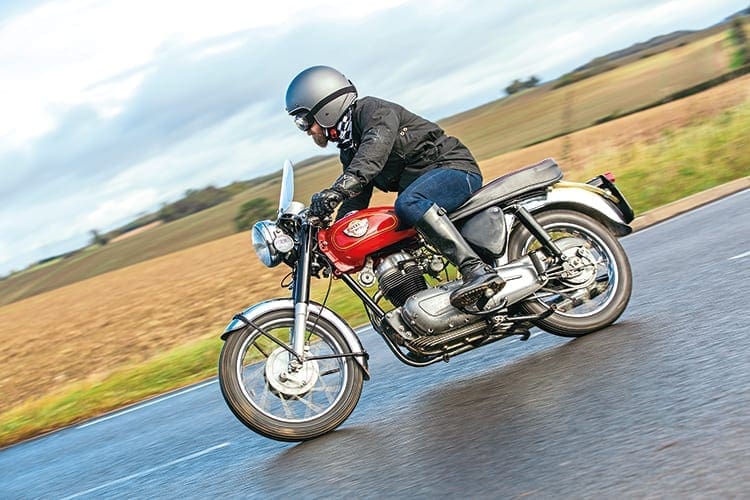 It's not often one is allowed to get too close to a prototype. They're usually tantalisingly out of reach behind ropes or on an elevated and rotating platform in the middle of a show hall; to stand over one, touch it or sit on it is a rare privilege, to start one up and ride it is pure fantasy.
So it was a mixture of excitement, trepidation and wonder I was feeling as I pulled off Gordon  Hallett's driveway on board the one-of-a-kind 175cc overhead camshaft Royal Enfield – at that point I hadn't realised he hadn't ridden it himself yet…
Although you're hard-pushed to find reference to it in any of the Royal Enfield history books, the story of the 175cc OHC prototype is fairly well-known among aficionados.
It's thought the original brief, presented to the R&D team in early 1961, was for a machine designed to fall below the UK's sub-200cc threshold for low-cost insurance. Initial sketches showed a 198cc push rod engine similar to that found in the Crusader, but somewhere along the way this morphed into a 175cc OHC design: more than likely a reaction to the increasing popularity of the 175 class in Continental Europe, and the resulting attractive Italian machines that were starting to woo British buyers.
The firm's chief draughtsman Reg Thomas gave them the engine and his ever-resourceful and creative development team set about using what they had to hand to provide the chassis and cycle parts to wrap around it.
It was a very promising design but for reasons we can only take an educated guess at – high production costs being the most likely culprit – the project was shelved just a year later.
Article continues below…
Advert
Read the full story in The Classic MotorCycle September 2018
---
Advert

Enjoy more The Classic MotorCycle reading in the monthly magazine. Click here to subscribe.
---