Audi has honoured Ducati, its relatively new acquisition, with an impressive exhibition marking the Italian maker's 90th anniversary. Rather than come from Ducati's museum, machines for this event, which lasts until April 30 this year, are all private loans. And, strange but true, the 54 solo motorcycles add up to 109 wheels…
Words and photographs: Gerry Vogt
It is now more than four years since Audi acquired Ducati, with the Italian concern struggling and in dire need of funds at that time.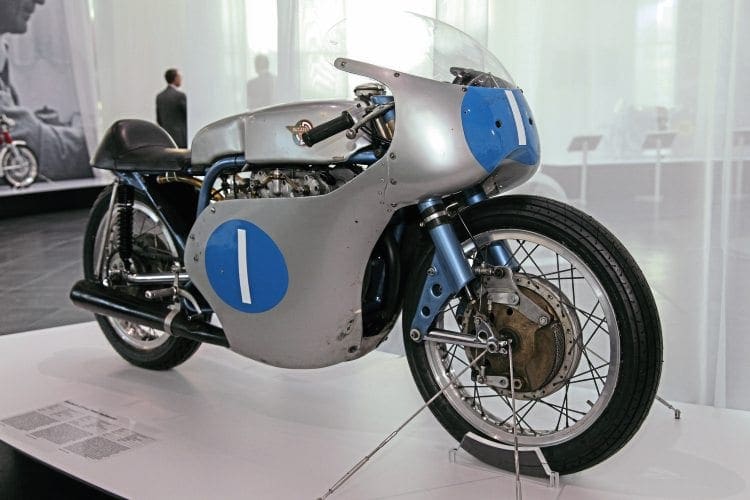 With the new backing, Ducati's executives were able to finance development of a cache of new machines – necessary as different emission laws were coming into the industry, as well as facilitating Ducati to push ideas to market bikes like the Scrambler V-twin, and modernise the long-term and ever-popular Ducati Monster.
"I'm sure Ducati is in good hands at Audi. They will care," says well known off-road motorcycle champion Heinz Klingenschmidt, who rode DKW machines in the 1950s until the sturdy two-strokes were phased out by Auto-Union (which became Audi) due to the rapid sales drop of motorcycles as the Wirtschaftwunder enabled small cars for everyone.
From those days, more well-known faces were at the opening of the anniversary exhibition. Still keen to see racers and roarers, multiple German champion Gustl Hobl listened to the announcement of Audi Tradition curator Stefan Felber. Hobl raced the famous DKW 350cc triple, the 'singing saw' 45bhp two-stroke racer, ending his career in 1956 when the race department at Auto-Union DKW was terminated.
Article continues below…
Advert
Read more in the March issue of TCM – out now!
---
Advert

Enjoy more The Classic MotorCycle reading in the monthly magazine. Click here to subscribe.
---