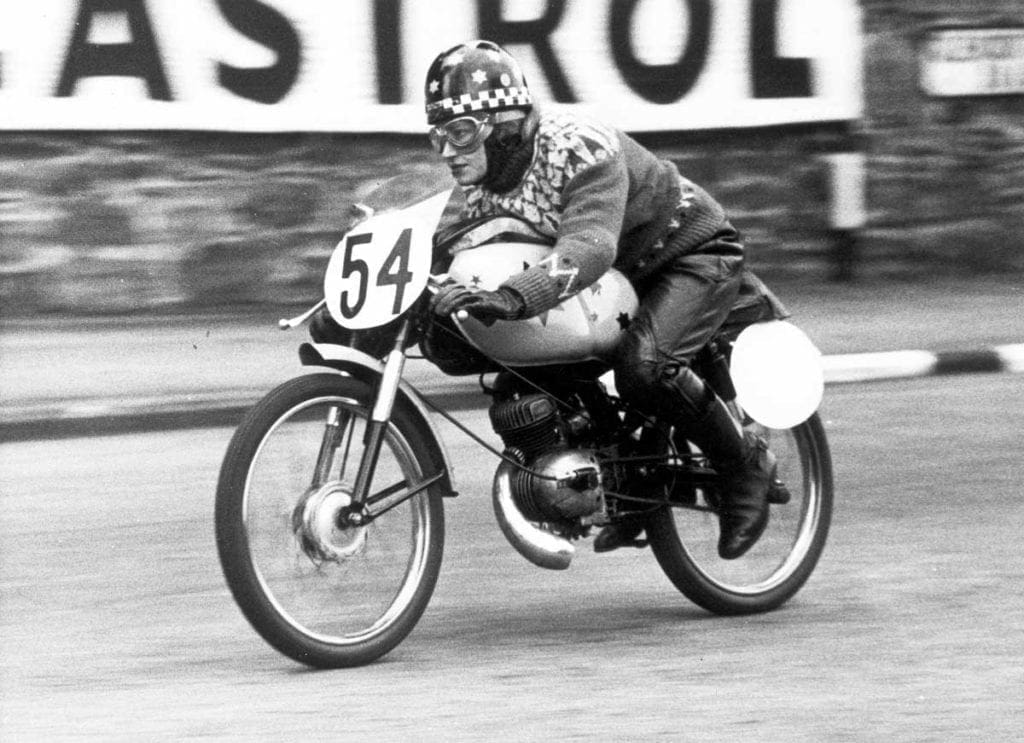 On what would have been her 85th birthday, we take a look at back at the first woman ever to achieve a solo finish in a TT race, Beryl Swain.
In these times of supposed equality, with women competing in most forms of motorcycling, it may be hard to recall that it wasn't always so.
Related articles:
In 1962, Beryl Swain caused a minor sensation when she entered the 50cc event at that year's Isle of Man TT and became the first woman to complete a solo race.
Motorcycle passion begins
Born Beryl Tolman in 1936, she was brought up in Walthamstow, East London. She was single-minded and determined. Singing was one of her talents, although an audition in the West End led no further.
In the City of London, she was a successful PA to a former Admiral, a top executive at shipping line P&O.
In 1952 she met Eddie Swain, the owner of a motorcycle repair business. Her motorcycling interest soon extended to the racetrack. Her slight build gave her an advantage when she was racing 50cc bikes, a popular capacity class at the time. Bob Summerill worked with Eddie Swain and he became Beryl's race mechanic. Bob made many parts for the Bultaco and Itom machinery she rode. He remembers his 'very attractive' rider was known as he 'blonde bombshell' as her hair streamed behind her pudding-basin helmet when she raced. Beryl even tried speedway at the local Hackney track, but found the necessary sliding technique too far removed from her skills on Tarmac surfaces.
Beryl married Eddie in 1959. In 1962, the FIM had awarded the 50cc class world championship status and the Isle of Man would host a round. Having an International licence entitled her to enter that inaugural event. When her entry was accepted it was an ambition achieved. There were problems at the weigh-in, when Beryl and her Itom were found to be below the minimum weight. Wearing a diver's belt, with sufficient lead ballast, brought bike and rider to the necessary benchmark. After two laps of the Mountain circuit, she finished 22nd of 25 finishers.
Media spotlight
Inevitably, her looks brought her to the attention of the media and she was featured in the national press and on TV. She was a guest at that year's Motorcycle Show. She declared that she intended to contest next year's TT, possibly on a 500! Manufacturer Honda was taking an interest in her future plans.
However, far away, alarm bells were ringing over the unenviable safety record of the TT races. What would happen if a woman, especially someone who already had a press following, suffered severe injuries – or worse? The following year the FIM revoked Beryl Swain's licence on the grounds that 'racing was too dangerous for a woman'.
Although more than 30 years had passed since speedway star Faye Taylour had received similar treatment, the powers-that be remained as resolute. Still in hope of having the decision rescinded, Beryl penned a long letter and sent copies wherever she thought she might be heard. The Queen and the Lieutenant Governor of the Isle of Man were both petitioned. It is a reflection of the times that not everyone disagreed with the FIM's action.
Beryl applied to race in the TT the following year, but her entry was rejected. To add to her misery, her marriage broke down. Beryl hung up her leathers and moved away from motorcycling, apparently even shunning the topic completely in later years.
Eventually, she bounced back to a successful career as a personnel manager, hiring and firing for Sainsbury's supermarkets. After retirement to Woodford, Essex, she worked as a volunteer for the 'Meals on Wheels' service. While she should have been an honoured guest as part of the TT's centenary celebrations in 2007, it was not to be.
Beryl was already ill and passed away, aged 71, just days before that year's event. While she may be accepted as the first female competitor, that status should be qualified. The first woman to actually finish a TT race was Mrs Pat Wise, in the sidecar of Eric Oliver's outfit. But that's another story, for another day.