Two exquisite grand prix 250cc Benellis were top of the huge Bonhams' 'live and online' summer sale, held behind closed doors from August 14-16.
Top price was the £149,500 1964 four (right), used by Tarquinio Provini, to win that year's Spanish GP.
It had an interesting history, being built up from reunited parts, its engine having at one point being used in a road bike by a member of the Benelli family.
The four cylinder racers were finished in grey; the suggestion was they were 'to be as fast as a cannonball', hence the colour.
The more traditionally finished all red 1950 machine (below), as used by Dario Ambrosini to win the world championship, sold for £138,000, while a third Benelli – one of four 1959 works 250cc singles made – fetched £83,950.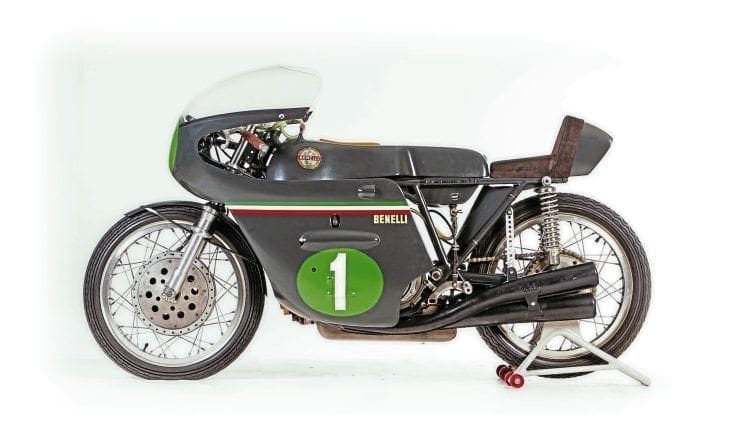 Veteran and vintage motorcycles performed particularly well, with a 1916 Harley-Davidson, 1000cc Model J and trade sidecar realising £56,500, while a 1909 Minerva 3½hp with wicker sidecar, a regular participant in the London to Brighton Pioneer Run, achieved £29,900.
An extremely rare 1928 Montgomery 680cc 'Twin Five', a Banbury-concours winner though fitted with a 1930 engine, sold for a healthy £37,950.
Beautifully-restored machines were also stellar performers.
The same bidder paid £36,000 for a 1979 Mike Hailwood Replica Ducati and £23,000 for a spotless 1956 BSA DBD34 Gold Star, the subject of a total restoration in the early 2000s.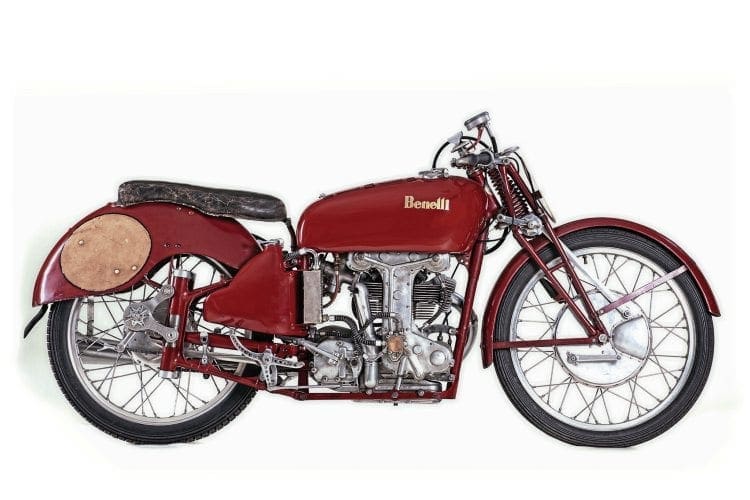 There were plenty of more modest prices too – including swathes of bargain, lightweight Italian-ware – while across the board most sold for what would be expected – or a little more.
We'll have more next month – including Martin Squires' unique-styled reportage – but see the full results at www.bonhams.com
Read more News and Features at www.classicmotorcyle.co.uk and in the October 2020 issue of The Classic Motorcycle – on sale now!