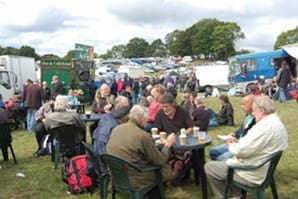 The 21st Carole Nash Eurojumble takes place at Netley Marsh, near Southampton, on September 5-6 and visitors could well hit the jackpot as they go in search of the parts, pieces, tools and accessories they need for their classic motorcycle projects.
The south coast location of the show, combined with its size, means that enthusiasts turn out in their droves from across the UK and the rest of Europe.
While the main focus is on British machines of yesteryear, a range of makes, models and eras are represented.
Nick Mowbray, exhibition manager, said: "The selection and range of traders at the Carole Nash Eurojumble grows year after year and 2014 is going to be no different.
"There are some incredible bargains to be on all manner of motorcycle items… it's the ideal destination to pick up a bucket load of biking bits, all in one place."
Along with the opportunity to stock up on supplies, Garage Clearout Saturday means that non-regular traders have the chance to fill up their car or van with bike related jumble items and arrive on the morning of September 6 for a one-day plot.
Nick added: "With the Garage Clearout pass, not only can you save money on new items but you can turn all your old bits into cash!"
Autojumble plots are joined at the event by a selection of UK motorcycle clubs displaying a range of stunning machines.
Entry to the autojumble is open from 9am on both days with an adult one-day ticket costing just £6.50 when bought in advance from classicbikeshows.com – a saving of £1 on the gate price.