Though he retired at the age most riders expected to reach their peak, Keith Hickman had 13 enjoyable seasons of scrambling.
Words: ANDY WESTLAKE
Photographs: MORTONS ARCHIVE/NICK NICHOLLS COLLECTION
Our story starts with an ending. The setting is the motocross circuit in the Italian town of Settimo, and the date, October 4, 1972. Racing is over for the day and as the dust dies down, the crowd drifts away. For most of the riders, it was just the end of another long, hard season, and the chance to take a well-deserved break.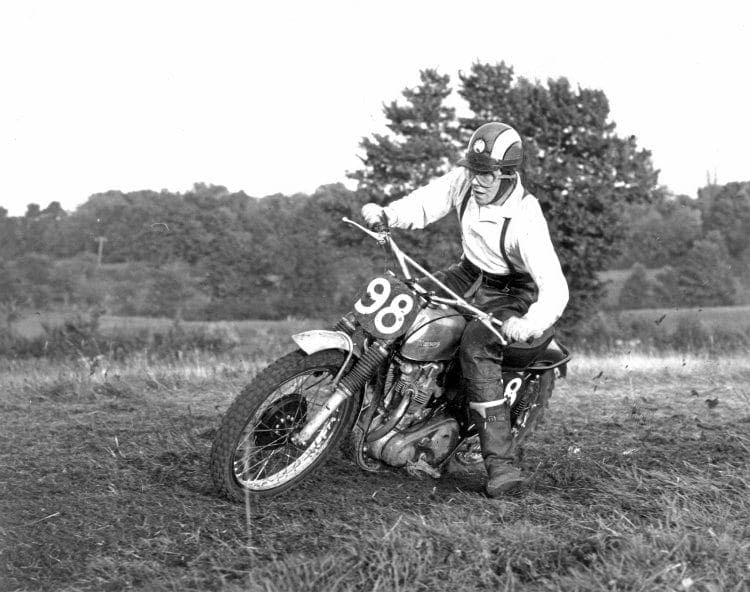 But for Keith Hickman it was an emotional day, as he knew it had been his last ever race. The 27-year-old from Oxford had decided to call time on his professional racing career. Aboard Greeves and Dot two-strokes, a rasping Triumph twin, Cheney Gold Star, works BSAs and finally a 400cc Husqvarna, Keith raced for 13 years. Now retired after working for many years in the family plumbing and heating business, he lives with his wife Hilary in a beautiful village near Oxford, where he told me about his introduction to scrambling and his debut at the tender age of 14.
"My dad, who worked making car bodies in Oxford, raced for several seasons on the local grass tracks and when I was just a kid he bought me an NSU Quickly to ride around our garden. In early 1958 he bought a new Humber Hawk in which he took me to watch my first scramble; I was captivated and wanted to have a go. There was no schoolboy sport then and I assumed I would have to wait until I was 16 before I could start racing, so you can imagine my surprise when the following spring dad turned up with a new 197cc Greeves he'd bought from John Avery.
"The next weekend I came to the line for my first race – I was still a few months short of my 15th birthday so I guess the organisers must have turned a blind eye to my age. Right from the start scrambling became very much a family affair; dad driving with mum, me and three of my four siblings in the Humber with the Greeves on a trailer. I can't actually remember much about my first meeting but my everlasting memory of that season is from my third event at Stoke Lyn near Bicester where I finished third and won five shillings. The club paid this with a cheque and I was so pleased I never cashed it, and I've still got it!
Article continues below…
Advert
Read more in the May issue of TCM – on sale now!
---
Advert

Enjoy more The Classic MotorCycle reading in the monthly magazine. Click here to subscribe.
---