After last year's postponement caused by heavy snow, it was reassuring that this year's Bristol Classic Show went ahead with no such drama.
Words: JAMES ROBINSON Photographs: GARY CHAPMAN
Best in Show winner Jim Devereux was delighted to pick up the premier award with his incredibly rare four-valve 1931 Ariel SG Sloper, a machine that was actually restored a few years back, but is still in tip-top condition, its black and chrome glistening under the show lights.
It was displayed on the Stonehenge section of the VMCC's stand – always a place where standards are high, with several other prize winners part of the display.
Also proud with Jim's prize-winning performance was Sammy Miller, the evergreen trials, road racing and museum curating legend, having taken Jim on at the museum, with the Ariel more than likely not proving too bad a 'CV' if one wants a job restoring motorcycles.
The full story of its rebuild was covered in our February 2014 issue, while in the interim it's not simply been hidden away and stored, but used, making its still-stunning appearance even more praiseworthy.
There were a couple of fresh restorations that picked up prizes too, the first being Andy Burbidge's wonderful 1960 Triumph Bonneville 'Thruxton'.
Not to be confused with the later unit-type Thruxton Bonneville machines, Andy's is a one-year-only rarity, and he explained how it all came about: "It came to me as a standard 1960 T120 Bonneville and I bought it from Cliff Rushworth at Ace Classics," he explains, "and Cliff encouraged me to do it to Thruxton spec, it being the only year it was offered."
Handily, Cliff was able to supply most of the parts too, including a one-gallon oil tank, rear sets, different handlebars and plug-in headlamp, among other things.
Andy did stray from 'catalogue' though with his silencers, deciding that he fancied megas – and very well they look too – while also wanting a lighter shade of brown/gold paint for the magneto, again to his own personal taste.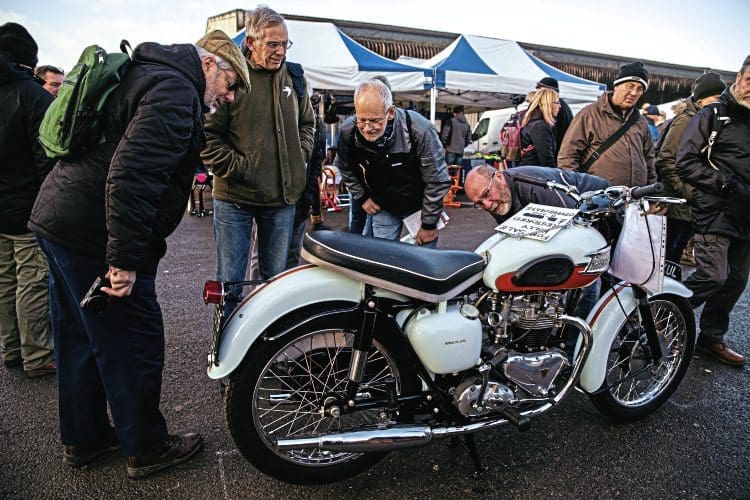 For the show regular (and regular winner) the pre-unit Bonnie offers something of a departure, his usual forte being the Triumph Trophy Trail/Adventurer series. "I'm down to 12 bikes now," he confessed, "though most of them are Trophy Trails." He had "a lot more" but has passed on several.
With the newly-finished Bonnie, it really did go down to the wire. "I finished it early last week – it was taken off the bench on Friday morning and it started up straight away, it sounds lovely.
"I'm looking forward to getting it home, putting it on the road and getting it run-in."
The restoration took Andy four months, 300 hours or 35 working days, depending how one would prepare to categorise it!
His efforts won him the Best Postwar prize, of which there could be little dispute. There was barely a moment at the show when someone wasn't taking a picture of it.
There's not many people who have taken home more silverware from the Bristol show than Alan Smith, from just up the road – well, the M4 – in Swindon.
This year Alan had another exquisitely detailed AJS, a 1928 side-valve, which looked to be a fabulous restoration, though closer examination and questing revealed that wasn't necessarily so.
"It's completely built up out of bits," he recounts. "I've had the frame kicking about for years. I think I bought it and the forks in 2004. The engine came with a load of bits from Australia, I actually got it as part of a swap deal.
"I bought the gearbox at Founders Day while the valve lifter mechanism came from a chap, Jari, in Finland, who's part of the vintage AJS community, as part of another deal.
"The wheels were interesting. Dale Sole (son of the late Pete, another multiple award winner, while Dale still exhibits at least one of his dad's bikes) called me up from an autojumble somewhere, and said he was looking at some vintage AJS wheels, which the seller thought were either 1927 or 1928.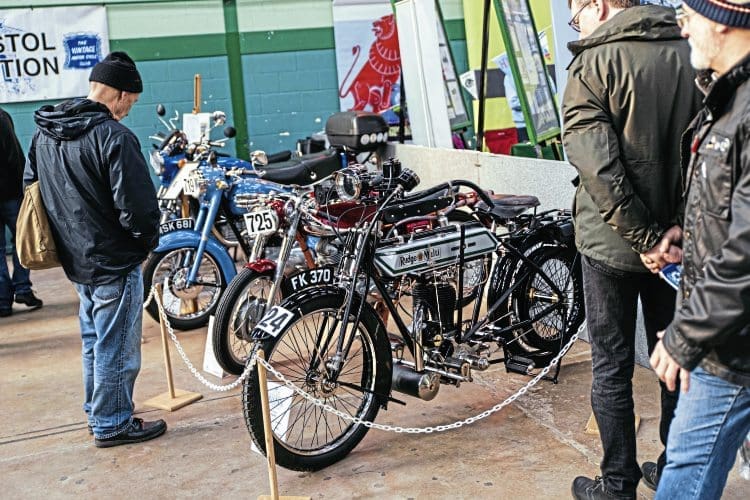 "They're not quite the same and turned out to be 1927, but we were able to make them work. The front hub, though, was made completely from scratch, rough machined by someone and then finished off by my friend (and fellow AJS guru) Ray Carter. We increased the width of the hub too, which gives a better brake.
"Obviously, if I'd have had a Big Port (so 350cc ohv) engine I'd have used that, but actually these little side-valves go really well. Though he do have to rev 'em."
Anyway, Alan already has two Big Ports, as well as a 'cammy,' so the side-valve nicely completes the set and it sparkled on the North Wilts Motorcycle Club stand, joined by plenty of other desirable and interesting pieces of machinery, including Cyril Griffiths' lovely, cobby and purposeful 1924 350cc Omega-JAP.
Less sparkling but no less interesting was Mike Stocks' 1942 Harley-Davidson WLC, chosen as Best Military, with the attention to detail of the other bits and pieces Mike has collected adding to the appeal of his display. But even better, Mike rides the Harley pretty much every day.
"I'm a tattooist and I park it outside my shop, where it always attracts attention. It's a great talking point.
"It's also easy to look after and dead reliable – you just put fuel and oil in it, kick it over a few times, and away it goes. It did take a little bit of getting used to – the hand change and the foot clutch – but now it's second nature."
So enamoured is he with his Harley, he now has two. His children love it too – it has 'Elsie' painted on the petrol tank, as that was how it was christened by the youngsters, owing to it being a (W) LC.
Mike went on to say: "I've learned so much from having owned it, and collecting up all sorts of bits and pieces."
He opened up one of his panniers and started getting out all sorts of things, including a French/English dictionary.
Explaining further, he told how it's not possible to tell if his machine actually saw service as, post-Second World War, most were sent to Holland and all records were lost, as they ended up in civilian hands.
So whether Mike's example was on the beach at Normandy in 1944 is unknown, but it has still got sand in its tyres now, owing to a commemorative event on Saunton beach. He's even raced a tank on the sand aboard the Harley!
Elsewhere there were some other lovely things to look at and marvel over, including Henry Body's remarkable Douglas sprinter on which he was unbeatable for decades – literally – while the Lew Coffin award (Lew was a show regular for many years) went, fittingly, to a rakish Mk.1 cammy Velo grasstracker, while it was a pleasure to gaze upon Brian Casely's factory-built ISDT Tribsa, which picked up a pot for Best Off-roader.
There were many later classics – the Japanese being well-represented – while there was a good helping of early machines too, notably more than in recent years or at other shows.
All in all it was a good show, with a cheerful spirit evident throughout the showground all weekend.
View more images of this event and read more News and Features in the April 2020 issue of The Classic Motorcycle – on sale now!