Over the weekend of October 19-20, the Stafford County Showground welcomed classic enthusiasts of, predominantly, 1970s and 1980s classics.
Words: James Robinson Photographs: Gary Chapman
Innovative engineer Allen Millyard first came to prominence with his multi-cylinder Kawasaki based specials, as he added more cylinders to the 1970s two-strokes, as well as other Japanese-made machines.
But actually, he's really interested in old British machinery too, as witnessed by his Velocette MAC-based V-twin, built up out of a Velo that has been in the family for many years.
The Velocette special was just one of the Millyard machines wowing the crowds at the Stafford show, while the man himself was on hand to explain the work that has gone into so many of his motorcycles.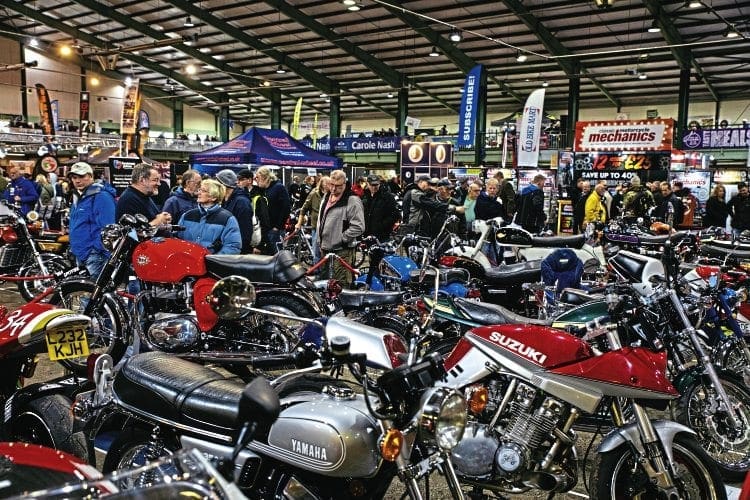 The physically biggest of the lot was his Flying Millyard, a big V-twin using two aircraft cylinders on a specially made crankcase. Apparently, the torque is something else.
And, yes, Allen rides it regularly. Sharing the duties with Allen as 'star guest' was Steve Webster, the 10-times sidecar world champion, who signed autographs and chatted to fans, as well as talking to compere Steve Plater.
That same stage saw Berkshire man Mark Cowdry pick up his award for Best in Show, earned with his 1969 American Eagle 350.
The story of American Eagle is an interesting one – the company was founded by former American Honda executive Jack McCormack, and it produced a range of machines, badged American Eagle, but sourced from elsewhere; for example, the 750cc offering was a Laverda twin, which was used for a short period by Evel Knievel.
The featured machine, as restored by Mark, came from Kawasaki, was also called the Marauder, and used the 338cc twin-cylinder two-stroke engine. Another from the Cowdry stable, a 1968 Kawasaki Avenger, took the title of Best Japanese bike.
Elsewhere on the showground, the Bonhams auction was a two-day affair, with much of the Saturday sale seeing the dispersal of many machines from the closing London Motorcycle Museum.
In among the eclectic lots, some of the rarities achieved good prices. Before that, though, the saleroom had been hushed as Mike Hailwood's gold Heuer watch, a gift from Jack Heuer, was sold for a whopping £56,312, including premium.
View more images of this event and read more News and Features in the January 2020 issue of The Classic Motorcycle –on sale now!