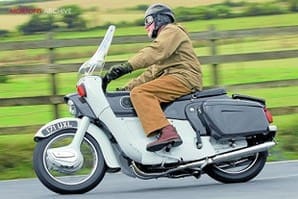 Hampshireman Neil Redley is (to put it mildly) a Velocette enthusiast, and he needs to explain why I can see a lone Ariel lurking in his collection. "Well, I had a Leader when I was a lad," he grins, "so when this very complete one became available five years ago, and I found it was the same age as mine, I bought it to see if it matched up to my recollections. And it does in all respects. Good weather protection, brilliant steering, useless front brake and vibration through the handlebars at higher speeds."
Right, that's my test over, then, I can scribble those conclusions down and go home. Seriously, though, I was really looking forward to testing a Leader and forming my own conclusions, for the simple reason that I'd never previously ridden one. They were among the more common machines in regular use when I was tootling round on 'L' plates, as that was when they were being churned out by the Selly Oak factory, but somehow I didn't get to know any of their owners, and so I never had the chance to sample one. More recently they have become quite a common sight on the concours circuit, but are rarely seen on the road, and I've remained Leaderless (so to speak) until now.
It's fairly easy to explain how they achieved such popularity, and then quickly fell out of favour, but perhaps what needs most explanation is how this radical machine came to be produced in the first place. After all, Ariel's last attempt at serious innovation had been the Square Four nearly 30 years earlier; and that had soon faded into an accepted oddity, while Ariel continued to be best known as makers of very traditional, no-nonsense, four-stroke singles. Admittedly they'd followed the fashion for parallel twins after WWII, but you felt that they probably wouldn't have bothered if they hadn't been able to piggy-back on BSA's efforts. The company's advertising slogan continued to be 'The Modern Motorcycle', but it didn't seem to fit the facts, and overall Ariel gave the distinct impression that a gentle drift into oblivion was on the cards.
And then, blow me; they announced a motorcycle with an unconventional frame, avant garde styling and a totally different sort of engine. It was a shock to the public, but of course it didn't happen overnight, and it had been one of the best kept secrets in motorcycling history.
The story started in the mid-1950s, when Ariel's board of management, under ex-racer Ken Whistance, decided on a valiant bid to avoid being overwhelmed by more trendy manufacturers that included their own partners BSA and Triumph. It was the right time to do it, as 1956 was the year Jack Sangster – the man who had guided and preserved Ariel for years – replaced Sir Bernard Docker as Chairman of the entire BSA-led conglomerate. Less charitably, it has been suggested that the irascible Edward Turner used his managerial control of the triumvirate's operations to encourage Ariel down a cul de sac where it wouldn't threaten his preferred marques.
Anyway, Ariel's ambitions couldn't have been in better hands, as the man tasked with bringing their products up-to-date was Val Page, who had been responsible for designing the forerunners of the classic Red Hunters decades earlier. Page was assisted by Bernard Knight and Clive Bennett and they, plus Ken Whistance himself, toured shows and deliberated long and hard before concluding that a medium capacity two-stroke twin would do the business, and also distance the new machine (code-named the Glida) from what had gone before.
In a way, they were right. Continental manufacturers were already producing durable and capable engines of this type, and in the next few years Japanese makers would show that extraordinary performance could be extracted from them without compromising reliability. There is a persistent urban myth that the new unit was virtually a copy of the established German Adler, but while the design team undoubtedly looked at this excellent two-stroke twin, their eventual design had little except its cylinder dimensions and layout in common with it.
What was quite continental, however, was that the designers had dispensed with a conventional tubular frame, and opted for a pressed steel box beam. They'd gone the whole hog, too, and the beam provided everything from the rear suspension mounts to the steering head, while the supports for the swinging arm and the engine were merely downward extensions of it.
Not since the LE Velocette had such a concept been tried in such a wholehearted way by a British manufacturer, and the new machine was – like the LE – designed as a whole with built-in weather protection. Perhaps Ariel had learnt something from Hall Green's mistakes, though, because while the little Velo was angular in appearance, and its quirkiness was all too apparent, the Leader was smoothly styled in such a way that it appeared almost conventional.
It was a clever trick, for Page and his associates had realised that inbuilt weather protection, and enclosure of a novel engine type, was as much novelty as a British motorcyclist could be expected to bear. So, while the petrol tank was actually a simple box located under the seat, they'd mimicked a conventional tank with a dummy pressing that gave access to a small luggage compartment within the beam.
Similarly, while the forks were necessarily unconventional, because of the difficulty of neatly accommodating conventional upper stanchions within the pressed steel bodywork, a pressed steel handlebar cover meant that only the determinedly inquisitive could see that there was a single bicycle-type fork stem. It wasn't well publicised, but this caused some problems during the Leader's development, and I remember trials ace Sammy Miller – who helped out with development besides working on his competition bikes – saying that the stem had to be progressively made of heavier tube to overcome potentially disastrous breakages. The unconventional trailing-link action of the forks was subtly disguised, too, by spats formed into the lower end of the pressed-steel fork legs.
Even the wheels were used to help the illusion along, being smaller than usual on a motorcycle – in order to give a decent movement within the bodywork without increasing the bulk of the whole machine – but not so small that anyone could reasonably say that the result looked like a scooter. That, the design team realised, would be the kiss of death as far as motorcycle sales were concerned, and Page was canny enough to realise that there was little prospect of challenging Vespa and Lambretta's stranglehold on that particular market.
In a sense, the Leader was the 'car on two wheels' dreamt of by hopeful designers, and it was close enough to that ideal, it initially seemed to demonstrate a real demand for such a device. The Leader was launched in late 1958, and in 1959 it was voted the first 'Machine of the Year' by readers of Motor Cycle News, an extraordinary feat when you consider that the Triumph Bonneville was launched the same year, and the opposition included lusted-after machines like Gold Stars and Dominators.
For once a considerable number of motorcyclists put their money where their mouths were, and when the Leader was stripped down to make the even more motorcycle-like Arrow – itself voted the Machine of 1960 – sales soared to 1600 in one month. It was a remarkable achievement, but it didn't last.
The Leader's demise is often
blamed on its arrival in the marketplace almost coinciding with that of the affordable and trendy Mini car and van, and there might be some truth in that. More importantly, though, it seems – even though motorcycle designers have often persuaded themselves that a motorist is a motorist is a motorist – car drivers, scooterists and motorcyclists are totally different breeds. I suspect the Leader's initial purchasers were mostly motorcyclists seduced by the idea of weather protection, but they were quickly disillusioned by the discovery that waterproofs were still needed to keep warm and completely dry. And when you added in the Leader's quickly revealed shortcomings of uninspiring performance and brakes, plus its sometimes problematic starting, its demise was inevitable.
As an aside to the Leader's story, I'm impressed its problems didn't deter other manufacturers from seeking the same unattainable Holy Grail. The Leader was quickly followed by the Velocette Vogue (one of which Neil has and which I reported on in the January 2010 issue) and by the DMW Deemster, both of which disappeared after achieving little success. The very latest take on the theme is the 250cc maxi-scooter on which I arrive at Neil's house, but even these devices still struggle for acceptance although their abilities surpass those of the aforementioned machines in every respect. It has a vibration-free, fuel injected, four-valve, four-stroke engine, automatic transmission, electric start, superb brakes, a top speed in the 70s and a fuel consumption in the 80s, and yet most motorcyclists still unthinkingly dismiss it as an overgrown Vespa, while few 'scooterists' are interested in anything other than 50cc buzzers that get them around until they are old enough to drive a car.
Anyway, back to the Leader, and I have to say that by the standards of the day it was a pretty neat piece of kit. In fact, half a century later it looks so modern a present-day motorist would probably ignore it unless he, or she, happened to notice its non-reflective number plates. Its finish certainly doesn't give it away, as it has obviously been well cared for since it was first registered in Huntington in Yorkshire by an owner who kept it for 13 years. After passing through a couple of other hands it had one other long term guardian before arriving in Neil Redley's garage.
What makes it remarkable is it is fitted with many of the catalogued optional goodies. Its indicators were especially flash for the period, and help the modern image along, and they're especially helpful now that many car drivers seem to interpret an outstretched arm as a challenge rather than a signal. The panniers and luggage rack may show the first owner intended to seriously tour on his Leader, or they may have merely been embellishments, like the much sought-after, but totally useless, rear fender.
Neil has needed to do little work on the Leader during his ownership. He took the opportunity to fit the later high compression cylinder heads during a precautionary strip of the engine's top end, but apart from that he's merely bought a new screen, seat and exhaust set, and fitted a rear view mirror after finding out old-style Mini items were almost identical.
He quite likes riding the Ariel, and I can see why. It starts easily and reliably, helped by the non-standard carburettor tickler fitted in the right-hand engine panel. The clutch is pleasantly light, but has a hair trigger action that needs caution when combined with an engine producing little low-down oomph. Gear selection is equally easy and reliable, despite the lever's long movement.
The best thing about the Leader is you can quickly forget how unusual it is, and just treat it like a good example of a 1960s quarter litre motorcycle. I won't reiterate Neil's opening comments about his bike, as they are all on the button. But I'm a little surprised by vibration that is really quite obtrusive above 45mph, and it reminds me that Roy Houghton's turbine-smooth Ariel Arrow (TCM May 2001) showed how meticulous re-assembly of the crankshaft works wonders in eliminating the shakes. Neil intends to get the brakes relined with softer modern material, and I suspect he will find that a great improvement, even though their design precedes the 1961 upgrade with a parallelogram anchor point.
The short list of criticisms confirms just how little was wrong with the machine when taken on its own terms. About 17,000 Leaders were made in their few years of production, but once the initial demand was satisfied, that was that. Some tentative attempts were made to develop it further, but in 1963 the assembly line was moved to the BSA factory where there was little interest in the machine, and production ceased in mid 1965.
The Ariel Leader got close to showing it was possible to make the 'motorcycle for everyman', but in the end it actually proved that 'everyman' never existed.