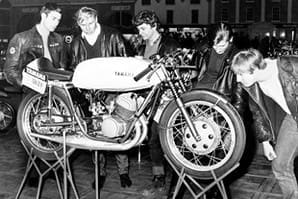 And it took place with the full knowledge – nay, collaboration – of the police, who stipulated sternly that there must be "no accidents" but who "…entered into the spirit of the game, and whenever they realised who was coming, the officers on duty held up other traffic and urged the film riders on."
In 1925, the Derby was, observed The Motor Cycle, "our premier horse race of the year" which is interesting in that in present times, it's been overtaken in British general public consciousness by the Grand National. But the Derby – which is over one mile at the Epsom Downs racecourse, is the middle part of the three-race 'Triple Crown' series, and is for three-year-old horses – remains Britain's richest horse race.
The Motor Cycle set the scene; "To the average man, the Derby is like Christmas Day, roast beef and Yorkshire pudding, or income tax – a national institution. There is only one Derby and it comes but once a year.
"Yet in actual fact there are two Derbys, and the second and lesser-known of the two is vastly more exciting than the first… What is this rival… you may ask… It is not a horse race, it is a motorcycle race."
Basically, what happened was that, by 1925, the 'big three' in the cinema world were engaged in a race to get their batch of Derby film back to London first. The big three then were Gaumont (based in Shepherd's Bush, west London) and Pathe and Topical – who were across the road from each other, in Wardour Street, Soho, central London. They "…regard the contest as a personal duel and make elaborate arrangements to ensure an uninterrupted journey for their riders."
The Derby started about 3pm – in fact, seven minutes past this year – and was over by 20 seconds before 10 past. By 3.40pm, a congregation had gathered at Wardour Sreet and at 3.45pm '"…a solo Harley-Davidson, ridden by A K Vines, slid up to the door of the Topical offices, and a small parcel was snatched from a box on the carrier and hurried inside."
Four minutes later, B S Allen, pictured, arrived. Five or six packages were unloaded. But, with the rain incessant and tram lines and such to be traversed, how had a solo beaten the outfit, wondered the press? Apparently Vines' pictures were of only the start – Harley riders delivered further canisters 10 and 20 minutes later, whereas Allen's for Pathe were of the whole race.
Vines took 30 minutes, 241⁄5 seconds to cover the 17 miles, with Allen arriving four minutes later – though of course the Brough man started later. Allen reported that most of the way his speedo – mounted in the sidecar and observed by the passenger – showed between 40 and 50mph, and that once "he had got well over 70".
Allen's average speed must have been upwards of 40mph – remember, this is in central London, not the countryside – though he reported "…he could not have gone nearly so fast had he not had a loud and arresting electric horn."
So who was the rider, 'B S Allen'? And why, in The Motor Cycle report, was he "well qualified to make an estimate"? Brian Allen was a partner in the Croydon firm of Allen Bennett, Brough-Superior agent to the south. At Allen's request, Brough-Superior had supplied him with a replica of George Brough's famous sprint and hill climb machine, Old Bill, which he used in competition. Allen's exploits included riding alongside George Brough in various reliability trials, while his famous 'Derby day race' earned him some fame. The firm of Allen Bennett supplied T E Lawrence with several of his Brough Superiors.