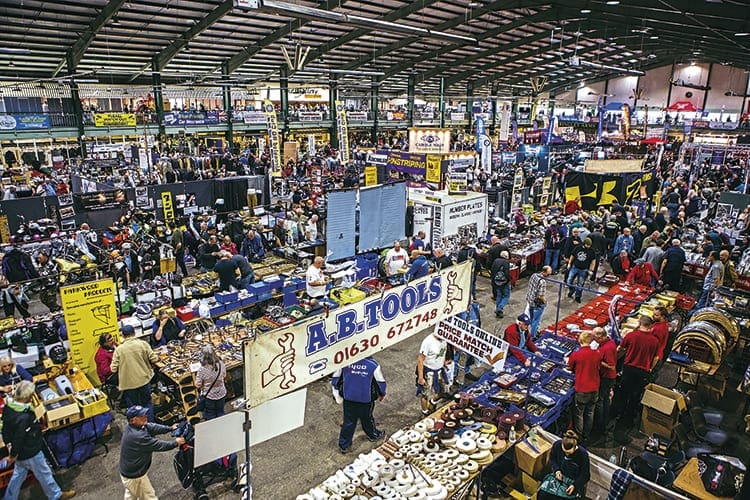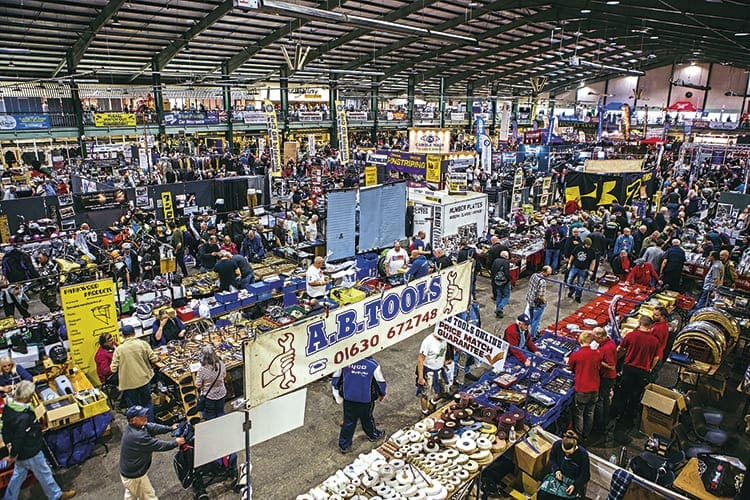 There were crowds aplenty, and much for them to admire, at the October Stafford show.
Ex-world superbike star Aaron Slight proved a popular guest as thousands of visitors packed into the huge annual event to meet the New Zealander and take advantage of the autumn sun at the Classic Motorcycle Mechanics Stafford show.
Compere Steve Plater spoke to Slight about his career, life as a WSB rider and teased out some entertaining stories during on-stage interviews.
Also attracting a lot of attention at the October 14-15 event were Barry Sheene's two world championship-winning RG500s in the Suzuki Village. These same bikes wowed the crowds when they were fired-up in the Classic Racer GP Paddock on the Sunday, along with a handful of replica Aaron Slight Castrol Honda RC45s.
And it was a Bridgestone which stole the headlines in the event awards, with Bill Millar's rare 1967 Bridgestone 350cc GTR – displayed in the private entries area – scooping the honour of best in show.
Other class winners included John Oakes' superb Series A HRD single, on the VMCC stand, which was chosen as best pre-1960s, Graham Bowen's 1968 Triumph Bonneville was best British, Tony Harmer's Yamaha YR3 best of the 1960s and Nick Crocker's exquisite 1964 Tohatsu 125cc the top racer.
The Bonhams' auction autumn sale, another Stafford favourite, once again demonstrated the enduring popularity of old motorcycles, with a 1914 Henderson 1068cc Model C Four (featured in our November 2017 issue) top seller at £113,500. The sale saw an incredible 95% sold by both lot and value, achieving £2,752,416 overall.
The collection of speedway legend Ivan 'Millennium Man' Mauger achieved a 100% sell-through rate, including the 1969 Jawa Model 890 Speedway Racing Motorcycle which achieved £18,400.
All 48 lots in the Mauger collection sold, ranging from world championship-winning speedway machines to pit boards and racing leathers. Bidders from across the world competed on the telephones, online and in the room to own a piece of motorcycling history, and the collection achieved more than £140,000, a portion of which will be donated by the Mauger family to the Speedway Riders' Benevolent Fund.
Highlights included the 1977 speedway world championship final-winning Jawa dohc four-valve speedway racing motorcycle (£17,250) and the 1971 long track world final, 1971 Jawa (£9775). Some of the oldest machines in the sale were the strongest performers, with the 1911 Pierce 688cc Four (in our October 2017 issue) selling for £107,900 (£80,000-120,000) to a bidder in the auction room and the 1912 Pierce 644cc Model 12 Single, which had been in single family ownership for 101 years, achieving £89,980 (£45,000-55,000).
Modern machines performed equally well, with the ex-works Jorge Lorenzo, 2007 world championship-winning Aprilia 250cc RSW GP racer selling for £101,180 to a phone bidder.
Elsewhere in the sale, estimates were consistently smashed with several machines selling for considerably more than double their pre-sale price guides. The 1932 Brough Superior 981cc SS80 De Luxe achieve £107,900 (£55,000-65,000) while the circa 1972 MV Agusta 750S achieved £84,380 (£50,000-60,000).
James Stensel, head of the motorcycle department, commented: "Sellers from across the globe continue to flock to Stafford, which remains the international hub for the sale of the world's most important collectors' motorcycles. Bonhams is the auction house of choice for significant one-owner collections, and no fewer than four were included in the auction, all of which performed strongly. This sale illustrates Bonhams' continued market dominance, with an industry-leading percentage rate achieved by both lot and value."
Other highlights included 1950 Vincent 998cc Series C Black Shadow sold for £79,900 (£70,000-100,000). A 1949 example achieved £70,940 (£50,000-60,000). The circa 1978 MV Agusta 837cc Monza sold for £66,460 (£35,000-45,000) and the ex-Bill Beevers 1955/56 500cc Manx Norton sold for £64,220 (£30,000-35,000)
Elsewhere, hundreds of trade stands did a roaring trade while enthusiasts enjoyed live action during the weekend from the GP paddock, Classic Dirt Bike Experience and the cavalcade. The Vintage Japanese Motorcycle Club also offered expert advice and entertained in the Restoration Theatre.
All in all, Stafford was a happy place as motorcycle enthusiasts converged to enjoy a weekend of two-wheeled indulgence.
Note: All auction prices include commission but not tax.