Bought new by its current owner in 1963, this DOT Demon still provides its owner with sterling service and fun aplenty.
Words: ANDY WESTLAKE Photographs: GARY CHAPMAN
Mention the name 'DOT' to any classic off-road motorcycle enthusiast and they will be instantly taken back to that golden era of off-road sport in the late 1950s and early 1960s, where the Manchester-made, Villiers-powered two-strokes were at the head of the field in both trials and scrambles.
Not only did top stars like Alan Clough, Pat Lamper, John Griffiths and Ken Messenger take on – and often beat – the factory Greeves in the quarter litre scrambles class, in one day trials the works supported team comprising of Lamper, Eric Adcock and Norman Eyre – plus Arthur and Lyn Pulman on their sidecar – meant there was hardly a national trial where a DOT didn't appear in the results.
So much so, in 1963 it persuaded West Country man Giles Pursey to buy himself the latest 250cc trials Demon.
Bought from Ginger Dunn Motorcycles in Bridport – partially dismantled in a crate to avoid purchase tax – the DOT was put together on the Saturday of the May bank holiday and the following day earned Giles a second class award in the Lyn club's Traders Trophy event on Exmoor.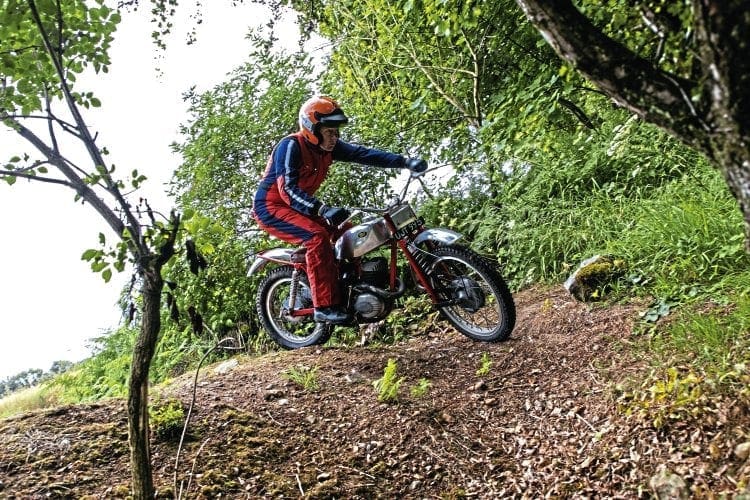 Six decades on, Giles owns the same machine, although there was a long gap between selling it in 1967 and a chance meeting with an old friend, leading to his being reunited with and reacquiring the old two-stroke nearly 20 years later.
Before we hear about that and the rebuild of the trials iron, perhaps we should look back at a brief history of DOT and some recollections from a man who both rode in both trials and scrambles, and was also comp shop manager at the Ellesmere Street works, Pat Lamper.
DOT was founded by Harry Reed in 1903 – who won the TT in 1908 – and the firm's history is a chequered one, involving changing owners and fortunes, collapses and recoveries, but for the sake of our report we shall concentrate on the post-Second World War incarnation under the control of its managing director Burnard Scott Wade.
Read more and view more images in the November 2019 issue of TCM – on sale now!