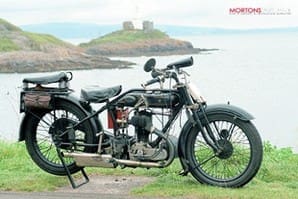 You only have to look at any traffic queue to see that motorcyclists are not renowned for their patience. It doesn't help that sporty models attract more attention in the press than those machines that reward patience as a virtue, but this is hardly a recent phenomenon. Thus, Motor Cycling described the AJS de Luxe Touring Model in its issue dated 23 March 1927: "Some surprise and considerable interest were caused by the introduction of a new and larger side-valve AJS model. There has been a tendency in some quarters to regard the side-valve engine as dead, or at any rate, dying, and the very successful overhead-valve engines turned out by the famous Wolverhampton factory are not a little responsible for this impression."
The article continued, "During the past two or three years the sporting type of machine has developed rapidly, whereas the simple, staid touring types have not received quite so much attention."
While AJS had sold only side-valve machines from 1910 up to the 1923 season, it tended thereafter to focus development on the 'big port' overhead-valve designs, which underpinned its racing success up to 1927. However, side-valve engines remained simpler and cheaper to manufacture, and the company recognised the importance of its existing 3.49hp Touring Model, both to budget-conscious riders and to those for whom performance meant reliability above all else. A larger version of this 349cc workhorse could therefore occupy an obvious place in the range.
The 4.98hp Touring Model shared its cycle parts and a cylinder capacity of 498cc with the Overhead Valve Model of similar rating. Designated the H9 and subsequently updated in line with a policy of incrementing letter codes year-on-year, the newcomer quickly earned a reputation for versatility. It offered a broad top-gear performance range and an impressive load-carrying ability, which appealed equally to commercial carriers and private enthusiasts, especially when coupled to one of the firm's own sidecars.
Its launch for the 1927 season came at a time when AJS was anxious to generate additional revenue, in the face of a sudden decline in motorcycle and wireless receiver sales due to cheaper, mass-produced competition. During the summer, the company secured a lucrative contract to build wooden framework bodies for Clyno 'Nine' light cars at its Lower Walsall Street works, in an attempt to diversify its manufacturing output.
Fortunately, its extensive range of sidecars still generated reliable revenue, and The Motor Cycle of 18 August helpfully gave prominence to a trio of award-winning AJS sidecar entries in its report on the 1927 Scottish Six Days Reliability Trial. Equipped with a Standard Touring Body, and fitted with a Bowden steering damper and Lucas Magdyno lighting set, a 4.98hp Touring Model Combination would have retailed for a shade over £80, which was half the price of a Clyno 'Nine' at that time.
Official records suggest that the model H9 seen here, which today is owned by Ron Muirhead of Swansea in South Wales, was only ever used as a solo machine. The first owner recorded in documents prescribed by the Road Traffic Act of 1930 is a Mr William Rees of Pontantwn in Carmarthenshire, whose details appear in an unbroken series of insurance certificates and in the machine's buff-coloured Registration Book. This latter document is date-stamped October 1931, although Road Fund taxation stamps (all issued at Carmarthen) are only present from the beginning of 1938 and conclude with petrol ration stamps from the early years of the Second World War.
Postwar, the AJS was stored in a barn for many years until it came to the attention of a local enthusiast called John Thomas. "Everybody around here knew that Johnny had had his eye on this machine for 30 years," explains Ron. "However, the owner would always tell him, 'No, I'm going to do it up one day.' Well, that didn't happen and by the time the old fellow died, the barn had long since collapsed on top of it. But Johnny made sure that the executors didn't forget what lay underneath all the rubble. He finally bought it, along with all the original paperwork, at auction – I've got the bill of sale upstairs – and had it restored in 1983, though he sold it only a couple of years later to another local chap, called Pete Harris."
Ron became the next person to develop a long-term personal interest in the AJS, after he came across it in 1987, at a regularity road trial held at Pembrey, not far from his home. A lifelong enthusiast of vintage machinery, he recalls that, "I had a 1929 BSA Sloper, which wasn't running right and so Pete let me try his model H9. Bearing in mind that these were two 500s of similar age, I thought that the difference in performance was incredible and the AJS really won me over that day. Mind you, I had to wait 10 more years until Pete decided to sell it, but then we were able to agree a price over the phone the same day. I visited the bank the following morning to withdraw the cash and went down in the afternoon to collect the AJS."
Ron began riding it straight away, but experienced a recurring problem with the rear wheel bearing retainers, which kept coming loose after only a few miles. Chris Thomas, whose father John had restored the bike, provided a cure by machining the shoulders of the wheel spindle to take taper-rollers, and Ron says he hasn't had to tighten the new bearings since they were fitted.
He has replaced the exhaust system and had the clutch plates re-corked, but has not polished away the patina that sets this example apart from more recent restorations; there is little actual rust, although control cables have worn away sections of pinstriping and paint has the appearance of matt rather than gloss in several places. Such visible signs of usage serve, arguably, to enhance its character as a rider's machine with a unique history, but in any case, Ron has clearly decided that refurbishment, like everything else associated with this bike, is not a process requiring undue haste.
In view of the flat-tanker's modest fuel capacity, which is further reduced by its integral oil reservoir, Ron has mounted an auxiliary half-gallon can above the transmission as a 'reserve', with a funnel under the pillion seat. He has remanufactured the tank-mounted gear-change gate, with longer slots to aid engagement by compensating for wear in the gear linkages. A spring-loaded hand plunger feeds oil to the base of the cylinder on the nearside and supplements a gravity-fed Pilgrim pump for extended workloads, such as long hill ascents.
The magneto specified in the owner's manual is a Lucas KL1, but a Bosch replacement has been fitted, probably during the 1983 restoration. The outboard kickstarter pivot was a feature of AJS gearboxes up to 1929, while lateral adjustment of the two-plate clutch is effected by screwing up four adjusting pins, which are held in place by short lengths of wire. In spite of appearances, the two-plate clutch runs dry, the rearmost primary cover shrouding a semi-circular kickstart gear. An inspection hole is provided above the footbrake pivot for manual lubrication of the primary chain.
Selecting third gear within a few seconds of setting off from the kerbside, I am impressed by the bike's flexible pulling power on level roads along the esplanade, as I head towards the Mumbles headland south of Swansea Bay. The low-revving engine offers snatch-free acceleration from around 15mph without any need to juggle the ignition control lever, situated beside the choke on the right handlebar.
The limited action of the side-sprung girder front forks is unencumbered by the weight of a headlamp, while both brakes perform well enough for the period, though the larger-diameter rear is considerably more effective. However, I am mindful to avoid relying too much on engine braking, bearing in mind the dire warning in the owner's handbook, that, 'Changing from a high gear to a low one when travelling fast, for the purpose of braking the machine, is abuse which no orthodox gearbox will put up with for long.'
The ride is comfortable at the moderate cruising speeds of which this bike is capable, and rather belies the forward-leaning stance required by its turned-down 'semi-TT pattern' handlebars. According to a layout diagram in the owner's handbook, AJS would have fitted the exhaust valve lifter on the right handlebar and the front brake lever on the left, but these inverted-lever controls have now been transposed.
Pillion comfort is good, thanks to a fore-and-aft sprung seat that transferred from Ron's BSA Sloper at his wife Rosemary's request, along with adjustable folding footrests from the correct period. A pair of homemade leather bags bolts to brackets beneath the rear carrier rack, and contains spare engine valves and fasteners, plus appropriate tools for roadside repair.
Besides an annual appearance on the VMCC's Banbury Run, Ron exercises his AJS on social outings with the local VMCC section and says he finds its low weight and narrowness a blessing, especially when Rosemary rides pillion, since he now has two artificial hip joints.
The 4.98hp Touring Model's success could not salvage the financial fortunes of AJ Stevens and Company (1914) Ltd, which failed to declare a dividend to its shareholders at the end of 1927, for the first time in its existence. Less than four years later, the firm would go into voluntary liquidation at the nadir of the Great Depression, giving London-based rival Matchless an opportunity to acquire the respected AJS name.
Ron's Wolverhampton-built machine, which has spent the whole of its 83 years in this part of South Wales, seems no less an extant part of local history than is the lifeboat station erected alongside Mumbles Pier during the 1920s. The H9's first owner would have witnessed electrification in 1928 of the Swansea and Mumbles Railway, which offered the world's first passenger rail service from 1807, while its present owner can remember tramcars rattling along to the pier head up to January 1960, when the line closed. By the time that his daughter Julie was born, the tracks had been torn up and motor buses had taken over the route.
Now aged 67 and retired from taxi driving for a living, Ron has started to give some thought as to who might become the next entry in the brief roster of owners for BX 7700. "Julie's ridden it and she says to me every time I go out on it, 'I hope you don't damage my inheritance!'", he laughs. "My answer to her is that it's not anyone's inheritance, it's my pension, but when the time comes for me to stop riding we'll just have to see how patient she's been."