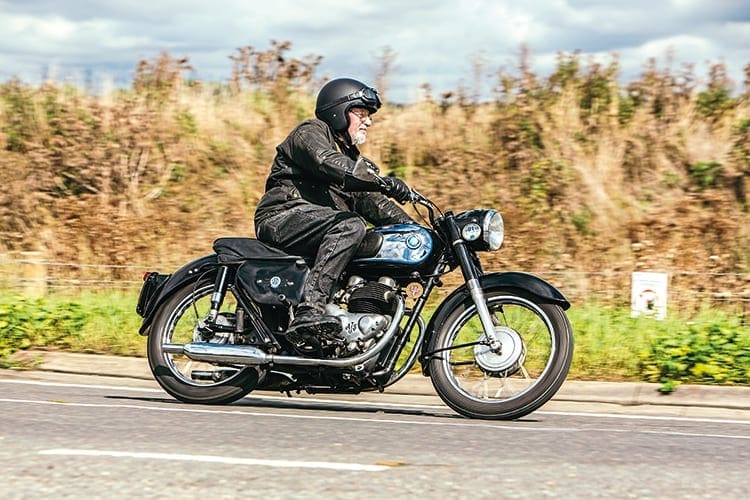 One for the road
This modest-looking late AJS 500 twin from 1959 ticks almost all the boxes for a really satisfying ride.
Words: STEVE WILSON Photographs: GARY CHAPMAN
This is one of the most difficult tests I have ever had to produce – because I could find so very little wrong with the motorcycle!
Okay, the brakes could have been bigger – but they worked perfectly well. And there were the standard limitations of a 500cc twin compared to a 650cc version: less power if you're regularly carrying a passenger or a full load of camping gear, and less speed at the top end. Well, I know I'm getting old, but I wouldn't change this little gem for any of AMC's ton-plus 650s.
And in the case of the AJS/Matchless half-litre twins, these objections can be countered with their potential extreme durability, lack of vibration and just excellent road manners. Particularly on this example.
Alps and 'airpins
The AJS Model 20, and its Matchless equivalent the G9 Super Clubman, had flexible, responsive engines, with a relatively short stroke at 66×72.8mm, giving a capacity of 498cc. My admiration for the model had grown in 2011, when I was loaned an, erm, unrestored 1953 Jampot Model 20 called 'Janet', by the colourful Roy Bellett, then president of the AJS/Matchless Owners' Club, so that I could attend as their guest the club's international rally, in Switzerland.
Roy was very partial to Janet's sibling, 'Trusty Rusty', an equally ratty 1955 Matchless G9 which he had surreptitiously brought to a high state of mechanical efficiency. Janet's basics had been renewed (new tyres and tubes, halogen pilot bulbs, new cables, cleaned-out petrol tank), but she'd only done 350 shakedown miles. So, setting out from Essex in heavy rain, the period spark plug arrangement with its bare metal connections succumbed, but Roy rerouted the HT leads and cured it. In France during the rest of a 300-mile day, heavy oil loss was traced principally to Janet's dynamo end-cap nut having shaken itself loose, along a bolt from the horn (but both would be sourced next day, incredibly, as the dynamo nut was rare and specific, from a sympathetic motorcycle/agricultural garagiste where we'd stopped for oil.)
Janet's speedo packed up, one silencer had to be wired on, and oil leaks continued, but still the Model 20 gave me a positive, confident feeling, running like a turbine at 55-60mph for the whole 650 mile journey. And in Switzerland, a final 900 metre climb on wet hairpins through mist clinging to the dark walls of pine forests, and then at the top, with vistas of the Alpine valley and soaring snow-streaked peaks beyond revealed in dramatic shafts of light piercing the dark sky, the Ajay's handling on the damp mountain roads left nothing to be desired, Jampots and all.
Having been the first British firm, with Royal Enfield, to introduce pivoted-fork rear suspension for 1949 on production machines, these were the bikes on which Gordon Jackson and Hugh Viney had taken gold at the ISDT through the early 1950s, and in America, Bud Ekins had won the 1952 Big Bear enduro. And despite the shakedown woes, and a tiresome habit of its Burman B52 gearbox jumping out of first, Janet had still felt like it.
Barry's Ajay
Barry Winter's Model 20 had a head start with me, just for being an AJS. Perhaps it was because the very first motorbike I ever rode had been a friend's AJS Model 16 350cc Jampot single, which I'd delivered to him from our village for the end of term at Eton in 1960; or maybe simply because I preferred the colour blue to (Matchless) red. But for whatever foolish reason, I've always favoured AMC's bought-in AJS variants to those badged as the Colliers' original Matchless marque.
The two badge-engineered 500cc twins, Model 20 and G9, didn't even differ with their magneto position as earlier singles had; both featured dynamos ahead of the cylinder and magnetos to the rear. The only real differences lay in the timing cover, the AJS' featuring attractive twin dimples for the dual oil pumps, while the Matchless' was smoother, with a small recess at the bottom carrying the 'Flying M' logo. At first, styling had been distinct, the petrol tanks and exhaust systems being different, with the 'squashed megaphone' silencer on the Matchless preferred by many as less restrictive.
Barry bought his AJS from a close friend in Bicester, after the latter had been in a motorcycle accident involving a Land Rover, and his wife had said "no more". Barry, a capable engineer with a fully equipped workshop, had rebuilt the engine's top end, fitting new valves and guides, and treated it to a + 0.20 rebore. The wheels were also rebuilt. In the 12,000 miles he has covered on it over the 10 years since, including trips to the Loire valley and, yes, the Alps, as well as a great many club runs locally, Barry has had to do nothing much to the engine or gearbox. He is lucky enough to own a stable of half a dozen-plus classics, and it says a lot that the AJS twin is the one he chooses to put the most miles on. "It's very enjoyable to ride," he confirmed, "and the handling is good."
Barry was especially lucky to drop on this particular machine, which had been made in the 1959 model year, but not sold and registered until 1960. AMC made endless incremental annual changes to their machines, too many to detail here, but broadly, by 1959, significant improvements had included: the mid-1956 on AMC gearbox, widely judged to be the best available; the 1957 on Girling rear units, with their unique screw-on Clevis bottom mountings, improved on the Jampots with their tendency for the damping oil to overheat, blow the seals and go mushy on fast cornering; and the good-looking 1958 on alloy primary chaincase, introduced with the coming of alternators for some models, which cured the previous pressed-steel cover's proneness to oil leaks.
Read more in the July issue of TCM – on sale now!