Back in April, the remarkable Giacomo Agostini dazzled the adoring Stafford crowds, while scores of desirable classics had wide ranging appeal.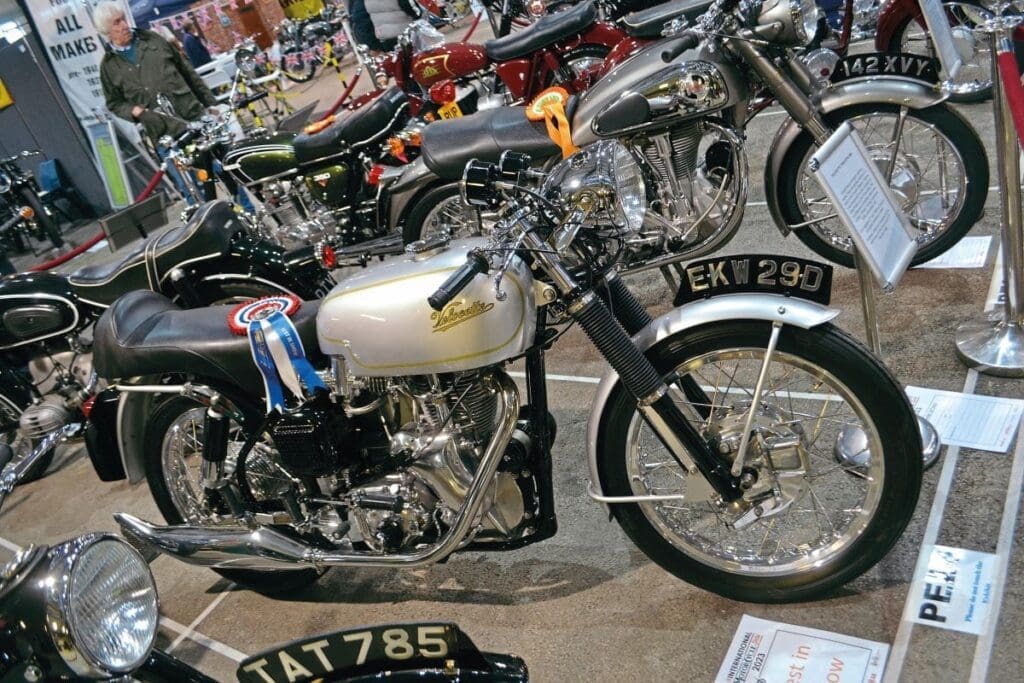 Words & photography: James Robinson
Where else are a Velocette Thruxton, a supercharged V-twin Rudge and a Garelli Cross sports moped all prize winners at the same show, their respective owners handed their trophies by an Italian motorcycling legend, flown in especially for the event? Stafford of course!
As well as the glittering machines on show – and none glittered more spectacularly than Martyn Carter's 1966 Velocette Thruxton, though, actually, the same man's Wideline International Norton, stood alongside, was pretty much of the same standard of shininess – there was all the usual show highlights too, with the aforementioned Giacomo Agostini, fire-up areas, off-road hall, trails demonstration, stunt shows, private entries, sprawling autojumble and trade, plus the lifeblood of the event, the myriad club stands.
Proving that all that glitters is Gold Star, the BSA brigade which celebrate that particular model took top honours in the club stands competition, their first place secured in the voting process, which is undertaken by all clubs. Runner-up, likewise selected by their peers, was the South Stafford section of the VJMC, with third, the Rudge Motorcycle Club. The last stand featured one of the undoubted show highlights.
Peter Welch's 250cc Rudge V-twin was, put simply, a work of exquisite beauty. And we say 'work' rather than restoration, for the jewel-like motorcycle was, pretty much, made by Peter, all apart from the cylinder heads. Its genesis was apparently in Rudge boss John Pugh's ambition to secure a world motorcycle speed record for Rudge, and the prototypes he built, which included a 1000cc V-four and a supercharged flat-twin. The 250cc V-twin is supercharged too, with Peter having made the blower, as he had most of the other parts for the machine. It was intended to be used for the 1931 Lightweight TT (with the supercharger by Zoller) but it didn't provide enough of a performance advantage over the usual 250cc single cylinder four-valve Rudges – in fact, the 250cc Rudge was good enough to that year carry the not insubstantial bulk of Graham Walker to his one and only TT win. Apparently, Peter's machine emits what can only be described as an 'ear splitting' noise from its straight-through four exhaust pipes… It earned Peter a much-merited Best Machine of Technical Interest prize.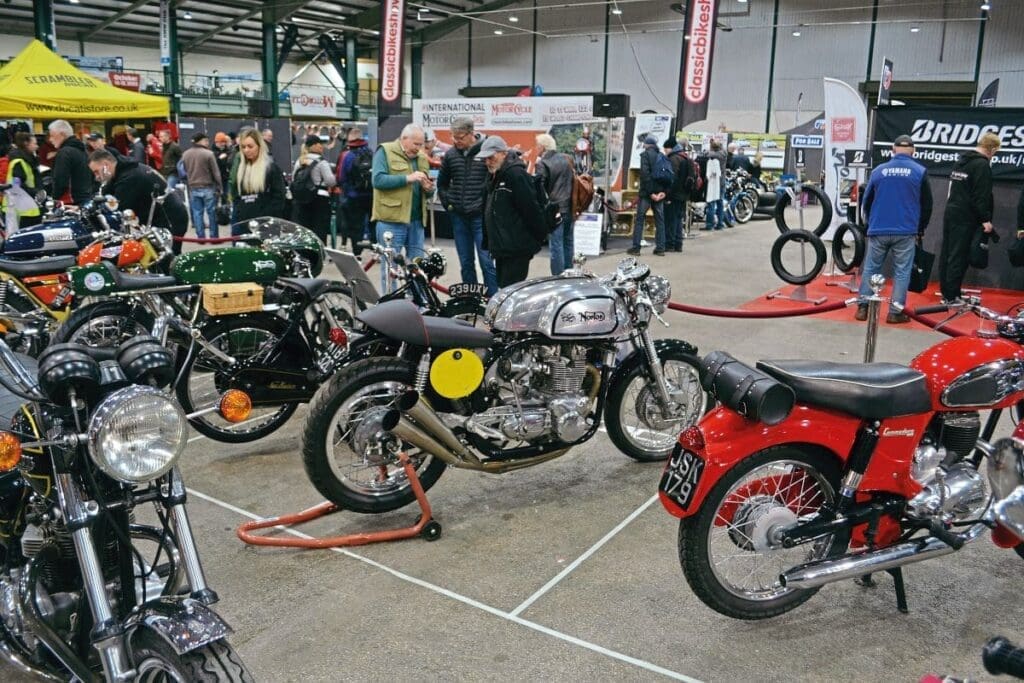 Another tiny, yet beautiful, gem was the MV Agusta racer, displayed by Martyn Simpkins on the MV owners' club stand. Though at a glance it perhaps looked a 'normal', neat 125cc MV Agusta, as Martyn explained, it was a little bit more special than that. Originally a four-speeder, this one has extra gears, plus it boasts a cassette-type gearbox- the gears basically come out on a plate. Added to that are factory forks, magnesium hubs and a double-sided front brake, which is controlled by an individual lever for each side – so it has two front brake levers. It also has a factory double overhead camshaft conversion, magnesium cases while capacity is up, having been boosted first to 203cc then over 220cc. It was at one time owned by Scotsman Bill Peatman, a Kirkcaldy Motorcycle Club stalwart and successful rider north of the border, plus there's a Stan Hailwood tie-up too.
Other racers which won prizes included Roy Kirby's beautiful Arter Matchless – which was displayed alongside his equally interesting 'Hadley Starr' constructed by Fred Hadley in period and which was basically half a Alpha Centuri twin – and Roger Moss's Scott racer, a machine which has been the subject of decades of painstaking development and improvement, with Roger well-deserving of the Award for Engineering Excellence. Anyone who saw the late, great entertainer that was Kiwi Paul Dobbs monowheeling over The Mountain at Cadwell Park on the Moss Scott will never forget it.
Other trophy winners included Richard Lancaster's bright red 1914 Indian single (Best veteran and vintage), Mark Bingham's gleaming SS80 Brough Superior (Best post-vintage), Ralph Larner's 1954 BMW R25/3 (Best postwar, pre-1965) and the aforementioned 1977 Garelli Cross sports moped, owned by Ian Richie and recipient of the Best Classic (made since 1965). Our regular provider of machines, Gordon Hallett, picked up a Most Original Machine gong with his 1972 MV, while David and Linda Frier's 750S from the same maker was Best Continental.
Over on the Ariel Owners' Club stand, Paul Jameson was dressed as one of the firm's bosses – complete with period suit – and joined by 'shop coat' wearing workers, re-creating a 1953 photograph that was reproduced on the stand wall. The stand itself featured a quartet of 1953 Ariels – including Paul's KHA twin – all finished in the Wedgewood Blue paint scheme which was used that year to mark the Coronation.
The jumble offered up various tempting treats of course – from veterans to a 1989-ish Aprilia AF1 50cc moped – though my only purchase was a couple of toy Citroen Dyanes, to add to burgeoning collection; just after I was born in the late 1970s, my dad sold his Scimitar GTE to fund the purchase of his 1928 V-twin Royal Enfield and sidecar, and a green Citroen Dyane, both of which I spent my formative years being ferried about in, and being obsessed with. Dad still has the Enfield, though with the Dyane long gone, I'm always on the lookout for model ones!
Bonhams auction
A 1931 Brough Superior SS100, purchased 50 years ago by its vendor for £150, sold for a staggering £281,750 – far exceeding its pre-sale top estimate of £180,000 at the Bonhams Motorcycles' Spring Stafford Sale on Sunday, April 23, a sale which realised a total of £2.8 million with 88% of lots sold.
The Jap-engined SS100 was the marque's 1931 Olympia Motor Cycle Show model, with an enhanced finish of chromium plated fuel tank, mudguards and wheels featuring a gold-lined black centre. Acquired by the seller (who was in the room to see it go under the hammer) in 1973, the highly original machine had retained this special finish, underneath a protective layer of black paint. Following a four-way bidding battle between the saleroom, telephone and internet bidders, the SS100 found a new home with a private Europe-based collector.
Also earning laurels at Stafford were machines ridden by a trio of motorcycling greats, led by a 1960 Ducati 125cc Desmodromic 'Barcone' racer, campaigned by future nine-times motorcycling World Champion Mike Hailwood, who won nine 125 races with the bike.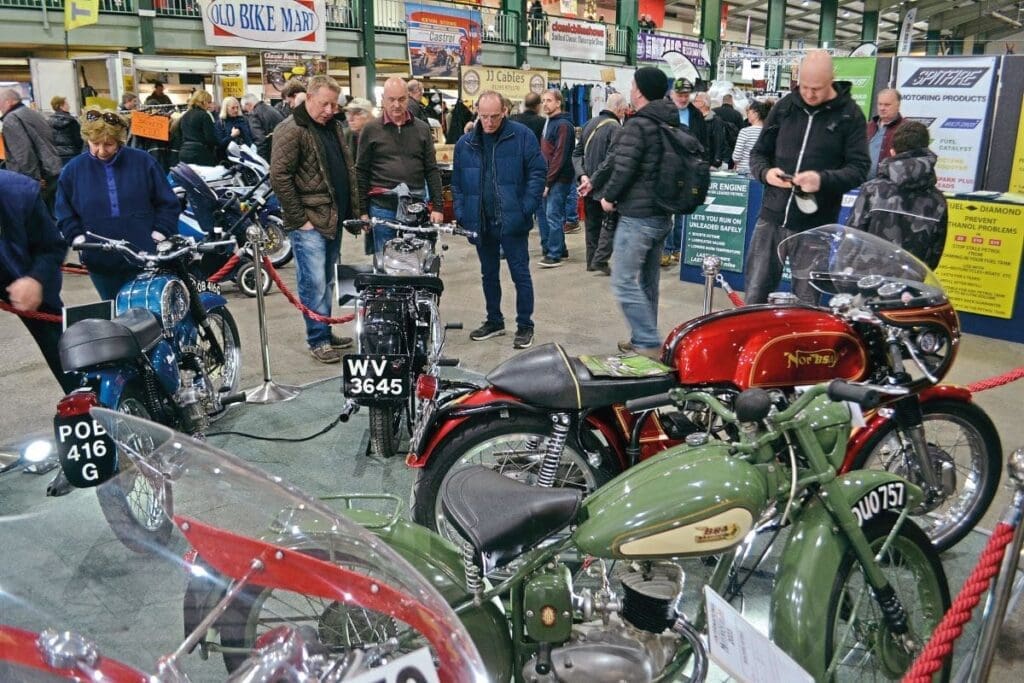 The Barcone, distinguished by its boat-like crankcase, was offered from the collection of the late Captain Forshaw, renowned Lagonda and Aston Martin specialist, in remarkable 'as found' condition.
The exquisite Ducati was successfully sold to a UK collector couple for £138,000, exceeding its pre-sale estimate and setting a new auction record for both a single cylinder Ducati and for a 125cc motorcycle.
In the Ducati's slipstream was an incredibly rare works Honda racer, a 1963 250cc CR72, ridden throughout Zimbabwe (formerly Rhodesia) in the 1960s by six-time world Champion Jim Redman. Following intense bidding, senior auctioneer Malcolm Barber, (celebrating 40 years' auctioneering at the Stafford classic motorcycle shows), dropped the hammer to a California-based collector, who had travelled to the Bonhams Stafford Sale to bid in person, securing the Honda for £126,500.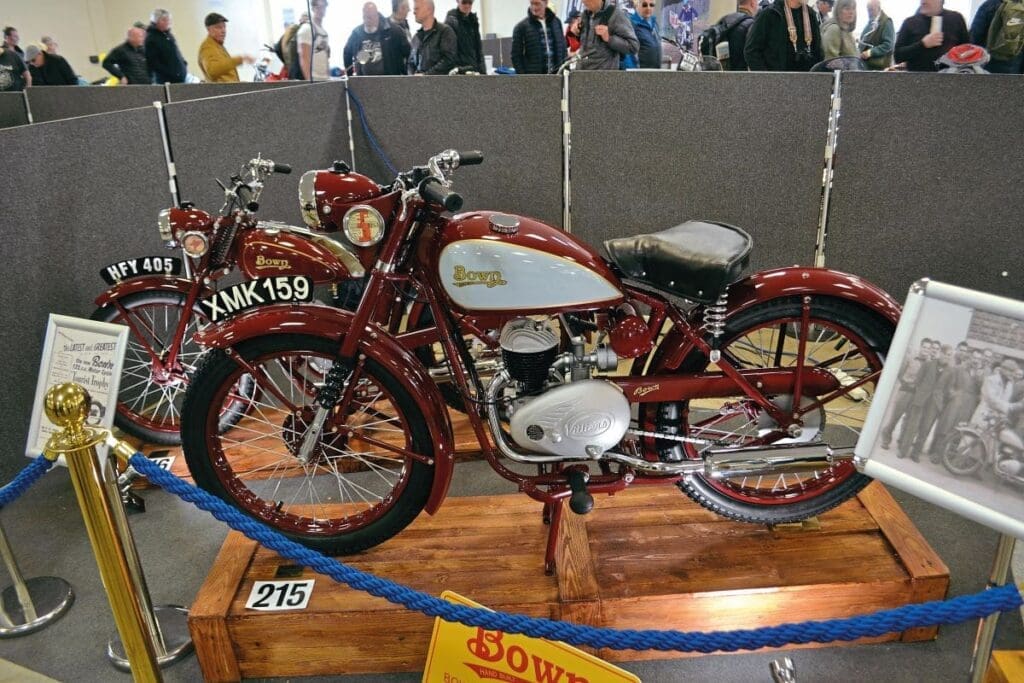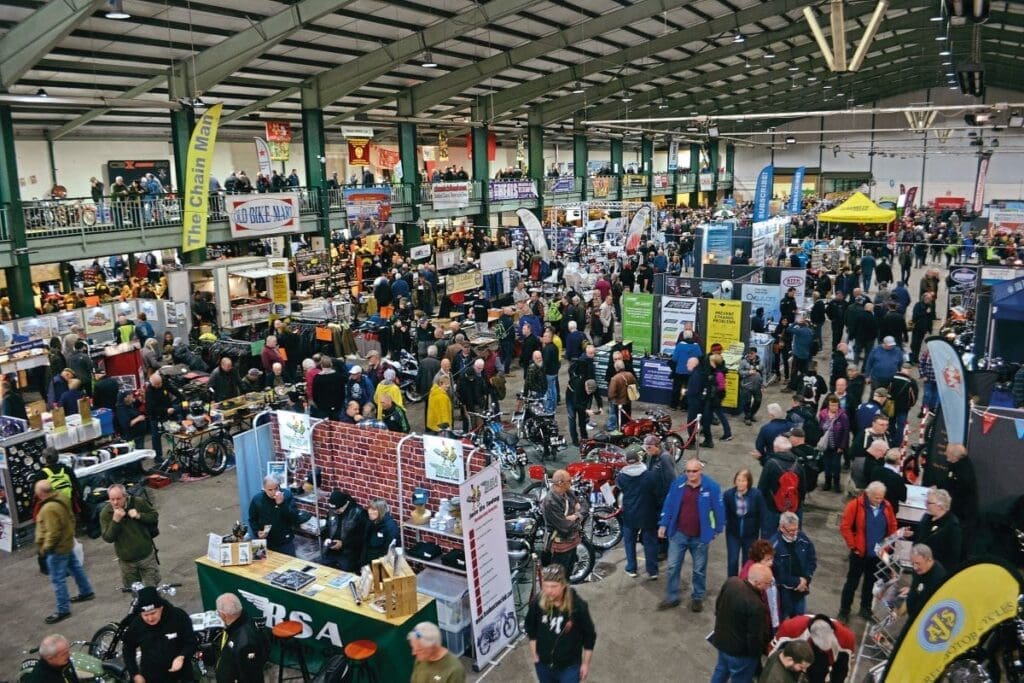 Also taking the chequered flag was a reigning Isle of Man TT Champion motorcycle, the FHO Racing 2022 BMW M1000RR Superbike, ridden to victory by Peter Hickman in last year's Superbike and Senior TT Race. The motorcycle was offered exactly as it had crossed the finish line of the blue riband Senior TT and achieved its top estimate, selling for £112,700 to a bidder in the saleroom.
Ben Walker, International Department Director, Bonhams Motorcycles, said: "It is always exciting to offer motorcycles fresh to the market and particularly those with fantastic provenance and history.
"Bonhams are synonymous with the sale of Brough Superiors, having sold more than £8 million worth of the Nottingham marque's machines over the last decade alone. The excitement generated by this SS100 and the Hailwood Ducati was tremendous. There was international bidding for both machines, each going to appreciative new owners and selling above their top estimates.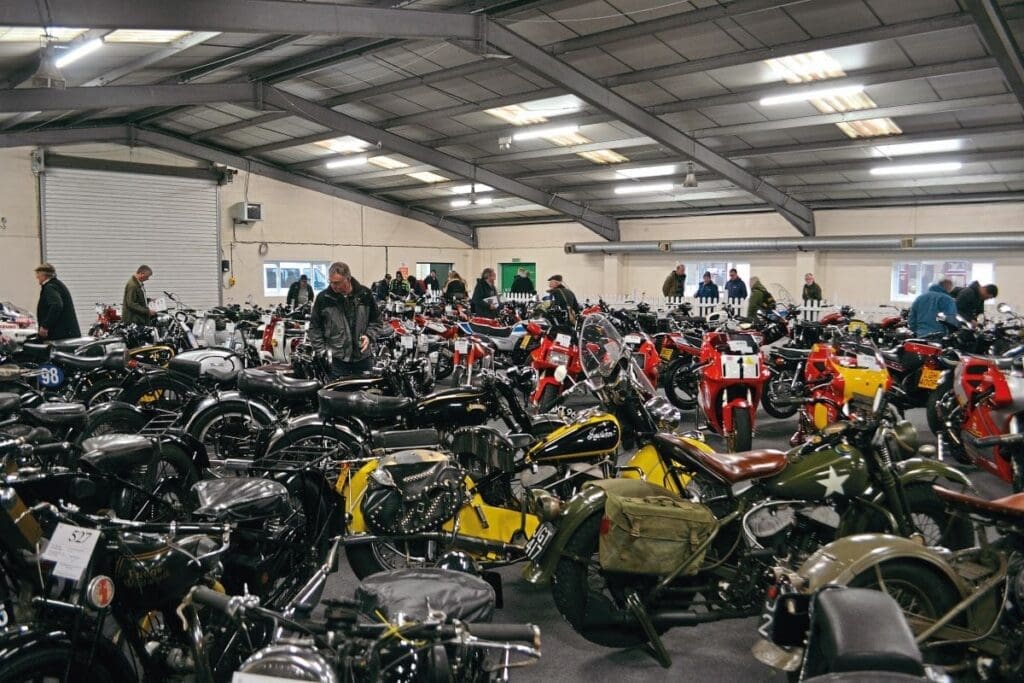 The Bonhams Spring Stafford Sale offered more than 330 motorcycles spanning all eras, with other highlights including a 1930 Montgomery-JAP 996cc V-Twin sold over-estimate for £75,900; an archive of motorcycle transfers soared past its pre-sale top estimate of £800 to achieve a staggering £10,120; and a fine 1:10 scale hand-built model of a 1930 Rudge racer sold for £8925, three times its estimate.
James Stensel, Head of Bonhams Motorcycles UK, said: "We are delighted with the results of our two-day Spring Stafford auction, which include 100% sell-through rates for the Greg Pullen and Brian Caseley collections."
For full results have a look at bonhams.com
The Stafford show returns this October. Find out more here.