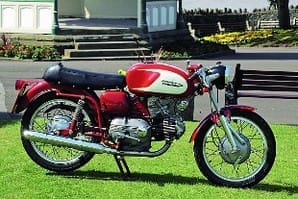 There nothing like an Italian motorcycle to polarize opinions, is there? Non-believers say they're all style and no substance, with lousy electrics and a self-destruct finish, while their fans feel that their styling is really important, and that it is usually backed up by above-average performance.
The archetypal Aermacchi is a typical example. I've heard people dismiss them as highly-strung pushrod singles with uncomfortably narrow saddles, while others rave about their lines and performance. Me? I can see the beauty and simplicity of their design, and I know that they are fast for their capacity, but I also wonder if they were designed for teenage poseurs, and might therefore not be the most sensible choice for reliable classic motorcycling.
My chance to find out some of the facts came at 2008's Bristol Classic MotorCycle show, when I saw Geoff Warren's little Ala Verde on display. I could see that it wasn't absolutely concours, but more importantly, it was also obvious that it was used and cherished. Later in the year I saw the owner cracking along on the long route of the Dorset VMCC's Weymouth Run, looking uncomfortable, but obviously loving every minute of it.
Geoff – born in Wiltshire but now resident in Somerset – was happy for me to take a spin on his Aermacchi. "You won't break it," he confidently said, "my son, who's used to modern bikes, enjoys taking it out, and I know he gives it a thrashing because it weeps a little oil from the clutch pivot afterwards, whereas it's normally oil tight!"
I'm always happy to hear an owner express confidence in his motorcycle, and I was equally pleased to hear Geoff say that, "It's not absolutely to factory standard, mind, as I've built it to look the part and be rideable without spending vast sums on imported spares." That suits me because – as regular readers will know – I've no time for armchair experts who worry about authenticity to the point where they'll leave a half-finished restoration in their garage, instead of using what's available to get it out on the road.
Having said that, the discrepancies on Geoff's bike are practically indiscernible. He's amassed a collection of Aermacchi books and articles, and has used the photographs as references for what he wanted to achieve. So the mudguards, for example, might not actually be Aermacchi ones, but he's chosen them carefully enough that you can't tell just by their appearance. And his home-made dual-seat looks so authentic that you'd never guess its foundations are a wooden board and a hump formed by half an old crash helmet. In any case, as Geoff says, "One attraction of running a bike like the Aermacchi is that very few people know exactly what they should be like!"
Let's backtrack a bit though, because Geoff, like many in our generation, would have first become aware of the racy Italians when they were imported around 1960. It comes as rather a surprise now, to realise that Aermacchi – like Lambretta, MV Agusta, Laverda, Parilla and a host of other very familiar names – had only comparatively recently become a motorcycle manufacturer.
Guilio Macchi founded the original company in Varese, Italy, during 1912, and built his first aircraft to a French Nieuport design the following year. The aeronautical interests plus his own surname gave the firm its name, and Aermacchi aeroplanes were used in both world wars. They also became familiar to aircraft enthusiasts between the wars by competing successfully in the famous Schneider Cup races, and actually held the outright air speed record on several occasions. It was only after WWII that Aermacchi needed to diversify, and introduced a three-wheeled truck powered by a 750cc twin-cylinder engine.
The firm's management was already thinking of two-wheelers, though, and in 1943 had engaged famous designer Lino Tonti – subsequently best known for the Linto racer – who had been at Benelli before working on aero engines during the war. He came up with a strange looking 125cc device – half scooter and half motorcycle – that went into production in the early 1950s with a creditable top speed of 53mph. The range was rapidly expanded, becoming successful enough to encourage Tonti and Aermacchi to have a crack at the land speed records, and 49cc and 75cc 'Flying Cigars' both set new world bests in 1956. Conveniently, record attempts could be made on the Varese-Milan autostrada, outside Aermacchi's front door.
Soon afterwards, Tonti left for FB Mondial, and his place was taken by Alfredo Bianchi who'd previously been at Parilla. Evidently the personalities of the Italian industry liked playing musical chairs just as much as our own! Bianchi quickly came up with the Chimera, which had a 175cc four-stroke engine slung below a spine frame, and fully enclosed bodywork that made it look rather like an Ariel Leader shorn of its screen and legshields. It was soon joined by a quarter-litre version, but despite favourable reviews and excellent performance (even the smaller engine gave 13bhp) the two models bombed in the sale rooms, leaving Aermacchi with enormous financial losses.
Bianchi was tasked with remedying the situation, and (like Ariel a few years later) dispensed with the bodywork to make a sports roadster. And, to continue the parallels, the new model was an instant hit. Aermacchi went into things more wholeheartedly than Ariel, though, and made 175cc and 250cc models so lively that they needed little work to make them into racers. Both versions were called Ala d'Oro (Golden Wings) and their potential was amply demonstrated when the factory stripped road going parts from the larger variant, and gave it better brakes and a megaphone exhaust. Ridden by Alberto Pagani, the apparently humble pushrod single promptly came home fifth in the ultra-fast 1960 Belgian GP, against factory racers with years of development behind them.
This is where Aermacchi differed from most other concerns. Instead of gradually improving a basic machine, they started with something that could be raced, and then brought out less exotic versions of it. So by 1961, when the stripped version was offered to the public as an over the counter racer called the Ala d'Oro S, it had been joined by the Ala Verde, Ala Rossi and Ala Azzurra (Green, Red and Blue Wings), all of them sports roadsters in decreasing levels of tune. Because of this reverse development, the lower-spec machines had considerable inbuilt reserves of strength, and confounded the usual prejudice that all Italian sports roadsters were fast but fragile. Soon after the Ala Verde was announced in 1960, for example, it won the gruelling Monza Six Hour Race, and led its class for quite a while in the Thruxton 500 Miler.
That was also the year when Aermacchi formed an important liaison, which allowed Harley-Davidson to supplement its range with some lightweights, and injected finance that enabled Aermacchi to move motorcycle production out of its aircraft factory. Having H-D's logo all over the machines probably didn't endear them to European motorcyclists, but the cash permitted Ing Bianchi to address reliability problems that had emerged at the top level (not surprising when the Ala d'Oro produced its peak power at over 9000rpm). So, in 1962 he made improvements to the strength of many components throughout the engine, and also gave it a five-speed gearbox.
'His chance came in the early 1990s when he spotted a dismantled pile of Aermacchi bits in a now-defunct classic dealership in Somerset. Geoff was told that the components were the leftovers after another enthusiast had taken his pick of four dismantled Varese machines, but the fundamentals were there…'
Now, Geoff Warren had been keen to have an Aermacchi since he opened a classic motorcycle book and saw a picture of Dutch marque fanatic Jaap de Jong enthusiastically racing an Ala Verde. And Geoff subsequently discovered that de Jong was the driving force behind the Netherlands-based, but international, Aermacchi Club. His chance came in the early 1990s when he spotted a dismantled pile of Aermacchi bits in a now-defunct classic dealership in Somerset. Geoff was told that the components were the leftovers after another enthusiast had taken his pick of four dismantled Varese machines, but the fundamentals were there, including an already-painted tank, plus engine, frame and wheels.
"I couldn't miss the chance to get an Aermacchi after I'd wanted one for so long" he says, "so I traded in a Fantic (he had been a keen trialler who'd reached Expert Status in the South Western Centre) and a Bantam, plus a wodge of money, and came away with an Aermacchi kit and an intact 125cc MV Agusta."
He still has the MV, but it's the other marque that's consumed his enthusiasm, to the extent that he flew over to attend the company's 50th Anniversary bash in Italy in 2001, where he met Lino Tonti and collected his signature. It also resulted in the machine that I am riding today. "Go ahead and enjoy it," says Geoff, "I only had to give it a top-end overhaul before putting it into use, and in 15 years or so it's never given a moment's trouble."
Well, that comment counteracts any prejudice about the supposed fragility of this type of machine, and my ride soon dispels doubts about its practicality. It's immediately clear that while the Ala Verde might look like a mini café racer, it has absolutely no Gold Star-type temperament. Admittedly, the left-side kickstart means that it's easiest to stand alongside and use the right boot, but it fires up easily, hot or cold, and the new Silentium silencer lives up to its name, leaving it ticking over quietly and reliably with heavy flywheels and low compression.
Sit on it though, and the sedate impression is dispelled by a racing crouch that leaves me in no doubt that this is a motorcycle with attitude. Snick into first – the bike's age and character is indicated by a firm clutch and a longish, but precise, gear lever movement – and I am away. I'm not only transported down the road, but back to my youth. If you can ride a bike like this and not feel like a teenage hooligan, then it's time to hang up your helmet and take up knitting!
The best thing is, you don't have to work at it, because the superb engine not only ticks over like a 500cc single but it pulls like one at low revs. And when you get to the point where a bigger single would run out of breath, the Aermacchi just keeps on accelerating. It doesn't vibrate significantly, either, having just a slight harshness that feels wholly appropriate in this type of machine.
Testing a slightly earlier model, Motor Cycle magazine reckoned that it would hold 75mph with a bulkily clad rider; and that was with a four-speed gearbox. "One of the best surprises with my bike, though," says Geoff, "was discovering, after I'd put it on the road, that it was one of the highly-prized five-speeders." Fifth, in fact, feels like an overdrive, and after doing the boy racer bit of winding the bike up to an indicated sixty-plus in fourth, slipping into top makes the engine feel so unstressed that I'd happily use it at motorway speeds. And there aren't many 250s I could say that about! But that would be like using an Aermacchi fighter aircraft for an inter-city flight – fast and reliable, but uncomfortable and not much fun. Get the Ala Verde on a twisty road, though, and it's in its element. The frame appears fairly ordinary – it started life in an enclosed roadster, remember – but it gives what Motor Cycle accurately called leech-like roadholding. Imagine the stability of a Featherbed Norton allied to the lightness of feel given by a C15 BSA, and you'll have a pretty good idea of what it's like.
The slightly oversized rims that had been laced to the hubs before Geoff bought the components may well help the handling. They certainly make the bike feel more grown up, and give a much wider choice of tyres. The full-width aluminium hub brakes are good, too, and streets ahead of the pressed steel jobs fitted to most contemporary British 250s.
Unfortunately, its quality meant that a new Ala Verde cost about the same as a British 500cc twin, and since quarter-litre bikes were normally regarded as a learner's stepping-stone to that sort of 'real' motorcycle, very few Aermacchis reached our roads. Price wise, the situation is similar today, but no longer is a big bike needed for the sort of motorcycling most of us do. An Ala Verde is more than fast enough for social runs, while its beauty and novelty, character and stamina compensate for its lack of comfort.