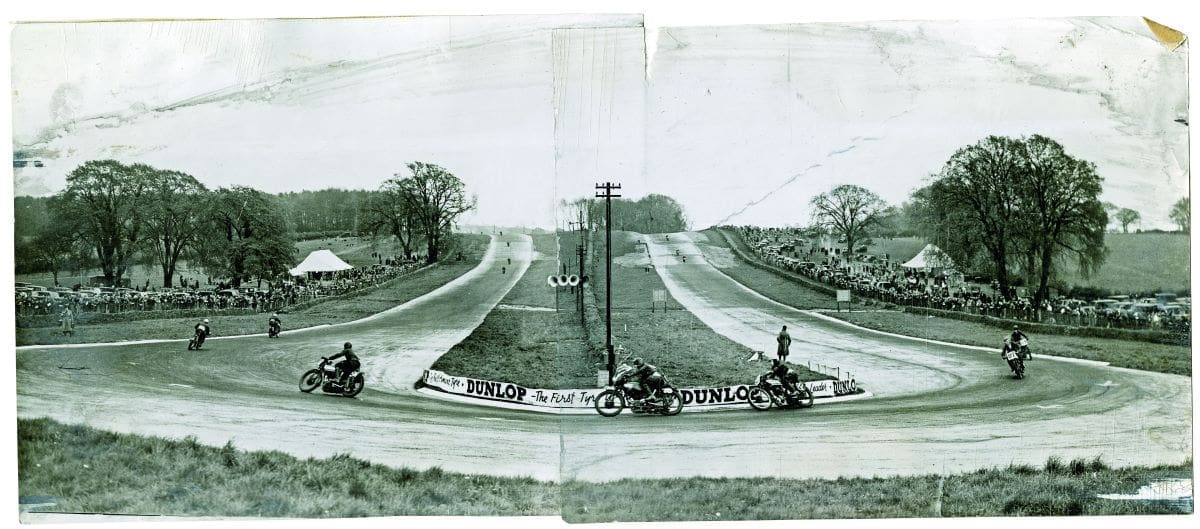 When the Melbourne Corner section was added to the Donington Park circuit in 1938, the first motorcycle meeting saw a flock of stars in attendance.
Photographs: MORTONS ARCHIVE
This composite picture (it's two pieces joined together) was used on the letters page in the April 28,1938, edition of The Motor Cycle with the caption: "Bank Holiday at Donington. A fine, panoramic view of Melbourne Corner, a section of the new 3⅛-mile course that was used for the first time for motorcycle racing."
The event report for the meeting to which it referred had actually been carried in the preceding week's number, under the heading 'Stars Fight it out at Donington', while Motor Cycling had been a day earlier (April 20, 1938) with its report, under 'Good Easter racing at Donington.'
Somewhat ironically, though, it's Motor Cycling's report which enables us to identify the two riders centre and right; on the number 70 Norton is H Carter, carrying 82 is G E Barker, also Norton-mounted, though Barker's model sports a rigid frame, with Carter's of 'Garden gate' plunger design. The man Carter is chasing is also mounted on a rear-sprung Norton.
Neither of the rhyming Carter/Barker duo troubled the trophy engravers, though it was a good day for their fellow Norton riders, in particular Jack Moore, who won the 350, 500 and up-to-1100cc races, all on Nortons. Despite the presence of some stellar names – with Stanley Woods topping the bill – it was 29-year-old Moore who was the class act. Riding his home-tuned Nortons, Moore had been racing four years in 1938, and enjoyed considerable success at Donington, as well as excelling in Northern Ireland, having come second in the 1937 500cc Ulster GP.
A couple of months on from his Donington haul he was to win the North West 200, before heading to the Isle of Man for his TT debut. Tragically, he crashed on the third lap of the Junior race, being killed instantly in an accident at East Snaefell Gate, near Ramsey. From Cheadle in Greater Manchester, he'd been employed in his father Ernest's haulage business. Moore was the first rider killed at the TT since 1935.
While Nortons ruled the roost at Donington on that 1938 bank holiday, in the 350 and 500c races it was Velocette-mounted Stanley Woods (who'd been spotted testing at Donington prior to the meeting) who proved the greatest threat to the Bracebridge Street-built machines; in the 350cc class, Woods narrowly lost out to winner Moore (who'd earlier crashed and remounted) and Johnny Lockett, who was classified runner-up, with Woods third. In those days, there were no finals, just heats, with overall classification coming from fastest times. The winners of heats two and three, Ron Haines (Velocette) and J R Upton, Norton, weren't anywhere near as quick as the men of heat one; it seems heats were generally tiered, with the quickest going off together.
In the 500cc class, Woods was 'boxed in' at the start and only ninth at the end of lap one – Moore took the lead early, with Maurice Cann (Norton) and Dave Whitworth, on a Triumph twin, chasing. Cann passed Moore then crashed out; it was a horrible, reversed foretaste of what was to come, as in Moore's fatal IoM crash, it was Cann with whom he was dicing. Happily, at Donington, Cann was unharmed. Norman Croft, Norton, just edged out Arthur Wellstead's Excelsior for third. In heat two, Lockett went quick enough to take an overall third classification, with heat three's victor earning mention in neither Motor Cycling or The Motor Cycle, though the latter reckoned it 'was enlivened by the appearance of a Scott, a Douglas and a BMW.'
The 250cc race saw Maurice Cann's Moto Guzzi win from Ginger Wood; indeed, The Motor Cycle carried a picture of Stanley Woods and Stanley 'Ginger' Wood, posed with Ginger's four-valve Excelsior Manxman, in the pits. Les Archer, New Imperial, would've been the most likely winner, but he retired from the lead, while Jack Booker's Royal Enfield was third, Denis Parkinson, Excelsior, was fourth, Ron Harris (New Imperial) fifth and Roland Pike, Rudge, sixth.
The two sidecar races bought Len Taylor (596cc Norton) victory in the first, though he was runner-up to A H Horton (another 596cc Norton) in the second, though Jackie Beeton (490cc Norton) had shown strongly early on, while Cyril Hale's Morgan never recovered form a 'sulky' start.
Last races of the day were for unlimited, which Moore won (at the fastest speed of the day), from Croft, with Haverscroft's 499cc Rudge classified third, all in heat one, though Woods and Cann failed to appear. Lockett took heat two, with D L Jones, 497cc OK-Supreme, winning the last race of the day.