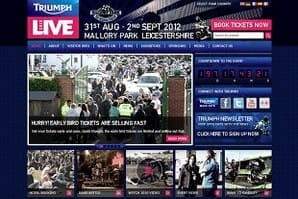 Triumph 1902–present UK
For over a century Triumph as a brand has weathered recessions, two world wars, bombing and a number of changes of ownership. Today, guided by property developer John Bloor, Triumph continues to build stylish motorcycles which once again enjoy a dedicated following.
Over the past century Triumph has won IoM TT races, ISDT gold medals and a Triumph was the first under 350cc machine to win a Scottish Six Days Trial. During WWI Triumph mobilised tens of thousands of British and allied dispatch riders, went on to set many national and international speed records, enjoyed the design talents of Val Page, were restyled by Edward Turner, took on the mods at Brighton, Great Yarmouth et al and the motorcycles revelled, and still revel, in glorious lives in the hands of countless owners around the world.
Arriving in England from his Nuremberg, Germany home in 1883, young Siegfried Bettmann worked briefly in London representing overseas companies, supplementing his income as a translator and correspondent before establishing his import and export business. Bettmann & Co. Sewing machines and associated equipment were imported from his homeland, while cycles built by William Andrews of Birmingham were exported to Europe, balancing the trade.
Folklore often tells us Bettmann's story was the rags to riches tale of legends but reality couldn't be further from the truth. Born to a wealthy German family, Bettmann was an articulate university graduate who was as word perfect in English and French as his native tongue.
The cycles Mr Andrews built for Siegfried bore Bettmann transfers but the ever sharp young man soon realised Bettmann sounded hardly English enough, leading him to consider the name 'Triumph' a year later. In 1887 Bettmann & Co gave way to the Triumph Cycle Company. In the same year trained engineer Mauritz Schulte, also from Nuremberg, joined the business, enabling Siegfried to realise his ambition to manufacture cycles rather than act as an agent – with the cycling craze about to boom their timing couldn't have been better. Tiny factory premises at Much Park Street, Coventry were rented and the Triumph brand was on its way.
The bright young businessmen were awake to all new inventions involved with transport. This interest led Schulte to purchase a Hildebrand and Wolfmuller from the Munich based factory. Designed and developed by Heinrich Hildebrand and Alois Wolfmuller with assembly expertise from Hans Geisenhof, the 1488cc twin cylinder water cooled machine was the world's first production motorcycle. Records tell us Mauritz demonstrated his example occasionally at cycle tracks in and around Coventry in the late Victorian days. It's thought Triumph planned to build these machines under licence in Coventry, but this and other such ideas came to nothing.
Belgian built
Like many rivals, Triumph puttered into the motorcycle age with Belgian built Minerva clip-on kits fitted about cycles. Realising the shortcomings of cycle frames, Schulte built sturdier frames for Triumph machines, albeit upon cycle lines, and soon adopted JAP power using the Tottenham maker's 293cc automatic inlet over side exhaust single cylinder unit. Despite employing other proprietary engines including Fafnir, Triumph decided to build its own. Having sampled rival products, Mauritz wanted to make stronger, more durable units capable of higher mileage between overhauls.
In 1904, Triumph decided to take the plunge. Working to Mauritz Schulte's concepts, drawing office man Charles Hathaway produced the first engine, a 363cc (78 x 76mm bore and stroke) unit and significantly employed ball bearings rather than plain bushes to carry the crankshaft. Critics slated the Triumph's design, with its un-sprung front fork and trembler coil ignition, as being old fashioned – rather unjust considering rival machines were often more basic; perhaps the critics simply wanted to lash out at a more than worthy rival.
Soon Charles Hathaway had designed and patented for Triumph the famous fore and aft rocking front fork to give front suspension. The forks appear unnerving on a first ride but experience informs they work well, better then many rival pioneer concepts, and the clear variance of wheelbase as the forks work doesn't adversely affect handling to any degree at typical veteran and early vintage speeds.
Not all was plain sailing as early Triumph engines wore their cylinders and piston rings rapidly while the early tandem front frame tubes broke with alarming ease as the great Ixion (Cannon Basil Davies) proved.
Easily remedied
The frame problem was easily remedied as Triumph reverted to the familiar single front down tube design. Keen to build the best motorcycle possible, Mauritz Schulte – with Bettmann's blessing – sought expert advice from a metallurgist who suggested more suitable metals for the cylinder barrel and piston rings.
In double quick time Triumph had its dream of a reliable durable engine, which, with Bosch magneto ignition, could be ridden across the UK, or Europe, or anywhere an epic trip was planned. Suddenly riders didn't need to pander to the whims of their steed. Instead, the motorcycle had become a viable means of transport for Mr or Mrs Everybody, rather than an enthusiast's finicky toy.
Work continued refining the rocking front fork with particular attention to the horizontal springs, while frame design was revised to lower top tube height and although retaining the Schulte/Hathaway design, engine c
apacity and power output increased. The first increase was to 453cc (82 x 86mm) for 1907, rising to 476cc (84 x 86mm) a year later and then to 499cc (85 x 88mm) before the Edwardian days were over.
Once the Triumph engine proved its worth, it became the single cylinder motorcycle of choice for many reliability trial riders and featured in the single cylinder classes at speed events. Sales grew and Triumph outgrew the Much Park Street factory. The concern moved to Priory Street, Coventry, premises where Triumph remained until 1940 when along with much of central Coventry it was flattened by a German bombing raid.
During 33 years at Priory Street, Triumph progressively expanded the factory sideways and upwards. Triumph retained the Much Park Street works for their Gloria cycles and sidecars.
Racing in the first IoM TT single cylinder class, Triumphs finished second and third with Messrs Marshall and Hulbert aboard behind Charlie Collier's Matchless. The following year Jack Marshall (later a famous Coventry publican) brought his Triumph home first in the single cylinder class at over 40mph with a new class lap record of 42.48mph, faster than the year's multi-cylinder runners.
The Triumph story continued successfully. In 1909 their multiplate clutch option, mounted within the rear wheel hub to give a free engine facility, was on offer as was a Sturmey Archer three-speed gear incorporated within a rear wheel hub. In the same year Triumph built over 3000 motorcycles, heady production levels for the period, making them a world leader.
In less than a decade Triumph had earned an enviable reputation for ruggedness and reliability attracting a following of hardy souls set on epic endeavour.
Northampton leather dealer
None more so than Northampton leather dealer Albert Catt, who tried to ride over 2000 miles on his 500 in six days, not on the dusty dry roads of summer but in axle deep mud during November 1910. Collisions, rain, snow, ice and a seized engine thanks to an oil pump block conspired to limit Catt to 1882 miles in his allotted span. An abject failure for Catt but six months later he clocked 2400 miles in six days – that's 400 miles per day on the worst rutted roads imaginable. Albert's health was undermined for the rest of his life but doubtless after a dust down the Triumph was game for many more adventures.
Boosted by an impressive IoM TT in 1910 – eight finishers among the first 15 home – Triumph added a Tourist Trophy Racer to the range. Devoid of pedals, the direct drive side-valve 499cc single had shorter than standard wheelbase and dropped handlebars enabling sporting bloods to 'get down to it'. In 1912 it was joined by the TT Roadster offering a more comfortable seat and less radical bars, intended for the fast touring rider.
For many rivals, Triumph had set the standard for speed, quality and a robust engine thanks to its ball bearing mains supporting the crankshaft. Some opposition makers took the Triumph so seriously they bought one to dismantle and discover why it was so good. In the 499cc single cylinder class the Priory Street factory had cornered every quarter of the market with clutch and clutchless models, hub gear options and sporting machines. All Triumph lacked was an economy lightweight, a model with a bit more power for even harder work and a countershaft gearbox.
The 1914 season saw the introduction of the 550cc 4hp Type A Roadster, initially offered with free engine facility – with the option of hub gears or even as direct drive – and the frame was dropped to the saddle stem to give a lower seat height, which was then adjustable to suit the taller rider. A season later the 550cc Triumph gained a three-speed counter-shaft Sturmey-Archer gearbox with multi-plate clutch and a semi-automatic carburettor designed and made in house. The result was the immortal Model H. Accurately nicknamed the 'Trusty' or 'Trusty Triumph' over 20,000 saw WWI action with the British forces and a further 10,000 went to the UK's allies.
Even today a well built Model H Triumph has the capability to take you and a mass of luggage to the edge of the world and back. The same is true of their other new boy introduced some months before the Model H, a tiny lightweight and Priory Street's first production two-stroke.
Named the Junior, it boasted a 225cc single cylinder deflector piston two-stroke engine and clutchless two-speed gearbox, as well as a distinctive cylindrical fuel tank. In hindsight, it was named the 'Baby Triumph'. Motivated by earlier experiments involving French twin cylinder engines mounted in Triumph rolling chassis, the firm developed its own side-valve 600cc vertical twin engine, which unlike later twins had pistons rising and falling alternately. In design it looked a sound concept, but WWI impeded further development.
Updated version
War over, Triumph unveiled for 1920 an updated version of the Trusty, coded the SD (Spring Drive) due to its coil spring transmission shock absorber mounted outboard of the clutch for this all chain drive model. Again with the 550cc side-valve engine it proved a popular solo and sidecar model. The Coventry factory then turned its efforts to an ohv project, the four-valve 500 Type R (IR), nicknamed the 'Riccy'. It was in effect an SD with advanced top end design by Harry Ricardo (knighted 1948) and development work by Major Frank Halford (later an acknowledged aero engine designer and MD of the De Havilland Engine Co). Although only one of three ohv Triumph starters finished the 1921 Senior TT, Halford enjoyed Brooklands success and set records on a race prepared example.
Behind the scenes at Priory Street, Coventry, events were unfolding which were to have far reaching consequences for Triumph motorcycles. Maurice Schulte left and was replaced by Colonel Claude Vernon Holbrook (later Sir Claude) who planned to steer the factory towards car manufacture. The first cars, open tourers with Ricardo designed 1393cc engines, were sound vehicles – but they weren't motorcycles! However, two wheelers weren't completely abandoned. The 225cc Junior grew to 250cc gaining a clutch and kick start in 1923 and a neat, but not that successful in sales terms, unit construction side-valve 350, the Type LS, was unveiled for the 1924 season.
Under a veil of secrecy, Priory Street were at work on a project, which would take the UK and much of the world by storm. Not in terms of performance or luxury fitments, but purchase price. Launched at the 1924 London Show for just £42-17-6d (£42.78) the newcomer was the side-valve Model (Type) P. With the world speeding towards recession, Triumph's survival strategy was centred on a cheap 500 sold in huge numbers.
Cost cutting
Quantity and cost cutting were the plan and to an extent it worked but many early Ps were returned for guarantee work although later redesigns improved the model. Despite its problems Model P production was running at up to 1000 machines per week in spring 1925 – heady figures indeed. The Model P was developed and refined to give the N, Q, QA et al. While the Model P was a sales and income success story for Triumph, it was directly responsible for driving many rivals to the bankruptcy courts.
Updated, the Riccy continued in production for five seasons. Victor Horsman, later a famous Liverpool motorcycle shop owner, earned fame as one of the great Brooklands racers, often on Nortons before switching to Triumphs. An excellent racing engineer, Horsman developed a two-valve cylinder head for the ohv Triumph which he raced to much success. As the Ricardo engine lost favour with the Triumph board, it was replaced by a two-valve version based on the Horsman engine. Known as the TT Model, although by many as the (Victor) Horsman Triumph, it carried the factory ohv models from the flat tank to saddle tank eras.
After the demise of the Junior, Triumph again considered the lightweight market, offering the 277cc (277.8cc) Model W in 1927, which became the WS on gaining a saddle tank for the 1929 season.
Triumph slashed its range from eight to four models for 1928, enabling more of the factory to concentrate on the launch of a new car, the Triumph Super Seven. Another year and another approach saw Triumph unveil saddle tanks and a new range comprising the 350 OHV CO, 500 ohv NL, 500 side-valve CN, 550 side-valve NSD, 550 side-valve CSF and the top of the range 500 ohv ST. Also included were the WS and three two-stroke models of up to 175cc including a 98cc model marketed as the Gloria. Despite needing every penny of income as the slump hit, Triumph wanted to distance itself from the under 100cc economy market.
If the late 1920s were hard for Triumph, the 1930s would be worse. By 1932 and financially struggling, Lloyds Bank appointed one of its own, a Mr Graham, as manager and demoted founder Siegfried Bettmann from Managing Director to vice-chairman. A few years later, behind the scenes it was decided to end motorcycle production in 1935/36, sell the Priory Street works and concentrate on car manufacture at the newly acquired Foleshill Road site. However, all of this was planned to happen after Triumph gained the services of one of the world's greatest motorcycle designers – Valentine Page. Before Page joined in 1932 Triumph had updated its range to include the semi-enclosed Silent Scout and the AA Sykes designed 150cc ohv model.
Val Page worked for London engine makers JAP in the early Twenties before moving to Ariel and later Triumph. Established at Priory Street, Page set about redesigning and updating the range to give many new models: ohv 250, 350, 500 singles, side-valve 350 and 550cc singles and the semi-unit construction ohv 650cc 6/1 vertical twin. In some capacities Triumph offered a range of specifications coded by the digit after the forward slash eg 5/5 = high performance 500cc ohv single cylinder roadster while the 5/10 was the racer version. There was considerable parts crossover among the singles to help pare production costs, making some of the 250s look a little overweight, except the Lightweight ohv 250cc L2/1 which had little in common with its siblings.
Jack Young Sangster
Having bought Ariel some years earlier, Jack Young Sangster (JYS) bought the Triumph motorcycle plant, machinery and much of the Priory Street premises as Triumph motorcycle production was ending. Although there were some legalities to tie up the deal was in effect completed on 22 January 1936, making the Triumph car and motorcycle businesses different companies, the cycle business having been disposed of earlier.
In what appeared a bold move, London-based Sangster installed Edward Turner (ET – who was employed in his Ariel works) as chief designer and general manager with Siegfried Bettmann as chairman of the new company, which traded as the Triumph Engineering Co Ltd. The appointment of Bettmann was a smart move as his presence ensured many dealers remained loyal to the marque and accepted 'new boy' Turner. Quite what happened next is unclear but as Triumph under Sangster got successfully into its stride Bettmann 'retired' for reasons never discussed by himself, JYS or ET.
While considering the Sangster years it's worth recording he sold Ariel to BSA in 1939 and Triumph, again to the BSA group, in 1951. He became chairman of BSA in 1956, and retired in 1960 when the entire group showed a healthy year's profit of £3.5m. He died 17 years later.
Whatever one's feelings about Edward Turner, who'd joined Ariel in 1928, he was a man of style who also understood manufacturing methods, production costs and how to get the most out of them. While critics disliked his cost paring exercises, there is no doubt his reign at earlier Ariel and then Triumph encompassed many of the most visually attractive quantity built motorcycles ever, from any factory worldwide, and they went well too. From his first day at Priory Street, Turner hit Triumph running, first cosmetically restyling Val Page's excellent 250/350/500cc singles to give the Tiger 70, 80 and 90. Clearly Turner had remembered the style of the attractive Red Hunter from his Ariel days. Soon smart but cheaper models joined the range including the H and HC ranges again based on Val Page's single cylinder models. Side-valve motorcycles reappeared with the 350cc 3S and 600cc 6S for 1938 and competition models too.
Attractive, reliable and often exciting sums up ET's pre-WWII singles range, but it's for his twins he became immortal. With a near underwhelming launch programme, the Speed Twin was unveiled at the 1937 London Show for the 1938 season. Despite this apology for a sales campaign, the 498cc high camshaft parallel twin and separate four-speed gearbox installed in a Tiger 90 rolling chassis was to change the face of motorcycling overnight.
Certainly the British big single had a quarter of a century of life ahead of it – it takes a very good twin to keep with a late Goldie or Velocette Thruxton, especially mile after mile – but for the point-and-squirt performance market the parallel twin was to reign supreme until the transverse ohc fours took over decades later. In 1938, that prospect wasn't a consideration in production terms.
Despite an initial hush, hush launch campaign for the twin, Turner and colleagues had again built a stylish, fast package which only an expensive ohv V-twin or square four could see off in the fastest-to-the-post stakes. Wholly finished in dark (Amaranth) red with chrome twin exhausts, fuel tank (with Amaranth panels lined in gold), wheel rims (centres in Amaranth lined in gold) and lots of polished aluminium, the Speed Twin looked stunning and offered top, straight from the box performance at a modest cost.
Even on poor quality fuel the twin delivered 28.5bhp at 6000rpm. Rivals could only play catch up, which some a made a good job of, but Triumph was first off the blocks. As early customers discovered what a hot machine they'd bought for just £75, they told their mates who ordered… Perhaps the underplayed marketing policy wasn't so far off the mark.
A year later Turner upped the game, launching the 498cc Tiger 100. With 8:1 forged slipper pistons, much internal polishing and the option – for an extra fiver – of a bronze head. To launch first a touring model followed later by a sporting version was a ploy ET used time and again through his career at Triumph.
Allied war effort
As WWII began Triumph, as well as BSA, Norton et al, was asked to manufacture motorcycles for the allied war effort. The Priory Street plan initially was to supply the side-valve 350cc 3S and 500cc 5S, recoded as 3SW and 5SW. On Government demand Triumph (along with rivals) designed new models weighing under 250lb for military use. Edward Turner sketched out a light, three-speed ohv 350cc parallel twin, the 3TW. After five prototypes, built over a few months, Triumph produced a small pilot batch incorporating military recommended modifications – batch volume is in doubt as though 50 were ordered, it's likely less were delivered.
On 14 November 1940, 400 German bombers flattened much of Coventry, including the Triumph works. Using salvaged plant Triumph restarted manufacture in a redundant factory at Warwick. Although far from grand, the temporary works enabled Triumph to return to production, albeit with a trickle of machines. After building a few 3SWs, Triumph reworked the pre-war ohv 350cc 3H into a military model, named the 3HW – over 25,000 were built.
For security and planning considerations Coventry council was reluctant for Triumph to rebuild its Priory Street works, so Triumph finally settled on a site in the nearby village of Meriden. With limited equipment installed, small volume production was under way in March 1942. Triumph became associated with other military projects including a fan cooled ohv 500cc twin which powered a BTH generator. After the war the alloy cylinder head and barrel were adapted for the Grand Prix and TR5 Trophy.
Mid-WWII, Edward Turner left Triumph to spend 18 months with BSA. During 1943 he returned to Triumph as managing director and although post-WWII Triumph design policy, manufacturing and marketing was in his hands, he stated in correspondence he would serve a similar role for Ariel.
As well as his MD roles, Turner
was involved in industry government think tanks regarding design and demands. In addition to sports models he supported the concept of robust, modestly priced utility models built in volume. He'd planned such concepts for Triumph although they may have been marketed under the New Imperial brand, which Jack Sangster also owned. In the event no utility models were built as demand for the 3T, 5T and Tiger 100 was high. Only the vertical twin 3TU – with a different engine design to the later production 3T – reached the first prototype stages.
War over, Triumph dropped single cylinder production in favour of an all parallel twin range comprising of 350cc 3T De Luxe developed from the planned but lost military 3TW, 500cc Speed Twin and 500cc Tiger 100. Plans for a sporting 350 (Tiger 85) and a reworked 350cc 3H single were dropped due, it's believed, to the high demand for the 500cc twins but Triumph did introduce the famous optional Triumph Spring Wheel (sprung hub).
Post-WWII and Triumph introduced its 350cc twin, the 3T, though the sportier Tiger 85 never materialised. Initially, Triumph struggled to meet sales demands. Gradually production levels rose and Meriden received a morale boost when Irishman Ernie Lyons won the 500cc 1946 Manx GP on a factory (Freddie Clarke) prepared – although that fact was masked – Tiger 100, with its silicone alloy cylinder head and barrel robbed from an Airborne Auxiliary Power Plant (AAPP). Famously in atrocious conditions the forerunner of what would soon become the Triumph Grand Prix broke its frame. But who cares? It was first past the post and by over two minutes.
Many clubmen
Although the Triumph GP wasn't the fastest racing 500, it accelerated well and was easy to ride. Many clubmen enjoyed their GPs and today they're an attractive addition to any collection. For the 1948 season, Meriden unveiled another beauty, the all alloy engined 500cc TR5. During the coming years the TR5 was a successful trials, scrambles and ISDT mount and today is another 'must have' for Trumpet fans.
Demands for more power, especially from the fledgling American export market, led Triumph to increase bore and stroke of the 500cc engine to 71 x 82mm (649cc) and the immortal Thunderbird. Instant success was cemented by a successful high profile publicity stunt involving three Thunderbirds ridden to and from the Montlhery circuit, to the south of Paris, which they lapped flat out for 500 miles – it was a brilliant piece of marketing.
In 1951 Triumph (and Ariel) joined the BSA group although Triumph and BSA remained separate entities – apart from scooters – until the 1968 launch of the BSA Rocket 3/Triumph Trident. In autumn 1952 rumours regarding a new baby from Triumph proved founded by a factory announcement prior to the London Show. Triumph's first under 250cc motorcycle since the 1933/4 XO went from ET's tiny sketches to pre-production prototypes in a claimed six weeks, thanks to hard work from chief draughtsman Harry Summers and styling engineer Jack Wickes' teams.
The launch model ohv 149cc four-speed T15 Terrier with plunger rear suspension went into production in summer 1953. The following spring the 199cc T20 Tiger Cub was unveiled. For decades observers have marvelled at the speed this project moved from thumbnail drawings to pre-production prototypes. Some have claimed, with conviction, ET took a long look at the New Imperial Unit Minor drawings to which he'd access, others suggesting a leaning towards French Terrot concepts and yet others the earlier Triumph XO 150cc models.
Responding to further demands for more power, Triumph gave the Thunderbird engine an 8.5:1 compression ratio, lumpier cams, heavier crankshaft, bigger bore carburettor to create the Tiger 110 (T110) for 1954. It had swinging arm frame, as did the year's T100. Soon the Thunderbird and Speed Twin followed suit. The Tiger Cub gained a swinging arm frame during 1956.
Now a world leader Triumph introduced a succession of new models which included the 1957 unit construction ohv vertical twin 349cc Twenty-One. Finished in shell blue sheen with black frame and aluminium cylinder head, it was a breath of fresh air. Why Twenty-One? Who knows? Its launch marked the 21st anniversary of ET moving into control at Triumph (he seemed to have forgotten his time at BSA…) and in American speak the engine was of 21cu in capacity.
In logical development the established Speed Twin was redesigned with a 490cc unit construction engine housed in a Twenty-One chassis, while many other parts were interchangeable. The pre-unit T100 briefly continued before giving way to the unit T100A launched for the 1960 season.
Following further demands for more power the T110 was uprated with redesigned camshaft, higher compression ratio and twin carburettor options.
For 1959 the crankshaft design was updated and as part of this development the twin carburettor T110 was developed into an even faster twin, the T120. It was named the Bonneville after American Johnny Allen's record breaking work on the Bonneville Salt Flats with a cigar shaped Triumph 650cc twin which the FIM never accepted… but Triumph fans never cared.
Finally, Triumph frame design called time as the ever more powerful twins provoked their chassis into bad behaviour. Meriden responded by progressively improving design. For 1960 the off-road TR6 Trophy, derived from the earlier TR5, became in effect a single carburettor Bonneville. Three years later for 1963 Triumph finished with pre-unit design as the 650s gained unit construction.
While all this fun had been going on the BSA Group had introduced its first forays into badge engineering with the October 1958 launch of the Triumph Tigress and BSA Sunbeam scooters, powered by either a Bantam 175cc based two-stroke single or the all new 250cc ohv twin. In 1962 ET's pen had been busy again, resulting in the 98cc Triumph Tina automatic scooter. Initial reliability problems hit the Tina and all the group's scooters were marketed too late to hit sales of the established Italian products.
Although the joint unveiling of the larger scooters was the first outward sign of a uniting of Triumph and BSA, products followed such as the 1966 onwards Bantam Cubs it wasn't until 1968 the public would really get the message with the joint launch of the Triumph Trident (T150) and BSA Rocket 3. The 741cc ohv triple was highly successful on both sides of the Atlantic and with Slippery Sam's record five IoM TT wins became immortal. Other examples of joint projects included the BSA and Triumph 250c singles and the oil in frame (OIF) chassis, although for the OIF series engine designs remained brand identifiable.
In the early Seventies the group was financially troubled and by 1973 bankrupt. While the group sunk, the parallel twin had been stretched to 750cc and new designs including ohc ideas were being considered and built into prototype and pre-production models. With government intervention Dennis Poore's Norton Villiers Group combined with the BSA Group to form Norton Villiers Triumph. Plans included moving all production to Small Heath, closing Meriden and dropping the Triumph name.
The politics of what happened next are complex. Essentially many of the Meriden workforce began an 18 month sit-in during early autumn 1973 and without access to Meriden tooling, production of triples at Small Heath stopped. With government help NVT were able to re-equip and Trident production restarted in spring 1974. An updated version coded T160V with inclined engine and electric starter was developed and built 1975-77.
Back at Meriden the sit-in ended in March 1975 and with government help production restarted, although the new team initially faced branding, trust and distribution issues. The range was built around the proven but ageing 744cc parallel twin. Models included the T140V (1973-78), TR7V (1973-81), Jubilee (1977), T140E (1978-82), T140D (1979-80), T140ES (1980-83), TSS (1982-83) and TSX (1982-83). Towards the end of Meriden's days came the 649cc TR65 (1981-82) and the 1983 model 599cc Thunderbird and Daytona were developed but were never built in quantity.
Voluntary liquidation
Investment capital ran out for Meriden in January 1983 when motorcycle manufacture ended and Triumph entered voluntary liquidation in August. Later the factory was demolished and that appeared the end… but businessman John Bloor had the vision to buy the manufacturing rights and later build modern style motorcycles which would be marketed under Triumph's strong brand. Needing time to literally start from scratch, Bloor licensed the Triumph manufacturing rights to Racing Spares run by Les Harris. By agreement Racing Spares built the Bonneville in Devon in its final 750 (744cc) form during 1985-88.
Although beyond the 25 year remit of this series John Bloor's massive investment to establish a new motorcycle manufacturing factory at Hinckley should rightly be acknowledged. With modern equipment, fresh, motivated staff, a substantial R&D department and foresight of design, Triumph marked its return to the motorcycle world at the 1990 Cologne Show with a range of 750/900cc triples and 1000/1200cc fours of modular engine design. Many other parts were common across the range or part of the range and while the machines were modern, tradition was preserved by logo design and the model names of Daytona, Trophy and Trident.
Over the following years the machines became more individual and the less successful modular engines were dropped. Further favourite names returned, including Tiger for the 885cc trail bike. Development work continued leading to new engine designs, first unveiled in the T595 Daytona, which many believe will become another 'must have' collectors' model. Triumph also joined the highly competitive 600cc supersports market. By developing a lucrative market in the UK and abroad, most successfully in Germany, John Bloor's Triumph factory proudly ensures Triumph remains in production and popular 107 years after Siegfried Bettmann and Mauritz Schulte's first belt drive models puttered out of the factory gates.