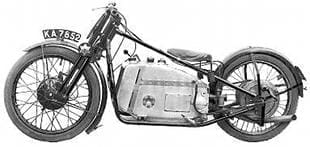 Thorough c1902-03 UK
Pioneer assembler that used a small range of proprietary engines. One well known survivor with a Sunbeam MCC Pioneer Certificate was recently offered on the UK market.
Tickle c1967-73 UK
John Tickle established himself in the sporting motorcycle accessory market with a range of well made products including TLS front brakes, clip-ons and the like. Mr Tickle bought the rights to manufacture Manx Nortons and built a number of complete 350/500cc dohc machines. John Tickle was an astute designer who applied his skills in many fields, including sailing and swimming (the Tickle nose clip).
Tilbrook 1950-53 Australia
Designed by Rex Tilbrook the range comprised 122-197cc Villiers engined singles. Adapted for racing, the 122cc model enjoyed success at Australian road race events.
Tinkler c1914-1930 UK
Almond Tinkler's concepts have influenced other designers. He began with a machine built out of available parts in 1914 and later developed single and multi-cylinder designs, including a three cylinder radial. Another concept receiving considerable period press coverage was the Tinkler 'power egg' comprising a water-cooled engine complete with radiator, fuel tank and gearbox installed within a metal case for fitting into a conventional motorcycle rolling chassis. OEC installed a Tinkler power egg in a duplex steering chassis.
Titan 1927-33 Austria
Puntigham, Graz maker which began with a twin cylinder 144cc two-stroke lightweight named the Austro-Motorette, followed by an advanced 346cc two-stroke motorcycle with membrane fuel vapour control. Designed by Karl Schuber, it was probably the first production machine to feature this concept, now better known to us as reed valve induction control. Titan also built 350/500cc single cylinder models, often using Blackburne or JAP power.
Titan 1975-c1980s San Marino
Range of 49cc mopeds, motorcycles and off-road models including scramblers designed by Gianfranco Mularoni and Curio Rinaldi.
Tiz-Am 1931-40 Russia
Having taken a good look at BSA design, the Kharkov factory launched a 595cc single with sloping engine and three-speed gearbox. Later a sprung frame was developed. Circa 1936 Tiz-Am unveiled a much smaller lightweight. The Russian military bought the 595cc model during the Thirties.
TM 1968-92 Italy
Pesaro factory that predominantly focused on 49-125cc trials, trail and motocross models using proprietary engines, often from Zundapp or Franco-Morini, later supplemented by Yamaha units. During the late 1980s TM launched a six-speed 80cc disc valve racer.
Tohatsu 1949-64 (66) Japan
In 1922 the Takata Motor Institute began work researching the internal combustion engine. Ten years later and renamed the Takata Motor Manufacturing Company, the firm was making a handsome profit building and selling petrol driven generators. Another renaming as the Tokyo Hatsudoki Co Ltd took place in May 1939 and duringWWII, the company supplied thousands of petrol engine generators to the Axis forces.
The war over, Tokyo Hatsudoki was in trouble in business terms. Although its factories at Tokyo and Osaka had survived the conflict almost unscathed there was little business as the major customer, the Japanese Military, was decimated. With great foresight, Tokyo Hatsudoki switched production to petrol engined water pumps and small utility lightweight motorcycles – products were soon marketed under the Tohatsu brand.
A modest player in the national Japanese motorcycle market during the mid-Fifties, by 1957 Tohatsu's focused on 87-199cc single cylinder piston port two-stroke engines of its own manufacture. Four years later and with a small but worthy three per cent share of the Japanese market, Tohatsu began to look at motorcycle competition as a means of business promotion. At the 1961 Tokyo Show, 125cc and 250cc motocross models and a single cylinder 50cc racer, the Runpet CR50 were unveiled. With a spine frame the Runpet developed 6.8bhp at 12,000rpm from its tiny four-speed unit with an 18:1 compression ratio.
Sporting swinging arm, rear suspension and telescopic front fork it represented a good start but better was to come. On the back of this model came the Runpet Sport, in effect a detuned racer with lights for road use.
Behind the scenes Tohatsu had developed prototypes of a twin cylinder 125cc two-stroke racer, which along with the Runpet CR50 performed modestly well at national Japanese events. Tohatsu's international debut came at the 1962 US Grand Prix, Daytona, a non-world championship event, gaining a best of third in the 50cc race and fourth in the 125cc event. Keen to cash in on works racing success, Tohatsu launched an over the counter 125cc racer, based on the existing Arrow roadster. Sporting a five-speed gearbox the little twin, with square engine dimensions of 43mm, developed 17bhp at 8500rpm. With full factory marketed racing kit, clubmen could expect 90mph from their tiny twins, which were fitted with an electric starter.
Despite gaining national places, Tohatsus were outclassed by Honda et al. Eager for more success, the firm built a new 50cc twin cylinder over-the-counter racer and reworked the 125cc model. Both were on display at the 1962 Tokyo show. Knowing they'd struggle to match Honda, Yamaha and Suzuki on power, Tohatsu developed a neatly styled duplex cradle frame for better handling than their rivals.
Through 1963 Tohatsu's works racing support relied, as it had from the outset, on supplying motorcycles to a few riders. This policy included supplying two twin cylinder 50s and two 125s to the Simmonds brothers of Stanwell, Middlesex. Starting his racing career on an Italian 50cc Itom, Dave (1969 125cc World Champion – Kawasaki) was bought a new Tohatsu CR50 by his father in 1962.
During 1963 Tohatsu intimated they would field a full works team for the 1964 GP season. Many suggest Dave Simmonds would have been the team's leading rider – however, behind the scenes the factory was in serious financial trouble. During February 1964 the motorcycle division went into liquidation. John Honda bought the racing designs, parts and tooling. Although he built no more roadsters some sources suggest he built small numbers of racers over the next few seasons and supplied parts to keep existing models on the track. As late as 1966 a batch of 125cc twin cylinder racers and a few 50cc twins were imported into the UK by Wallingford dealer Jim Pink – it's believed the 125s went to British clubmen while the 50s were exported to Holland.
Despite dodgy reliability – especially with the 50cc twins, which at times destroyed crankshafts in under 50 miles and could snap conrods when revved to over 16,000rpm while dicing with Honda CR110s – the tiny Tohatsus enjoyed many good results. The Simmonds equipe of brothers Mike and Dave made theirs perform well. Dave took the 1963 British ACU 125 Star and three IoM TT replicas while Mike was 13th in the first IoM 50cc TT and eighth the following year on his Runpet CR50.
As often happens in business, expertise moves from the financially failing company to another en bloc – many Tohatsu staff moved to Bridgestone helping develop the water-cooled twin cylinder 50cc EJR-2. A number of Tohatsu roadsters are cared for by enthusiasts in the UK and around the world, along with a small number of 50cc single/twin racers and a handful of 125cc twin racers.
Tomos 1954-95 Yugoslavia (Slovenia)

Concern established by the Yugoslavian government at Koper on the Adriatic coast to make various Puch motorcycles and Citroen cars under licence. Becoming well known for mofas and mopeds, Tomos also built 50cc motorcycles along with a range of larger, up to 175cc models. Although many models were aimed at the commuter market, the top of the range 174cc Sports machines developed a factory claimed 22bhp at 8200rpm with a speed of over 70mph.
Throughout its production life Tomos wanted to become involved with motorcycle competition and in 1961 the FIM gave them a chance with the introduction of the 50cc class eight round Coupe de Europe. Running what were basically race tuned Puch designed, Tomos-built five-speed mopeds, the unknown Yugoslav team led by Miros Zelnik did well to finish runners-up to the German Krielder entourage led by Hans-Georg Anscheidt.
Moving away from Puch concepts, Tomos engineers designed their own seven-speed 50cc racer debuting with a ninth for Italian Gilberto Parlotti at the Spanish GP at Barcelona. Alongside this development Tomos built over the counter 'Puch' based production racers many of which were sold in Holland – there were plans in 1964 to import some to the UK, although probably few ever found their way here. By 1968 Tomos had further developed its works 50cc racers and a year later Parlotti finished sixth in the 50cc World Championship. Twelve production replicas of the works machines with six-speed gearbox and boasting 12bhp at 12,000rpm from their water-cooled engines were built.
After Tomos' best ever GP finish, third in the 1970 German round, Parlotti left for Morbidelli. Despite further engine development and a new ultra-light glass fibre frame, Tomas' racing fortunes dwindled until a new model with a claimed 20bhp on tap at 17,000rpm was unveiled. In 1982 Zdravko Matulja took the European Championship on his model followed by a fourth in the 1983 Yugoslav GP.
None of this may seem impressive to our eyes – we're used to the exploits of Honda, Suzuki, Ducati, Norton et al – but Tomos engineers beavered away with the tiniest of budgets to fund racing development and limited facilities.
In volume production terms Tomos was Yugoslavia's largest motorcycle factory, but for a long time machines were destined for the home market or neighbouring Eastern Bloc states.
However, in the Seventies Tomos was detailed to supply models, usually commuter mopeds, to western markets in an effort to earn currency. Although dealers were involved, especially as services centres, Tomos mopeds, often in two-speed form, were sold through catalogue outlets or via the big chain department stores such as Woolworths in the UK.
Toreador 1924-26 UK
Built in small numbers at Bert Holding's Preston works, the most common model was a 350cc ohv single with a Granville Bradshaw designed oil cooled unit. But a 350 ohc single was also made in tiny numbers along with JAP, Blackburne and MAG powered examples including the odd V-twin. A small number of predominantly 350 ohv Bradshaw powered examples survive.
Tornax 1922-55 and 1982-84 Germany

The Wuppertal-Langerfield business earned its reputation with superbly made 350-1000cc side-valve and ohv JAP engined models in the Twenties. The large ohv 1000cc V-twins were held in as high regard as comparable to a Brough Superior or Zenith. The Tornax range was expanded to include 496/596cc ohv singles and 598/796cc ohc vertical twin Columbus (Horex) engined machines.
After WWII Ernst Wewer restructured Tornax who then concentrated on well made, up to 250cc two-stroke motorcycles with either single or twin cylinder engines, often from Ilo. To expand into the sporting market a few Kurchen designed 247cc four-stroke Opti vertical twin cylinder engines were fitted into Tornax chassis and in 1952 a 125cc ohc racer was unveiled, again its engine designed by Kuchen. Unfortunately, although sales were reasonable, they didn't match investment, leading the company to close.
In 1982 the Tornax brand name was applied to Franco-Morini and Minerelli two-stroke engined lightweights. However, this business soon floundered and Tornax was once again forgotten.
Note: During 1934-37 Tornax built Karpe designed small two-stroke sports cars with modestly tuned 684cc twin cylinder two-stroke DKW Meisterklasse engines.
Torpado 1950-70 Italy
This Padua maker began with 38cc cyclemotor-type machines powered by two-stroke Garelli Mosquito friction drive units, then later introduced a range of mopeds with 49cc Minarelli two-stroke engines. Also built a small number of 74cc Minarelli powered lightweights.
Torpedo 1903-12 Czechoslovakia
Top quality advanced motorcycle by Kolin maker. After experimental prototypes, production focused on a range of single and V-twin inlet over exhaust valve four-stroke machines built almost entirely in-house. Survival status is unknown but these were landmark motorcycles by a regarded pre-WWI maker.
Torpedo 1928-56 Germany

In 1896 the Weil brothers founded their cycle and cycle parts manufacturing company at Frankfurt-Rodelheim. Later, they began making typewriters and associated equipment. In 1928 they ventured into motorcycling with a 198cc side-valve Blackburne powered lightweight. Production was limited and other small proprietary engines were tried.
After WWII, the Torpedo-Werke-AG progressively introduced a range of Sachs and later Ilo powered two-stroke motorcycles and mopeds. Starting with 63 and 98cc single cylinder Sachs-powered lightweights, the range grew to include up to 200cc models.
Motorcycle manufacture ended c1953 and the factory concentrated on cycle and moped manufacture. The moped range was expanded but sliding sales led to production ending in 1956.
Note: At least four other marques used the Torpedo brand including another pioneer German maker with Zedel and Fafnir engines and a British cycle maker that built a limited number of models either side of WWI, often using Precision power. Survival of these is unknown.
Torrot 1960-85 Spain
Established under the wing of the French maker Terrot, which, struggling for orders, wanted to boost trade. Torrot soon introduced a range of 49cc light motorcycles, including off road models and mopeds usually with German Sachs engines.
Toyomotor 1957-c1963 Japan
Like many rivals, Toyomotor took a long look at the 250cc twin cylinder two-stroke German built Adler before they launched their 246cc twin. Built by Japanese standards in relatively small numbers predominantly for the home market, Toyomotors have become sought after by collectors of early Japanese motorcycles.
Tragatsch 1946-49 Czechoslovakia
Author of the world famous Encyclopaedia of Motorcycles, Erwin Tragatsch ran a motorcycle racing shop post WWII. Using ohv 348 and 498cc JAP speedway motors he built long track, speedway and grasstrack type machines, while some were prepared for circuit racing too. Unknown if any survive but included as Erwin was a leading figure in the documentation of motorcycle history.
Train 1913-39 France
Respected Courbevoie maker of two and four-stroke proprietary engines used by European motorcycle builders. As well as manufacturing proprietary engines, Emile Train's business built a range of two and four-stroke motorcycles, which at times were of advanced design.
Production encompassed 98cc two-stroke velomotors to 1000cc ohv V-twins, with a huge range of up to 346cc two-strokes, 246-995cc side-valve and ohv singles and V-twins. Later, Emile Train designed many of his engines integrally with their gearboxes and developed ohc design including an advanced inline four, again in unit with its gearbox. Options of water cooling were available for selected engine designs including a twin carburettor 125cc two-stroke racing engine capable of over 100kph (62mph) – impressive performance for 1930.
Trans-AMA Mid-1970s to early-1980s Italy
Pesaro maker of off-road and racing style machines powered by a range of engines from 49cc two-stroke Minarelli units to 320cc Hiro engines. Trans-AMA motorcycles are typical off-road competition and fun motorcycles of the period.