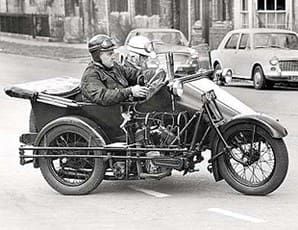 Seal c1912-23, 1930 UK
Motorcycle combination or cyclecar? Built by Seal Motors Ltd, Stretford, Manchester, in essence the Seal comprised a motorcycle combination less seat and handlebars which was controlled from within the sidecar. The motorcycle frame and the chassis of its permanently attached sidecar were assembled of straight tubes bolted or clamped in position.
Marketed by Seal (Sociable Economical And Light) as a family three-wheeler, it looks at first glance like a motorcycle outfit, hence its inclusion here. JAP, Villiers or other proprietary engines were clamped – along with the gearbox – to parallel tubes that were part of the frame structure making for easy drive chain adjustment. Unusually, the wheel bearings were carried by pressings at the ends of the forks rather than in the wheel hubs.
Production was low level, with little national promotion to aid sales. However, a modest number served owners well, receiving the odd mention in both motorcycle and motoring press readers' letters long after production was suspended in c1923-24. In 1930, the firm redesigned the Seal as a more conventional three-wheeled light car and also built replicas of the Ivy Karryall. It's doubtful many of these were sold. A small handful of early Seals survive.
Sears 1912-16, 1950s USA
More a branding exercise than motorcycle manufacture by Sears. These machines were built by the Excelsior Cycle Company of Chicago, which was a less well-known branch than The Excelsior Motor Manufacturing and Supply Company, also of Chicago, Illinois, which was responsible for the much better known Excelsior (American X) brand.
Using 'F' head single and V-twin engines supplied by the FW Spacke Machine Company, the machines were built using many other proprietary parts and were typical of the American long distance motorcycles of the period. Sold by the famous Sears Roebuck company, which specialised in catalogue style marketing, the Sears was briefly reasonably popular with a number of both single and V-twin models surviving today. The Excelsior Cycle Company marketed what were in effect the same models as the De Luxe and they were also sold under the Crawford, Dayton and Eagle brands – an early example of badge engineering.
In the 1950s, Sears Roebuck re-entered the motorcycle market with a range of Austrian Puch two-stroke motorcycles marketed as the Allstate.
Seeley 1966-81 (to date) UK

Renowned and well respected, Colin Seeley was once one of the youngest ever motorcycle dealers in the UK. Later he was British sidecar racing champion, an international sidecar Grand Prix racer and winner, motorcycle manufacturer and motorcycle racing team manager/leader, as well as being involved with the Brabham F1 car racing team. Ever enthusiastic, Colin is now an adviser/consultant for the auctioneers Bonhams and an author.
During the mid-Sixies, Colin began making frames for AMC racing singles, starting with one for the Matchless G50 he was sponsoring for Manxman Syd Mizen (killed 1966). This was followed by an initial small production batch of SIF-bronze welded frames, built from Reynolds 531 to house AJS 7R and Matchless G50 engines. Of much stiffer design than the standard frame, the beautifully crafted frames handled so well they gave the ageing single-cylinder engines a good few extra mph per lap thanks to their cornering ability and minimal front profile. Establishing Colin Seeley Racing Developments Ltd at Belvedere, Kent in 1966, he also bought the AMC racing department and rights to manufacture AJS 7R and Matchless G50 engines and all spares.
Over the next few years, the Seeley frame was progressively developed. To help with identification, the Mk III is devoid of a front downtube and the Mk IV was intended for disc front brake. Friend and established star Derek Minter enjoyed success in 1966 on a Seeley G50, followed by British 500cc Championships for Dave Croxford in 1967, 1968 and 1969. Dave was sponsored by London dealer Gus Kuhn in 1969 and rode for Seeley in the preceding years.
The road-going Condor – based on the racers, with lower compression ratio for the G50 engines, and lights – was developed. Just seven were made and highly prized they are today.
In 1971 Colin Seeley's company amalgamated with Motor Racing Developments Ltd, who manufactured Brabham racing cars. During the early 1970s, the seriously useful racing Yamsels with 250/350cc Yamaha twin cylinder two-stroke engines appeared. Casting his British singles aside, no one was more awesome than Derbyshire's John 'Mooneyes' Cooper on his Yamsel – a breath of fresh air on the British short circuit road racing scene.
Apart from 7R, G50 and Yamaha engines, Seeley rolling chassis carried many power plants including Kawasaki triples, Weslake, Commando and so on. For 1973 the Seeley Monoque was unveiled with Suzuki TR500 power and later a 750 two-stroke triple. From the late 1960s and through much of the Seventies British road racing programmes bristled with Seeley racers, powered by a wide array of motors, often with a who's who of the British racing scene aboard, including the late Barry Sheene who campaigned Suzuki Seeleys to much success in 1973.
For a variety of reasons, Seeley development moved away from the racing scene as the 1970s rolled by. For business reasons Colin chased after the car side of the company but was able to develop frame kits for the new breed of Japanese muscle engines, most notably the Honda CB750. Further developments of the Seeley Honda included the 820cc Dixon-Seeley and – using American big bore kits – a 1000cc version simply known as the Seeley Honda 1000.
Colin Seeley's final production machine was the Seeley Honda TL200 trials motorcycle, which was again – after a few teething problems – well developed and superbly finished. Around 300 were built and found their niche with clubmen – now they are becoming a sought after addition to many trials motorcycle collections. Although this brought to a close Colin Seeley's career as a motorcycle manufacturer, machines using frames built to his basic design continue to be made to the current day, although none of these later chassis have passed though Colin's famed Belvedere workshop.
Sertum 1922-51 Italy
Owned by Fausto Alberti, the Milanese company Sertum earned a reputation as a maker of top quality precision instruments. In 1922, Sertum unveiled a 174cc side-valve single cylinder lightweight followed by an even smaller 119cc two-stroke model. Initially the company continued with lightweights, but from this base they later developed a range of well made tough singles and twin-cylinder motorcycles, from side-valve workhorses to rugged ohc tourers.
Becoming a leading Italian factory in trials – especially long distance events such as the ISDT – Sertums were often among the places in the famous long distance Italian road races, where the tough build ensured they kept going flat out for seemingly ever. Although not one of the biggest players in the WWII military motorcycle market, Sertum supplied in some quantity a 496cc side-valve parallel twin built-in unit with a four-speed gearbox. Weighing 180kg, the tough 95kph (60mph) motorcycle was used both solo and as an outfit for a variety of roles, including the transport or armaments, military deliveries, personnel and general DR duties. Earlier Moto Sertum SpA had supplied in small numbers the 248cc Sertum 250MCM to the Italian Military.
Following WWII, Sertum was one of the first Italian factories back in production and developing new models for a more modern market. Not only did Sertum enter the 1947 ISDT, but they displayed a new but small range at the year's Milan Show, comprising girder front forked ohv 250cc and 500cc singles with rear suspension, a prototype 500cc twin and sports 250cc with pressed steel frame.
By 1948, Sertum was one of the Italian big five (along with Moto Guzzi, Parilla, Gilera and Bianchi) in the Italian volume production stakes. Sadly, the motorcycle business failed as sales slipped. It was a shame as with neat styling and castings, full unit construction and exposed hairpin valve springs, post-WWII ohv Sertum singles were stunning.
Serveta 1952/1954-c1989 Spain
Innocenti (Lambretta) established the Spanish importer Lambretta Locomociones SA at Eibar near Bilboa in 1952 to handle its scooter distribution in Spain. Two years later, the firm began production of Lambretta scooters under licence from the Italian parent company. Much later the firm changed its business name to Serveta Industrial SA and the Lambretta brand name was dropped in favour of Serveta.
Although the evolution of models followed to some extent that of the parent company, many scooter fans consider Serveta quality doubtful, with the retention of six-volt electrics for longer and – they claim – cruder workmanship. Models centred around a succession of 125s including later the Slimline Li 125. Other favourites were the 150 Special and Jet 200. Many young bloods tuned the Jet 200 for racing and fast street use. In 1975, this model was renamed the Lince 200.
Produced in sizable numbers – although low compared with Innocenti production. In reality many models, especially earlier ones, are indistinguishable at first glance from Italian Lambrettas.
Servos 1953-54 Germany
Tiny scooter built briefly, but initially in some volume, at Augsburg and often marketed as the Volksmotorroller (people's scooter). The Aervos comprised of a 36cc Victoria two-stroke cyclemotor type engine mounted over the front wheel, which it drove by chain.
SFM 1954-64 Poland
Szeczin Motorcycle Factory (SFM) was the builder of Junak motorcycles. Established under a Communist Bloc directive, Junak built just one model, the unit construction ohv 347cc single cylinder M10. Designed by Jan Ignatowicz and Stephan Porazinski, a prototype example was displayed at Wroclaw in 1954 but manufacture at SFM (Szeczin Motorcycle Factory) didn't begin until 1956. But it wasn't until 1958 that quantity production began. Not only was the M10 expensive in Poland but it was of basic build and had electrical faults.
Although the model was progressively updated manufacture ended in 1964 by which time the company had tried to export it to a number of countries including the USA. Some historians state Junak built both a 247cc single and twin but I can find no evidence of quantity manufacture of either.
SGS 1926-33 UK
Low-level production of Villiers engined lightweights and JAP engined up-to-500cc roadsters. Also both two- and four-stroke racers from Sid Gleave of Macclesfield, who is best known as the winner of the 1933 IoM Lightweight TT for Excelsior on the Mechanical Marvel at over 70mph.
Gleave notably finished fourth in the 1930 Lightweight TT on a 250 SGS (Sid Gleave Special) JAP with Chris Tattersall on another SGS seventh.
Shanghai 1964-? China Brand name for 750cc BMW horizontal flat twin four-stroke and single-cylinder 250cc two-stroke CZ clones. Built in some quantity in China but unaware of many earlier escapees.
Sheffield Henderson 1919-23 UK

Aircraft engineer Leonard Henderson built sidecars – usually marketed as the Henderson – and Sheffield Henderson motorcycles, often with either side-valve or ohv Blackburne engines. A couple are claimed to survive.
Shin Meiwa c1955-c1965 Japan
Production began with a 250cc model named the Pointer Ace and expanded to include a range of models from 60-250cc, some with Pointer as part of the model name. Final model was the 80mph 125cc Pointer Sports KS1.
SHL 1935- Poland
Dated as 1939, this Polish SHL used a Villiers engine. Kielec-based maker who used 125cc Villiers engines before WWII and built a range of 125, 150 and 175cc lightweights after. Considered as Poland's oldest motorcycle maker.
Showa 1955-c1962 Japan
Maker of mopeds and up to 125cc lightweights who later expanded their range to encompass models up to 250cc, including scooters. The best known of which is the Showa Marine with 14in semi-disc wheels.
Siamt 1907-14 Italy
Once leading Italian pioneer maker of attractive, advanced motorcycles. Designed by Luigi Semeria assembly began with a 260cc direct drive single cylinder model, before later adding more sophisticated up to 500cc singles and 750cc V-twins to the range.
SIC 1921-25 France
SIC, La Societe Industrielle et Commerciale assembled motorcycles predominantly in the range of 100-350cc using proprietary engines, including Aubier-Dunne, Train and Zurcher units. Later switched to German DKW two-stroke power for some models and developed an intriguing chassis with pressed steel front fork and mainframe spine that housed the fuel tank and supported the steering head, seat and rear mudguard. Further pressings surrounded the engine. A small number of models, including DKW-engined lightweights, survive.
Sicraf 1947-53 France
Better known for his involvement with racing cars rather than motorcycles, Paul Vallee's concern built mopeds, scooters and three-wheelers using many proprietary parts including 49-250cc AMC and Ydral two-stroke engines.
Sieg 1922-30 Germany
Quite how many machines Sieg produced is unclear but their literature implied a huge range of models from 110-600cc. The models encompassed two-stroke utility models, side-valve workhorses, lusty ohv singles and well equipped V-twins, using a wide selection of proprietary engines including Blackburne, JAP and Villiers from the UK, plus Alba, Cockerell, DKW, Ilo, MAG and others from the Continent.
SIL 1972- India
Scooters India Lambrettas was an Indian Government run and funded company who bought Innocenti's DL tooling to continue the manufacture of late-1960s style Lambretta scooters. SIL offered three models – the 125DL plus 150 and 200cc GPs. With slightly higher compression ratios, they offered a little more power than their Italian forebears, yet retained reliability and fuel economy. While some Lambretta diehards despise the Indian made Lambrettas, others favour them and some of earlier models turn up at dealers' shops across parts of Europe including the UK, often at cheaper prices than the near equivalent Italian product.